Sports > Gonzaga basketball
Killian Tillie's career night leads No. 12 Gonzaga to 101-71 rout of IUPUI
Dec. 18, 2017 Updated Mon., Dec. 18, 2017 at 11:09 p.m.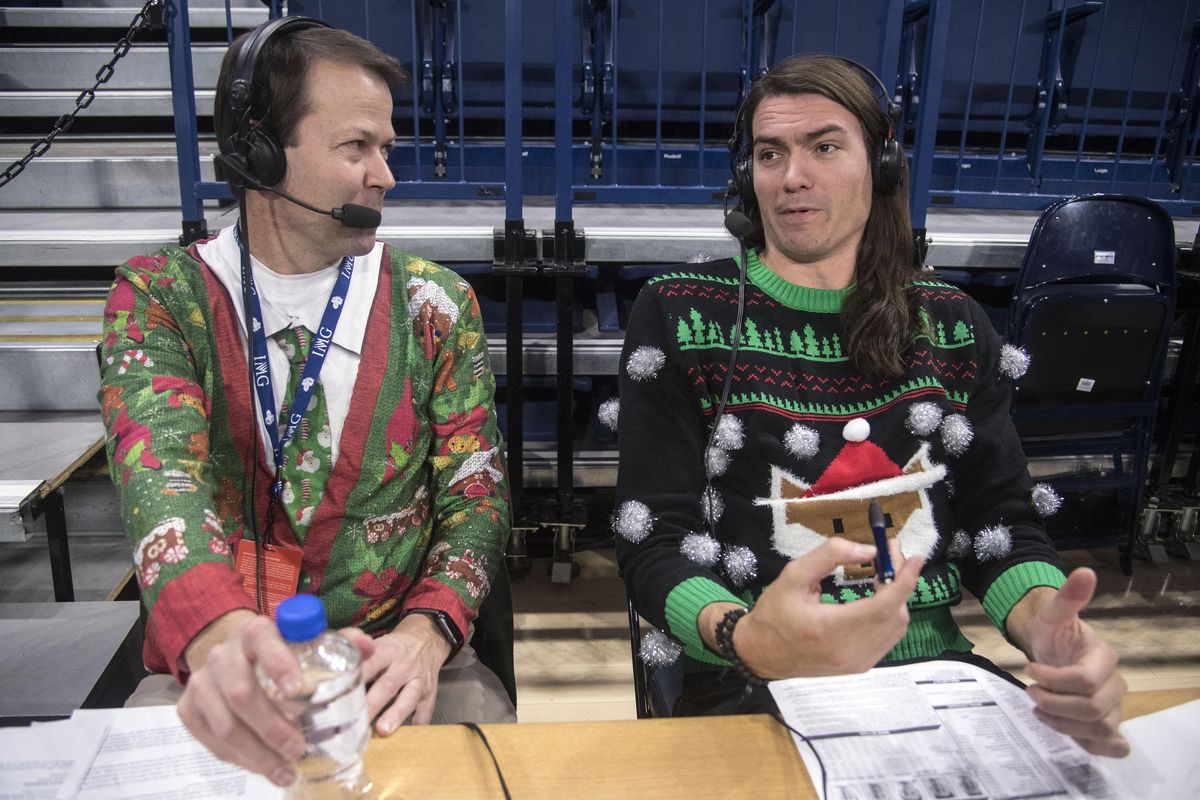 Gonzaga radio broadcasters Tom Hudson and Adam Morrison wear their best holiday attire as they prepare for the IUPUI game, Monday, Dec. 18, 2017 in the McCarthey Athletic Center. (Dan Pelle / The Spokesman-Review)
Killian Tillie scored a career-high 27 points off the bench as Gonzaga pulled away late to rout IUPUI 101-71 on Monday at the McCarthey Athletic Center in Spokane.
Tillie and fellow forward Johnathan Williams were benched by coach Mark Few in favor of Rui Hachimura and Jacob Larsen. Williams finished with his 16th-career double-double, scoring 17 points and grabbing 14 rebounds.
Two nights after struggling to make anything from the floor, Gonzaga (10-2) had one of its best shooting nights of the season against the Jaguars (2-8). The Bulldogs shot 68 percent overall and 44 percent from 3-point range.
Gonzaga also dominated at the free-throw line, making 25 of 29 attempts from the charity stripe.
Josh Perkins also finished in double figures for the Zags with 13 points, while T.J. Henderson led IUPUI with 18 points.
Gonzaga was not perfect on the night though, with turnovers again being an issue. The Bulldogs has 17 giveaways for the second straight game.
The Bulldogs will now pack its bags and head to California to take on San Diego State at 7 p.m. Thursday (CBS Sports Network). The Zags will then have a week off before opening West Coast Conference play on December 28 at home against Pacific.
Second half
Final – Gonzaga 101, IUPUI 71: Bulldogs show great poise to pull away late after letting IUPUI sneak back in the second half.
Huge night for Killian Tillie, while Johnathan Williams records his 16th-career double-double – especially impressive since both players started the evening on the bench.
3:57 – Gonzaga 74, IUPUI 63: After IUPUI cut the Gonzaga lead to 11, the Bulldogs have responded nicely and should be able to put this one away with ease.
27 now for Tillie on 8 of 12 shooting. The sophomore has also made all eight of this free throw attempts.
Gonzaga also cleaning up on the glass, outrebounding the Jaguars 33-22. Zags still shooting the lights out as well (65.2 percent). Only real sore spot for the No. 12 Bulldogs is the 17 turnovers.
7:24 – Gonzaga 74, IUPUI 63: Double-double tonight for Johnathan Williams, who sits at 15 points and 12 rebounds. The senior forward also has a steal and a block.
Bulldogs seem to be lacking some of the defensive intensity they had in the first half as the Jaguars are getting much easier looks after the half. Jeremy Jones comes into the game as a possible defensive spark for the Zags.
Gonzaga also getting a little loose again on offense. GU now up to 16 turnovers, two night after committing 17 against North Dakota.
T.J. Henderson leading IUPUI with 16 points, while Evan Hall has 10 to keep the Jaguars right in this one.
11:48 – Gonzaga 69, IUPUI 51: Great ball movement all game from Gonzaga, highlighted by a perfect high-low pass from Tillie to Larsen who slammed it home.
Bulldogs still shooting the ball extremely well tonight (64.9 percent), while IUPUI has gotten its shooting up around the 40 percent mark.
Perkins becomes the third Gonzaga player into double figures with 10 points. Zags also doing a much better job keeping the ball, with only one turnover this half.
Tillie now up to 20 points to lead all scorers.
14:58 – Gonzaga 57, IUPUI 44: Bulldogs make the switch back to their typical starting five out of the half as Williams and Tillie are on the court in place of Hachimura and Larsen.
Emphatic dunk from Williams gets the half going for Gonzaga, followed by a nice drive and finish from Josh Perkins. IUPUI finally getting some shots to fall though – a rarity in the first 20 minutes.
Tillie up to 14 points for the Zags, while Williams is at 11. Zach Norvell Jr. is the only Gonzaga player in foul trouble at the moment as he has three to his name.
First half
Halftime – Gonzaga 47, IUPUI 31: Jeremy Jones and Perkins have been all over the place for the Gonzaga defense. IUPUI now up to seven turnovers.
Fouls dominated a very slow-moving first half, as the Bulldogs got to the charity stripe 14 times, making 13 of those attempts.
Limit Gonzaga's 12 turnovers and this one would likely be a bigger blowout at the break. Gonzaga just shooting the lights out at the McCarthey Athletic Center (63 percent).
Killian Tillie leads the Zags with 10 points, while Williams and Kispert both have nine. Williams also has eight boards.
T.J. Henderson leads IUPUI with 10 points. Jaguars shooting just 34.5 percent from the field.
3:16 – Gonzaga 42, IUPUI 26: Jacob Larsen comes out of the TV break with a quick six points for the Bulldogs, who have the look of pulling away in this one.
Gonzaga doing a great job on offense of breaking down the IUPUI zone, while the Bulldogs' defense is holding the Jaguars to just 37 percent shooting.
Kispert up to five points for the Zags, matching the total for Perkins and Norvell Jr. Gonzaga now shooting 64 percent from the floor.
6:11 – Gonzaga 29, IUPUI 19: Slightly sloppy start from Gonzaga, which has turned the ball over seven times already. The bulldogs are getting quality looks at the basket when they hold onto the ball though, shooting 56 percent from the floor. Gonzaga also 7 for 8 from the free throw line.
Gonzaga just too strong inside, and IUPUI having little option but to foul as the Bulldogs are already in the bonus.
Tillie up to eight points for Gonzaga, while Williams has nine points, seven rebounds and one big block on Hall.
11:58 – Gonzaga 15, IUPUI 9: Williams and Tillie get their first action of the night, and Williams gets to work quickly with a steal and a nice left-handed hook inside.
Tillie follows suit with a nifty and-one move in the paint as the Bulldogs are realyl forcing the issue inside against the smaller Jaguars.
Josh Perkins is also up to five points for the Bulldogs. Perkins also notched his 100th career steal right before the media timeout.
Few also back to his usual nine-player rotation as Jeremy Jones and Corey Kispert have seen action with Silas Melson going to the bench after his second foul.
15:46 – Gonzaga 8, IUPUI 7: Gonzaga coach Mark Few changing things up in the starting lineup tonight. Rui Hachimura and Jacob Larsen getting the start over Johnathan Williams and Killian Tillie.
Lots of fouls early in this one, as IUPUI big man Evan Hall picked up his second foul two minutes into the game.
Bulldogs doing a great job getting their hands into the lane on defense, already grabbing a pair of steals. On the offensive side, Zach Norvell Jr. leads the team with five points.
Gonzaga makes several changes to starting five
The Zags inserted redshirt freshman center Jacob Larsen and sophomore forward Rui Hachimura into the starting five, replacing sophomore Killian Tillie and senior Johnathan Williams. … READ MORE »
Local journalism is essential.
Give directly to The Spokesman-Review's Northwest Passages community forums series -- which helps to offset the costs of several reporter and editor positions at the newspaper -- by using the easy options below. Gifts processed in this system are not tax deductible, but are predominately used to help meet the local financial requirements needed to receive national matching-grant funds.
Follow along with the Zags
Subscribe to our Gonzaga Basketball newsletter to stay up with the latest news.
---