A&E
As DC's 'Action Comics' approaches 1,000 issues, a classic Superman artist returns
Fri., Dec. 22, 2017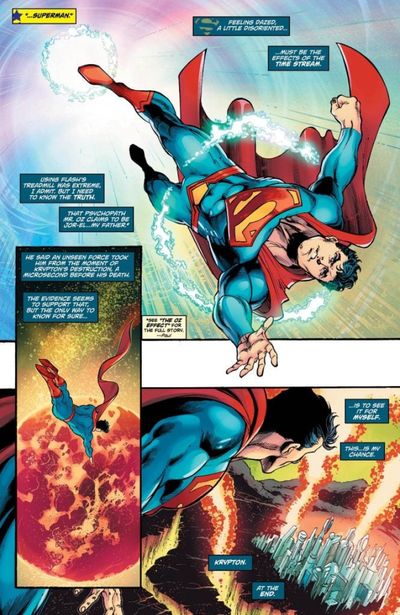 Dan Jurgens' pencils have finally caught up to his writing.
If only for a few issues, Jurgens has returned to drawing Superman for DC Comics, handling the illustrating duties on the cover and interior pages of last week's "Action Comics" No. 993 and next week's issue No. 994.
Jurgens, known to a generation of DC Comics fans for writing and illustrating "The Death of Superman" ("Superman" No. 75) back in 1992, has been busy writing "Action Comics" for DC during its "Rebirth" era of publishing, which began in 2016.
Last summer, Jurgens told The Washington Post that "Action's" twice-monthly publishing schedule didn't leave him with any time to draw.
"I've wanted to get back to drawing an issue or two for quite some time," Jurgens said. "It just so happened that we had an artistic opening in the schedule that dovetailed with a bit of an opening in mine, so I decided to go for it."
Jurgens's return to drawing Superman isn't the only surprise for those who have picked up the most recent issue of "Action Comics." Issue No. 993 also features DC's popular time-traveling character Booster Gold (who shares the cover of the issue with Superman), a character Jurgens created over 30 years ago, who is investigating Superman traveling to the past.
Jurgens recently shattered Superman's world when he revealed the secret identity of Mr. Oz (a villain who has haunted Superman recently in "Action Comics") to be someone extremely close to the hero. So close that Superman uses the Flash's cosmic treadmill to go back in time to verify whether what he has learned can possibly be true.
The treadmill plot twist allowed Jurgens to add one more classic DC hero to his artistic return: the Flash, who is none-too-happy to see Booster Gold anywhere near his time-traveling device, located in the Justice League's watchtower in space.
"I've always enjoyed drawing Flash, even though I haven't done a lot of it," Jurgens said. "There is so much kinetic energy the character carries that he really brings life to the page."
Jurgens has drawn Superman in various ways over the years, including short- and long-haired versions as well as with an all-black suit in his return from death in the 90s. But he admits his muscle memory kept reverting him back to drawing Superman with red trunks, a look that was eliminated in DC's less popular "New 52" era that began in 2011.
The trunks "were there from time to time. Especially at the beginning," Jurgens said. "Mostly in the doodled advance sketches I do for each page. I think Superman requires a certain kind of sensibility in the approach, one that conveys a certain sense of integrity and control on his part, so that stayed the same (artistically). But I think aspects of my style have changed since I would have last drawn him, and it feels to me like some of that is evident on the page."
As "Action Comics" gets closer to an unprecedented 1,000th issue, Jurgens says he's already started working on the comic but still can't offer any plot points just yet.
"We have some major developments planned," Jurgens said. "I was working on it just a couple of hours ago – something I think people will really like."
As to whether the "Action Comics" post-1,000-issue world could feature more art from Jurgens in the future, he's optimistic but also realistic.
"It's always a question of time. I'd love to be able to do more drawing, but at the same time, I don't want to give up any of what I'm currently writing," said Jurgens, who also writes "Batman Beyond" for DC. "Still, I'd really like to be able to sneak back to (drawing) when time allows."
Local journalism is essential.
Give directly to The Spokesman-Review's Northwest Passages community forums series -- which helps to offset the costs of several reporter and editor positions at the newspaper -- by using the easy options below. Gifts processed in this system are not tax deductible, but are predominately used to help meet the local financial requirements needed to receive national matching-grant funds.
Subscribe to the Spokane7 email newsletter
Get the day's top entertainment headlines delivered to your inbox every morning.
---