News > Idaho
Idaho Rep. Heather Scott gets committee assignments back after apology
Feb. 1, 2017 Updated Wed., Feb. 1, 2017 at 5:38 p.m.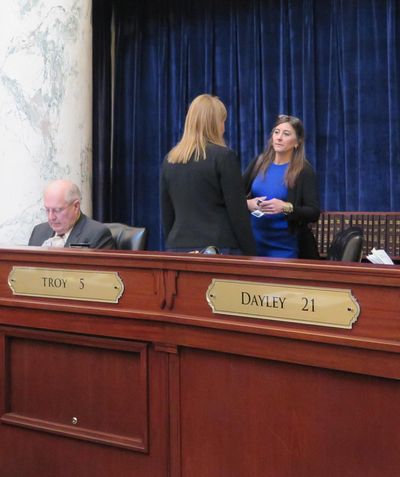 BOISE - Rep. Heather Scott, who lost all her committee assignments in the Idaho House after suggesting her female colleagues move ahead in leadership in return for sexual favors, got them back on Wednesday after apologizing.
After the reassignment was formally read, without comment, during the House's morning session, Scott said, "I'm just glad that citizens of North Idaho will now have a louder voice."
House Speaker Scott Bedke, R-Oakley, released this statement:
"Rep. Heather Scott has acknowledged that what she said and did, on numerous occasions, was wrong. She seems to have taken ownership and responsibility for her offensive comments. She has made efforts to apologize to those who were personally harmed or offended by her statements and actions. It's unfortunate that it took her this long to do so, but that is all I required her to do. I expect her future actions to confirm her sincerity. I hope she has learned something from this that will make her a better legislator."
House Assistant Majority Leader Brent Crane, R-Nampa, said the House GOP leadership wanted Scott to meet with a half-dozen female representatives who had specific concerns before restoring her committee assignments. That meeting took place Monday afternoon, Crane said.
"When this episode took place a couple of weeks ago, we outlined some things we would like Rep. Scott to address," Crane said. "Those were addressed as of Monday afternoon. … This issue is taken care of, and we're done."
He said Scott already had apologized to the caucus "in a very appropriate way," and the Monday afternoon meeting completed that process. "I'm sure it was not an easy meeting to have, but one that had to take place in order to bring closure," he said.
Scott, R-Blanchard, issued a statement Wednesday afternoon welcoming the decision to reinstate her committee assignments, but harshly criticizing Bedke for his handling of the issue. "That said, I will continue to work hard to represent the people of District 1. I will remain positive," she said.
In addition to her comment about female representatives, Scott, an outspoken tea party conservative, also was accused of engaging in strange behavior, including damaging the ceiling of a Capitol office to remove an item she thought was a listening device.
Scott will now return to the House Commerce and Human Resources; Environment, Energy and Technology; and State Affairs committees.
Local journalism is essential.
Give directly to The Spokesman-Review's Northwest Passages community forums series -- which helps to offset the costs of several reporter and editor positions at the newspaper -- by using the easy options below. Gifts processed in this system are not tax deductible, but are predominately used to help meet the local financial requirements needed to receive national matching-grant funds.
Subscribe now to get breaking news alerts in your email inbox
Get breaking news delivered to your inbox as it happens.
---