Sports
Clai Quintanilla on path to be GSL's first four-time state wrestling champ
Wed., Jan. 11, 2017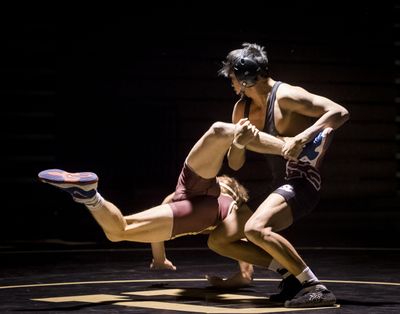 It may be hard to believe – what with the Greater Spokane League's wrestling success over the years – but the league has yet to produce a four-time state champ.
That box should be checked next month by North Central's Clai Quintanilla.
Quintanilla understands the magnitude of what he faces. The pressure is palpable.
But the 132-pound Quintanilla is happily embracing the challenge.
"I feel the pressure," Quintanilla said last week. "But this being my last year, I want to be the best that I can be. I'm focused on winning four state titles. It's a lot of hard work but I have the resources to do it. I have the practice partners to push me."
Those practice partners include his head coach, Luke Leifer, and assistant coach, Nate Brown.
The coaches weigh more than Quintanilla. But they don't use their strength against him.
"They're trying to make me go at a fast pace and they're trying to help me polish my technique," he said.
It's working. Leifer is impressed with how much Quintanilla has improved just since last year.
"He's improved big-time," Leifer said. "His technique is just starting to shine. He's 10 times better than last year."
The GSL could have had a four-time state champ already. Former Mead wrestler Chandler Rogers was on his way when before his senior season his family moved to Oklahoma where he won a fourth state title.
Rogers' older brother, Jordan, won three state titles and would have contended as a freshman. But he had an emergency appendectomy the week before state.
And former Gonzaga Prep standout Travis Pascoe won three state titles and four overall. He was a state champ at Lakeland before transferring.
Going into the week, Quintanilla (pronounced Kint-a-nezza), whose family is from Guam, is 14-0 with a 124-9 career record.
He would have had a chance for the school's all-time wins record (152-11) – set by his brother, Izaec, a three-time state champ – but he missed NC's first tournament because of college entrance testing and he'll miss another when he takes a trip to Ohio State.
Considering he likely won't lose, he'll finish with a better winning percentage than his brother.
Quintanilla took a visit to Boise State before the season began. He returned home impressed. A week ago, Leifer received a text message from an Ohio State coach who expressed serious interest. Quintanilla followed up and the Buckeyes, who were NCAA champs two years ago, asked him to visit.
If Quintanilla decides to sign with Ohio State, that would put two Quintanillas in the Big Ten. Izaec is at Wisconsin.
He captured a second Tri-State title in December when he defeated Nick Hara of Moses Lake 7-2. Quintanilla led 7-0 before allowing a late takedown. Hara is ranked second in 4A.
Quintanilla says he doesn't look at the rankings. His focus is always on his next opponent.
That approach serves him well. At the Pac-Coast wrestling tournament in Vancouver, Washington, Quintanilla was named outstanding wrestler.
"Clai wrestled well. It was a loaded weight class," Leifer said.
Leifer said that Quintanilla is already thinking ahead to college.
"He's already gearing up for the next level in practice," Leifer said. "He's getting ready to move on."
Quintanilla is built for success. At 5-foot-9 with long arms, he'll most likely begin college at 141. To do so, though, he'll likely need to put on more than 20 pounds. College coaches want their 141-pounders to weigh about 160 out of season.
"His brother has a thick chest and Clai is a little more lean," Leifer said. "Clai probably has another growth spurt. He has big feet and big hands. I see him being a late bloomer and bulking up a little bit."
The best of the Quintanillas may be yet to come. Clai has two younger brothers – Q'veli, a sixth-grader, and Czar, a third-grader. They have no sisters.
"They're going to be good. Izaec and I have always said we want them to be better than us," Clai said.
They'll have that chance. While the Quintanillas have become a wrestling family, they found the sport almost by accident.
"Izaec was very hyperactive as a little boy and my parents wanted to find something for all of his energy," Clai said. "So they tried wrestling."
Leifer can see the younger Quintanillas being better than their older brothers.
"Izaec sort of blazed the trail and Clai has come along and been just as good," Leifer said. "So the younger ones come along and now they understand that wrestling is what they do in their family so they already have confidence."
Leifer is pleased with Quintanilla's mindset.
"He's pretty focused right now," Leifer said. "We're just trying to keep him geared up for the final prize and not overlook somebody. He's a gamer. Every time he steps on the mat he's ready to go. He's pretty cool, calm and collected."
Local journalism is essential.
Give directly to The Spokesman-Review's Northwest Passages community forums series -- which helps to offset the costs of several reporter and editor positions at the newspaper -- by using the easy options below. Gifts processed in this system are not tax deductible, but are predominately used to help meet the local financial requirements needed to receive national matching-grant funds.
Subscribe to the sports newsletter
Get the day's top sports headlines and breaking news delivered to your inbox by subscribing here.
---