Sports
WSU ends first half of Pac-12 play with a win at Arizona State
Sun., Jan. 29, 2017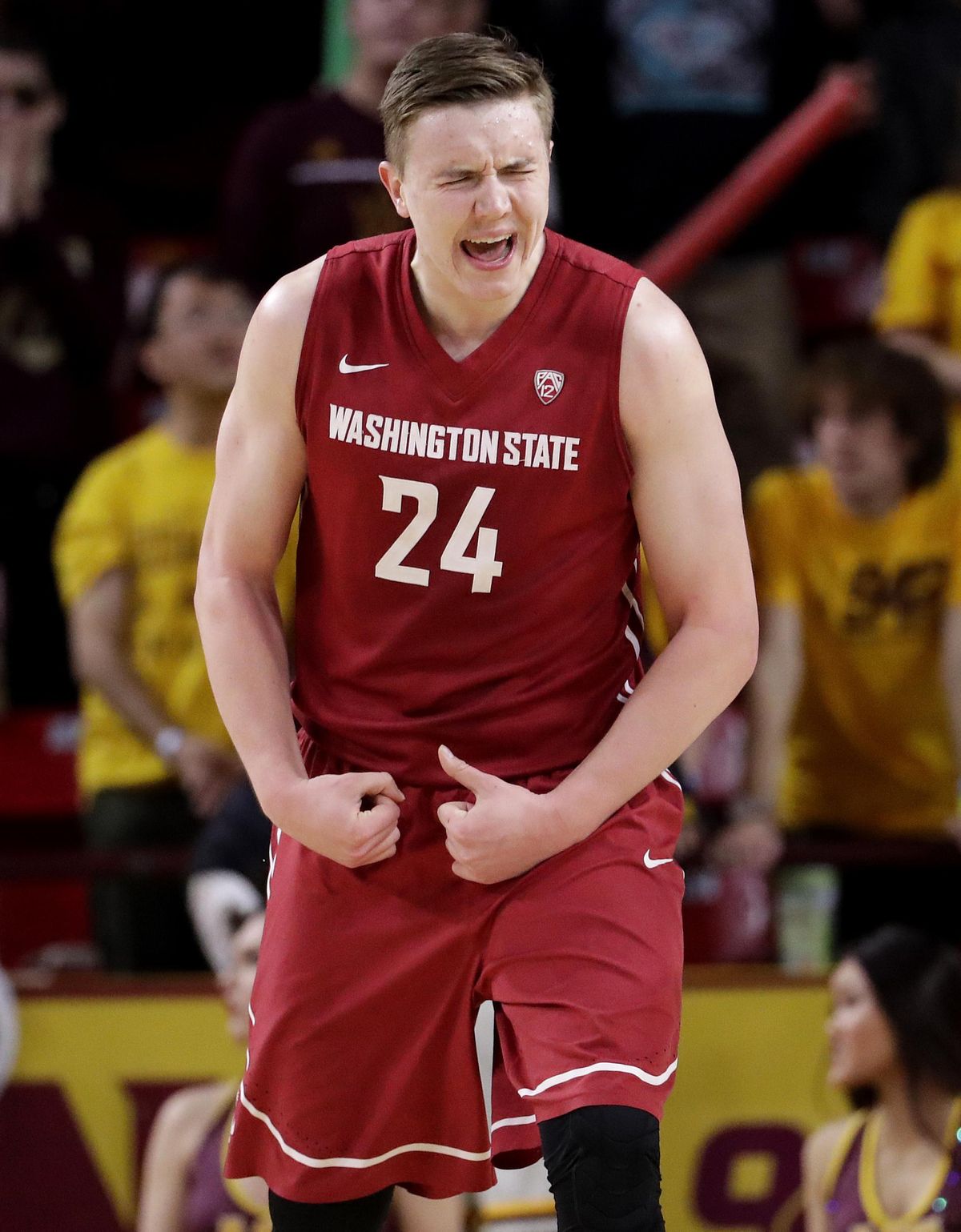 Washington State forward Josh Hawkinson (24) reacts after making a basket against Arizona State during the second half of an NCAA college basketball game, Sunday, Jan. 29, 2017, in Tempe, Ariz. (Matt York / Associated Press)
Prior to Sunday's game at Arizona State, Washington State coach Ernie Kent pulled aside Ike Iroegbu and Josh Hawkinson and said he needed them to step up and carry their team.
The only two seniors who began their college careers as Cougars did that and more, each having career days to lead their team to a 91-83 road win.
WSU (11-10, 4-5 Pac-12) is now halfway through conference play, and just one game under .500 in Pac-12 play. This counts as a stark turnaround from last season, when the Cougars managed just one conference win.
This was a must-win game for two programs who were fighting to stay in the middle of the conference. ASU (10-12, 3-6) had won six straight home games against the Cougars dating back to 2009.
For Iroegbu and Hawkinson, longtime roommates, these last few weeks of winning have been splendidly affirming.
"This has been what we've wanted for all four years," Hawkinson told IMG radio host Matt Chazanow on the postgame show. "Me and Ike have been through a lot of stuff together, a lot of losing seasons. We have one last go at it and we're trying to end on a high note."
Hawkinson led all scorers with 31 points, hitting the 30-point scoring threshold for the first time in his illustrious career. In the process, he passed Eddie Hill and Larry Beck on WSU's all-time scoring list, and now ranks No. 16 in school history. He also had 10 rebounds, giving him 51 double-doubles in his career, and leaving him just two shy of the school record.
"He carried us and for Ike to have his point total, and his point total, those guys so deserve to have a crowd and have success," Kent told Chazanow.
Iroegbu also recorded a double-double, and nearly achieved a unicorn-like triple-double. He had 22 points and 10 assists, and also collected seven rebounds.
While those two seniors did the heavy lifting, the difference in the game may have been the play of freshman forward Jeff Pollard. Early in the second half starting center Conor Clifford picked up his fourth foul, ostensibly depriving the Cougars of their offensive advantage in the post.
But Pollard responded with seven points during a conference-best 17 minutes, at one point rebounding his own miss and making a bucket while getting fouled. He played a key role in the Cougars taking control in the second half, as well.
WSU trailed 40-37 at halftime, but tied the game just seconds into the second half on a 3-pointer by Iroegbu. Pollard subbed in for Clifford on the next possession and gave the Cougars the lead with a layup on his first offensive touch.
He made a steal just a minute later following an ASU timeout, which led to an Iroegbu steal, and then made another layup. Shortly thereafter, the Cougars built a moderate lead, which they mostly maintained for the rest of the second half.
"Every guy is responsible for winning a game at some point in time," Kent said. "For Jeff Pollard to sit there all this time … He's been on scout team all season, and then we called on him and he did a great job, scored buckets and made us better in the game."
Local journalism is essential.
Give directly to The Spokesman-Review's Northwest Passages community forums series -- which helps to offset the costs of several reporter and editor positions at the newspaper -- by using the easy options below. Gifts processed in this system are not tax deductible, but are predominately used to help meet the local financial requirements needed to receive national matching-grant funds.
Subscribe to the sports newsletter
Get the day's top sports headlines and breaking news delivered to your inbox by subscribing here.
---