Centennial Properties developing Spokane Valley industrial park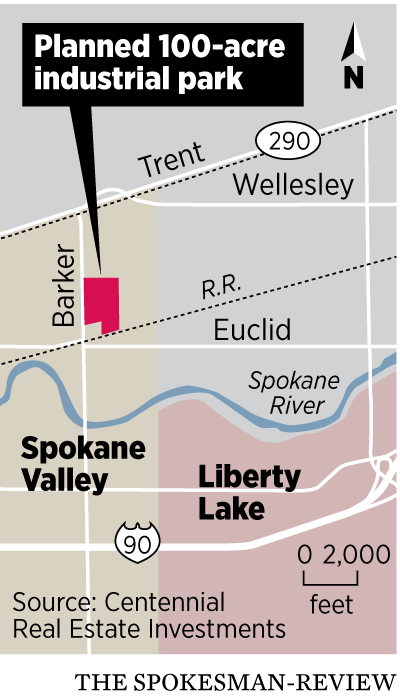 Centennial Properties Inc. is working to develop a 100-acre industrial park in Spokane Valley.
Construction will begin in the next several months on a Union Pacific rail spur serving the property east of Barker Road.
"There's demand for large-acre parcels with rail access," said Doug Yost, Centennial's director of real estate investments.
Centennial Properties is a subsidiary of Cowles Co., which also owns The Spokesman-Review.
Cenntennial worked with Greater Spokane Incorporated, which has helped provide leads on possible tenants for the site, Yost said. The industrial park is zoned for industrial use. The acreage has the space for two large manufacturing operations.
Yost said he couldn't reveal information about prospective tenants.
"We're working with a couple of parties, but I need to be tight-lipped," he said.
The city of Spokane Valley has been working to bring sewer service to the area as part of efforts to recruit manufacturing jobs, said Mike Basinger, the city's economic development manager.
"Hopefully, we'll be able to announce something soon," he said of future tenants.
Spokane Valley has about 580 acres of vacant industrial lands, according to the city's recent comprehensive plan. Low vacancy rates in the 615-acre Spokane Business and Industrial Park indicate opportunities to attract additional industries, Basinger said.
Spokane Valley's economy leans heavily to service industry jobs. The city wants to bring in advanced manufacturing jobs, similar to the high-skilled, high-paid jobs at Kaiser Aluminum's Trentwood plant, Basinger said.
The industrial zoning also could accommodate companies in the storage or processing industries, he said.
Part of Spokane Valley's recruitment strategy has been a process that lets companies know up front if they'll have to pay traffic mitigation fees for relocating to Spokane Valley, or if environmental remediation work is required on particular properties.
The ordinance "makes things very predictable" for companies, Basinger said. "We've looked at everything and done all the work up front."
Centennial Properties also owns about 100 acres west of Barker Road, so the industrial park could be extended at some point, Yost said.
---