News > Spokane
Eat to run: Carb-loading tips for Sunday's race
Sat., May 6, 2017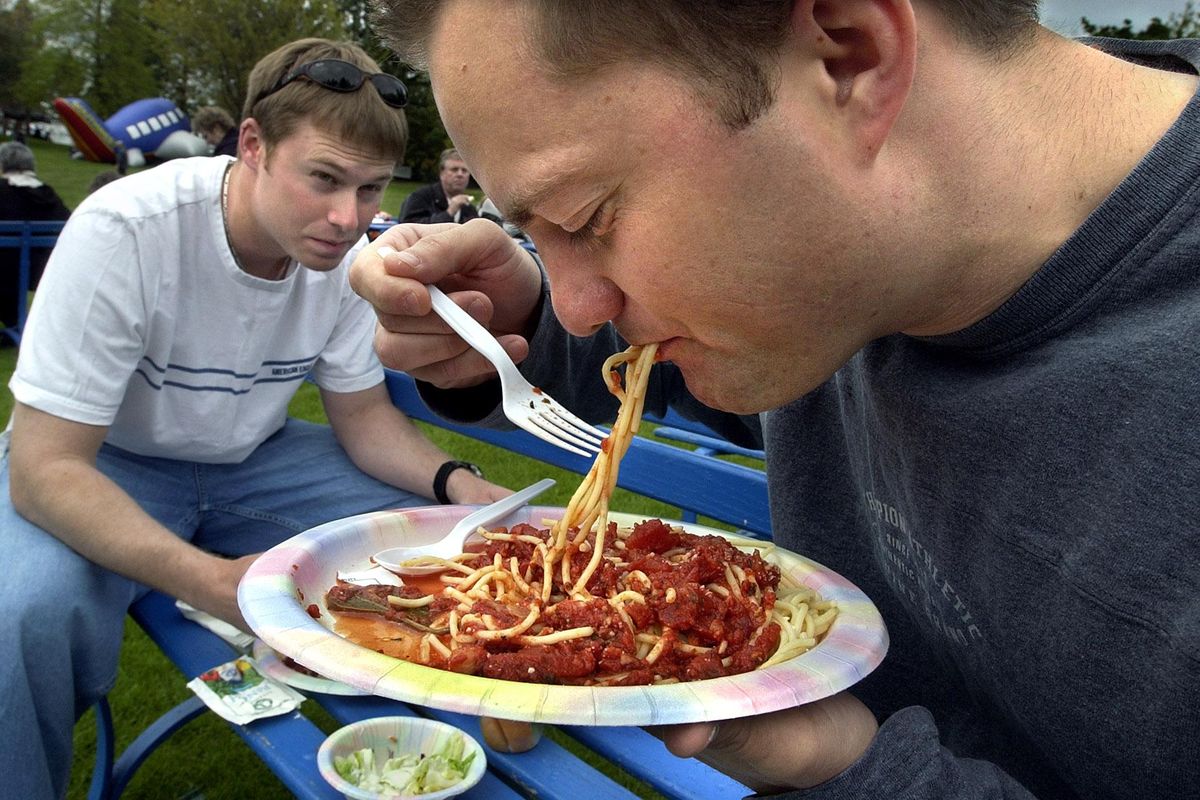 FILE – Brian Buchmann, slups up a mouthful of pasta at a spaghetti feed in Riverfront Park in May 2003. (Dan Pelle / The Spokesman-Review)
It's spaghetti Saturday in Spokane as athletes load up with carbs to gain an edge in Sunday's Bloomsday race.
But nutritionists caution that runners should not expect to make up for a year of nutritional sins one day before the 7 1/2-mile race.
Heather Grover, certified coach of Spartan SGX, a CrossFit obstacle race fitness program, said carb loading should be done with caution.
"If you want to do it, get help from a coach who knows about endurance nutrition and performance nutrition," Grover said. "I'd say a huge spaghetti dinner Saturday evening may cause more damage than good."
That's because all that delicious pasta often comes with a big helping of fat in the form of cheese, butter, cream and meat sauce.
"If you have a lot of fat on board, that actually counteracts the effect of carbo loading," Grover said.
Good carb loading begins a few days before a race by changing 70 percent of the athlete's calories to carbohydrates.
Grover said that for most Bloomies, the most important task will be staying hydrated.
"People underestimate how much water they lose when they work out," Grover said. "And by the time you feel thirsty you're already dehydrated."
Grover recommended beverages with electrolytes and cautioned against sugary sports drinks.
"Coconut water is great," Grover said.
Don't eat anything new on the morning of the race, because you don't know how your body will respond.
"You could have all sorts of digestive issues later," Grover said.
After the race, eat protein and carbohydrates as soon as it feels comfortable, she said. An old-fashioned banana is perfect for that.
"They really are fantastic power foods," Grover said.
Alicia Burns, a runner and a fit specialist at Runner's Soul downtown, is a fan of post-race chocolate milk.
"A small container of chocolate milk has the perfect ratio of carbs, fat and protein," Burns said. "It doesn't sit well with some people, but if you can drink it, it's great."
Burns added that it's probably not necessary for most people to eat during Bloomsday, unless they are on the course for a long time.
"If you walk with a stroller, it may take a long time to get all the way through," Burns said. "In that situation, you may need a snack."
Like Grover, Burns also recommends avoiding new foods and supplements.
"Have a balanced meal the night before, something that makes you feel good," Burns said.
All that being said, Spokane's favorite pasta restaurants already are booked full for carb-loading dinner parties on Saturday.
At the Old Spaghetti Factory, there is some room for walk-in diners on Saturday, but no more space for reservations.
A huge crowd also is expected at Luigi's.
"It's one of our very busiest weekends," said Brittney Thompson, who was working the front counter on Thursday. She added that there are openings during the day on Saturday, though the evening was tightening up.
"We absolutely get a lot of people who come in for carbo loading before Bloomsday," Thompson said. "It's also a tradition for many. Every year, we get a lot of the same people from out of the town."
Local journalism is essential.
Give directly to The Spokesman-Review's Northwest Passages community forums series -- which helps to offset the costs of several reporter and editor positions at the newspaper -- by using the easy options below. Gifts processed in this system are not tax deductible, but are predominately used to help meet the local financial requirements needed to receive national matching-grant funds.
Subscribe now to get breaking news alerts in your email inbox
Get breaking news delivered to your inbox as it happens.
---