News > Crime/Public Safety
Body of man who fell from cliff at Palouse Falls State Park located in river
May 30, 2017 Updated Tue., May 30, 2017 at 10:18 p.m.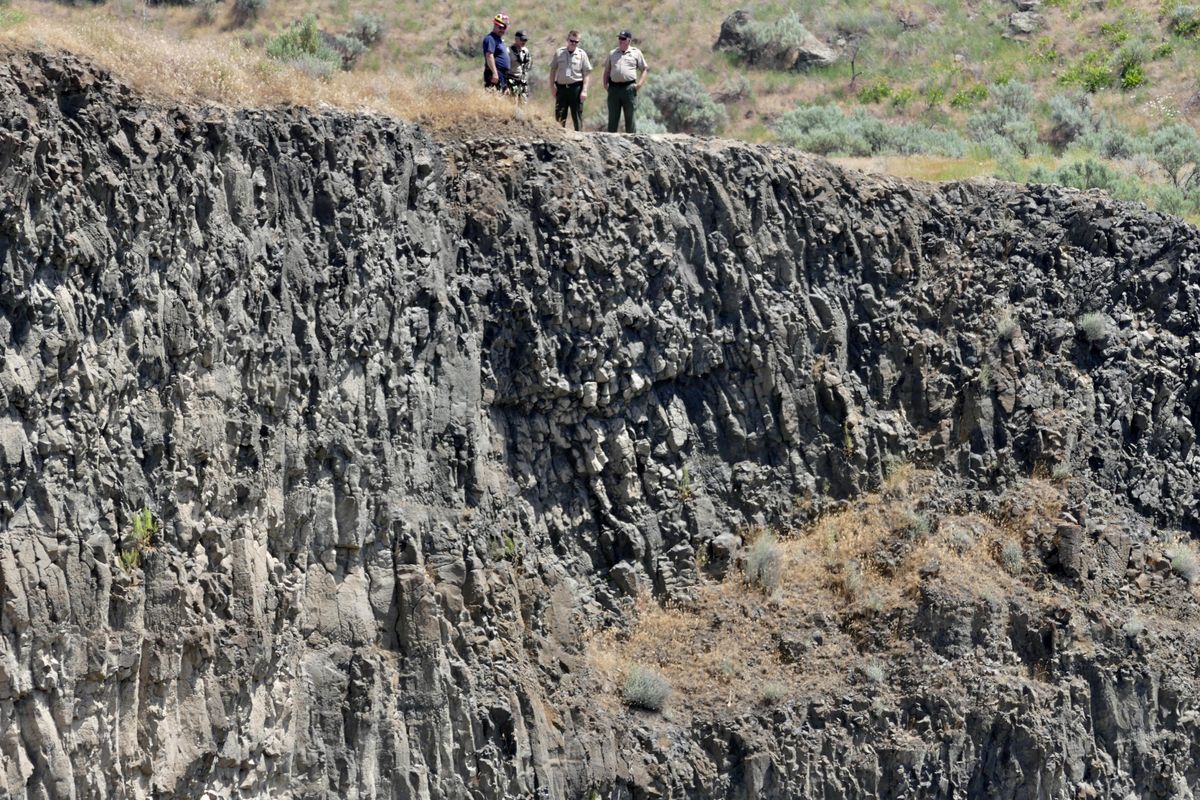 Law enforcement and rescue personnel look over a cliff above Palouse Falls Tuesday, May 30, 2017. A man fell from a cliff there Monday and his body recovered Tuesday afternoon. (Jesse Tinsley / The Spokesman-Review)
PALOUSE FALLS STATE PARK – Search crews retrieved the body of a 25-year-old man who died Monday after he slipped and fell from a cliff into the river just above Palouse Falls.
Cade E. Prophet, who has not yet been officially identified by authorities, fell about 40 feet as he took pictures of the scenic waterfall Monday afternoon. He was with his girlfriend in an area Washington State Parks deemed unsafe for onlookers .
A witness said he saw a young woman climbing the rocks, screaming that her boyfriend had fallen. Audra Sims, area manager for the Blue Mountain Area Region for the Washington State Parks, said the man slammed into the side of the cliff and then rolled into the water, where his body was located at about 1 p.m. Tuesday in a pool above the falls.
The waterfall, designated as the state's waterfall by Gov. Jay Inslee in 2014, is a popular hiking and sightseeing destination with trails that cut across and around cliffs several hundred feet high overlooking the falls.
Washington State Parks has been concerned about the unmarked trails at the falls in recent years. In 2015, temporary fencing was put up to keep people off potentially dangerous trails, but the fences were removed in 2016 due to complaints from hikers.
More warning signs were installed instead, telling hikers that travel beyond the sign is unmarked and potentially hazardous, and to use the trails at their own risk.
"When visitors come to Palouse Falls, we have designated viewing areas," Sims said. "Because of the height of the canyon walls, we do not encourage the public to go past the viewing areas."
Sims said park rangers don't have authority to ticket or arrest people who veer away from the viewing areas. She said it's common for people to use the many man-made trails that cut across and around the many cliffs overlooking the falls that are hundreds of feet high.
"It's a balancing act between public safety and public access," Sims said. "It is and will be an ongoing dialogue."
Prophet, who had been identified by KHQ-6 News as the man who fell, is from Sandpoint, Idaho, and was living and working in Spokane.
He posted on his Facebook page at 11:47 a.m. Monday morning: "Beautiful morning for a trip to Pallouse Falls!" and tagged a woman who appears to be his girlfriend. He posted a photo about an hour later of him sitting next to the same girl while she's driving a car.
Several comments on one of the posts tell him to rest in peace, one saying, "praying for his girlfriend and his family."
Law enforcement officials have not confirmed his identity. State park officials say the Franklin County coroner will release identity and cause of death.
At the park Tuesday morning were dozens of people who stopped to take photos and gander at the massive waterfall that cascades 186 feet down to the deep pool below. Many had heard the news that someone had fallen into the water.
Jessica Nott, who was there at the falls with her boyfriend James Harrington, came because she kept seeing photos of the Palouse Falls pop up on Tumblr and Instagram. She said even though she grew up in the Tri-Cities area she never knew it existed until she saw its presence on social media.
"It's really popular online," she said. "So I've always wanted to come here."
Harrington, an experienced mountain climber, said once he saw emergency crews and park rangers staged at the entrance, he knew someone had likely died. He said he could tell because they weren't scrambling around back and forth, and were deliberately looking in one area.
"Before we even got here I could tell someone had fallen," he said.
Due to the accident, park rangers were monitoring the path that leads to the upper area of the falls where the man fell. They stopped anyone who was wandering up away from the viewing area.
For Harrington and Nott, that meant a shorter trip, since they both planned on hiking up farther. They said even though they knew someone fell from the top, it wouldn't have scared them away from continuing off the beaten path.
"I'm afraid of heights so I wouldn't have gone anywhere near the edge," Nott said.
"I would, but safely," Harrington added. "But I don't take selfies."
Last year, a man drowned while swimming at the base of the falls with two other swimmers. All three reportedly began having trouble staying afloat. Bystanders were able to rescue two of the people but could not find the third person.
There have been at least two other deaths tied to the Palouse Falls State Park since 1975, according to stories that ran in The Spokesman-Review.
On June 6, 1975, a woman slipped and fell about 500 feet to her death while sightseeing. Authorities said then that her death appeared accidental.
On June 17, 1985, a man drowned and another suffered back fractures after the two jumped from a rock outcropping at the top of the falls into the base. The mother of the deceased 22-year-old said the death was not a suicide attempt, nor was it accidental since her son liked to "live on the edge."
Staff reporter Nina Culver and the Associated Press contributed to this report.
Local journalism is essential.
Give directly to The Spokesman-Review's Northwest Passages community forums series -- which helps to offset the costs of several reporter and editor positions at the newspaper -- by using the easy options below. Gifts processed in this system are not tax deductible, but are predominately used to help meet the local financial requirements needed to receive national matching-grant funds.
Subscribe now to get breaking news alerts in your email inbox
Get breaking news delivered to your inbox as it happens.
---