Sports > WSU football
Analysis: Roars turn to boos at Autzen Stadium as No. 11 Washington State buries Oregon 33-10 to remain perfect
Oct. 7, 2017 Updated Sun., Oct. 8, 2017 at 12:09 a.m.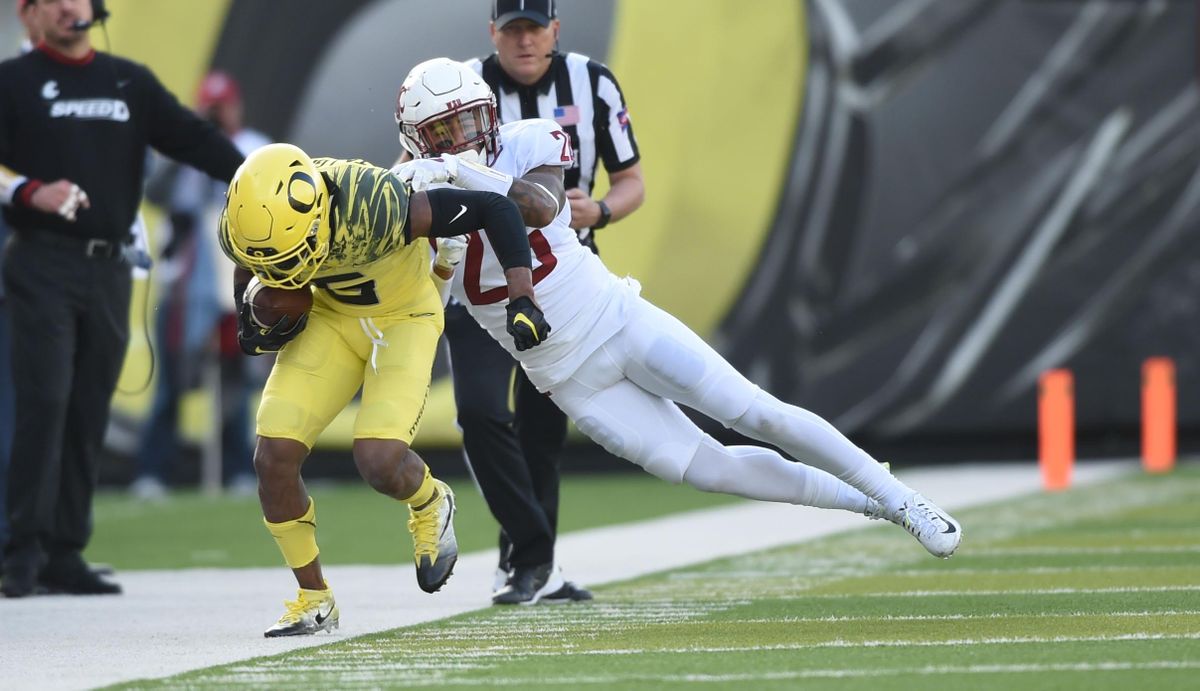 WSU and Oregon battle it out during the first half of a college football game on Saturday, October, 2017, at Autzen Stadium in Eugene, Ore. (Tyler Tjomsland / The Spokesman-Review)
EUGENE – The world-famous crowd noise at Autzen Stadium isn't exaggerated. By capita, per decibal, however you want to measure it, the oval-shaped venue in the Willamette Valley pumps out more sound on gameday than almost any other structure in the country.
The Oregon fans tried their best to drown out No. 11 Washington State with their howling and hollering in the early stages of Saturday's Pac-12 game. But when it became clear the Ducks, nor their supporters, would get the best of the Cougars on this day, the crowd at Autzen re-directed its message.
They booed the officials, they booed the true freshman quarterback and they booed, well, just to boo. If you were dressed in green and yellow Saturday evening, there was certainly a lot to boo – and the Cougars made it so.
WSU outplayed the Ducks in all three facets of the game and powered past Oregon 33-10 in front of a sellout crowd of 56,653 to win on the road for the first time this season.
WSU improved to 6-0 on the season, beat Oregon for the third straight time and gave itself a great chance at earning a Top 10 national ranking. But seemingly lost in everything they did Saturday evening was the fact the Cougars also became eligible for the postseason – just seven days into the month of October.
But merely ahieving a bowl bid? That was so 2015.
"I mean that's not our goal," WSU quarterback Luke Falk said. "Our goals, we've still got those ahead of us right now. We've just got to enjoy this one tonight and get ready for a tough road test against Cal. We have a lot of goals ahead of us."
Smothering the nation's top offense was a goal, however, and WSU didn't make it look all that hard.
The Cougars want to hold their opponents under 100 rushing yards this season, so by giving up 132 to Oregon, they didn't exactly check off every item on their list. But it'll do. The Ducks were gashing teams for 260 yards per game this season – and five touchdowns – but averaged 2.9 yards per carry against the Cougars and didn't score on the ground for the first time this year.
"I thought we ran to the ball well, we obviously got some turnovers which helped us," Cougars coach Mike Leach said. "Because all their skill players are very fast guys. They had one of the highest-rated recruiting classes for six years, I'll say. I'm probably underestimating that. And so they have a lot of speed out there and they're very explosive."
Oregon's high-charged offense, which came into the game scoring 49.6 points per game – that's No. 1 in the nation – sputtered from the get-go. Literally. The Ducks committed a false start penalty on the first play of the game, then repeated the same violation when they went back to the line of scrimmage.
Oregon still managed to get the ball to the 41-yard line on its first drive, and the Ducks took a gamble on fourth-and-1, hoping that bulldozer running back Royce Freeman could get the inches needed to move the chains. Instead, he met a gang of Cougars and got nothing.
The Cougars took over and Falk completed his first pass to Jamal Morrow for a 41-yard touchdown.
Swings like that became a major theme Saturday night. WSU caused three turnovers and scored 10 points. Oregon pilfered the ball twice and scored zero.
"You're just itching for the football," defensive coordinator Alex Grinch. "The ball doesn't know who it's supposed to go to, whether it be the yellow ones or the white ones. So I was disappointed in the first half … and that was obviously an emphasis we were talking about at halftime."
The Cougars weren't so thrilled with the first 30 minutes – not on offense or defense, at least. They had no qualms with the kicker, though.
Erik Powell made a routine 25-yard field goal early in the second quarter and then powered a career-long 52-yarder through the uprights to make it 13-10. He'd later slot a 47-yarder – which would've matched his longest field goal before this game – and make another chip shot from 29 yards late in the fourth.
"I know he had a great offseason and (special teams) coach (Eric) Mele does a great job of letting Powell be a kicker," Falk said. "And Powell's mental game right now, just his confidence, you can see it on the sideline and it's just contagious."
Falk threw passes to eight wide receivers and hit three for touchdowns. Renard Bell, who had 100 receiving yards in three separate games without catching a TD, reeled in the first of his career when Falk hit the redshirt freshman on a crossing pattern in the end zone during the third quarter.
"I missed him on a – he had a good route on a four-vertical concept, I missed him early and I know he wanted that one," Falk said. "He came back with the same play and he finally got it."
The Cougars put a skewer in the Ducks early in the fourth quarter moments after Marcus Strong intercepted Oregon's rookie quarterback, Braxton Burmeister, on a underthrown ball near the left boundary. Strong swerved 27 yards until he was dropped on Oregon's 25-yard line and Falk hit Isaiah Johnson-Mack in stride for a touchdown on the next play.
"I did feel like something was going to blow (the game) open," Leach said. "Everyone likes these turning points and generally there's a lot of them, but I thought one key one was when Luke hit Isaiah for the touchdown."
Falk jumped former Ducks QB Marcus Mariota for second place all time in the Pac-12 with his 106th career touchdown and finished with 282 yards on 24-of-42 passing. Burmeister's first start was a rocky one. Playing in place of the injured Justin Herbert, he completed 15-of-27 passes for 145 yards, one touchdown, and two interceptions.
His lost fumble in the second quarter was another one of those turning points. Oregon only trailed by 10 at that point, but when Hunter Dale knocked the ball loose and Robert Taylor recovered on the UO 47-yard line, the Cougars gave themselves some prime real estate.
They didn't score a touchdown, per se, but they killed another six minutes of clock and salvaged a field goal to make it 23-10.
Swings like that elevated the Cougars all game. Consequentially, they buried the Ducks.
Local journalism is essential.
Give directly to The Spokesman-Review's Northwest Passages community forums series -- which helps to offset the costs of several reporter and editor positions at the newspaper -- by using the easy options below. Gifts processed in this system are not tax deductible, but are predominately used to help meet the local financial requirements needed to receive national matching-grant funds.
Subscribe to the Cougs newsletter
Get the latest Cougs headlines delivered to your inbox as they happen.
---