Sports > EWU football
Eastern Washington falls to Texas Tech in Aaron Best's coaching debut
Sept. 2, 2017 Updated Sat., Sept. 2, 2017 at 7:17 p.m.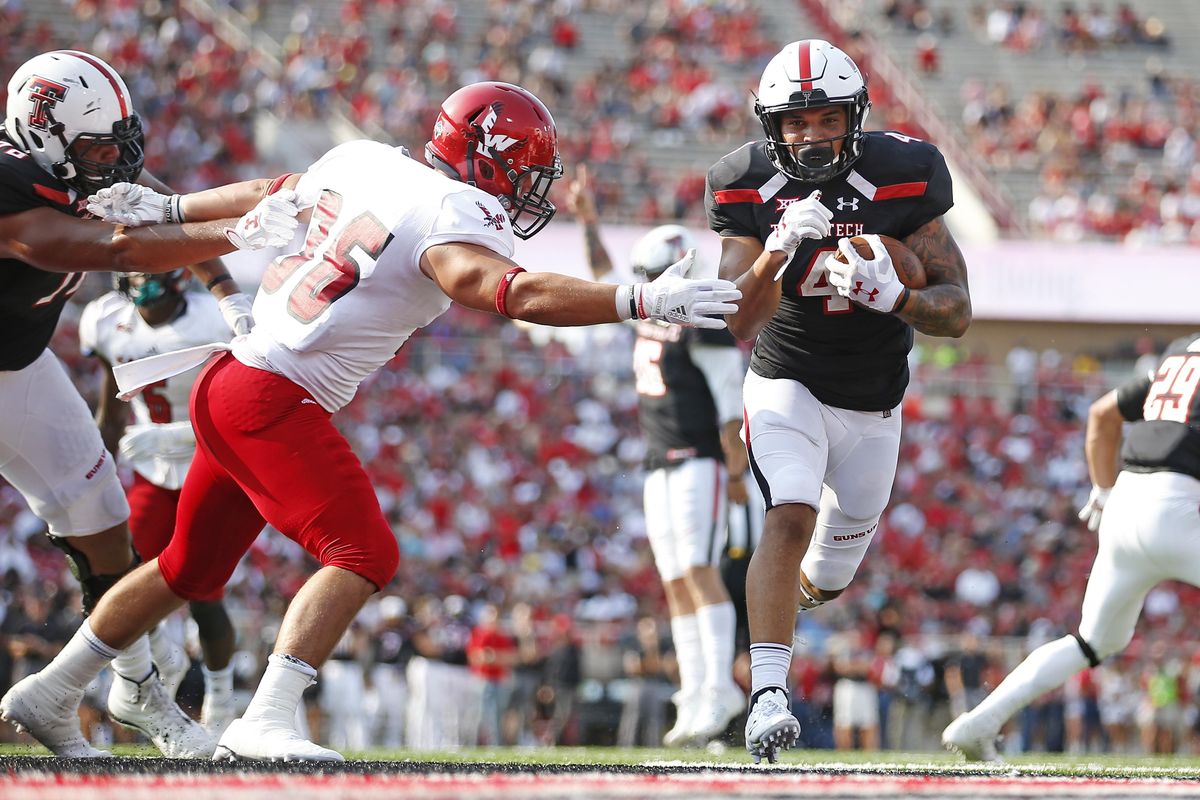 Texas Tech's Justin Stockton (4) runs past Eastern Washington's Andrew Katzenberger (36) to score a touchdown during an NCAA college football game, Saturday, Sept. 2, 2017, in Lubbock, Texas. (Brad Tollefson / Associated Press)
LUBBOCK, Texas – That chip on the shoulder only goes so far on the football field.
Eastern Washington brought that much to the table Saturday afternoon, but didn't back it up on either side of the ball in a 56-10 nonconference loss to Texas Tech.
Unable to make the big plays on offense or prevent them on defense, the Eagles found themselves overmatched against an FBS opponent for the first time in half a dozen years.
The result was Eastern's worst defeat since a 59-7 loss at California in 2009.
That was shocking, considering Eastern had been there, done that several times against Pac-12 teams – enough that another Power-5 victory seemed attainable in head coach Aaron Best's debut.
This time they didn't even have to fight a hostile crowd; attendance at Jones AT&T Stadium was announced at 54,988, but barely half that number showed for the opening kickoff.
However, the Eagles still needed to check the boxes: establish some semblance of a running game, win the turnover battle and keep the pressure on statuary quarterback Nic Shimonek.
Eastern did none of the above, and the game devolved into a shoving match they couldn't win no matter how much physicality Best had emphasized in the offseason.
Eastern's longest play from scrimmage was just 28 yards, and the running game averaged 2.3 yards per carry. Meanwhile, Tech rolled up 626 yards and won the turnover battle 3-0.
"Collectively we didn't maintain the consistency," Best said. "The doors were opened but we didn't capitalize in the first half, and then it bled into the second half."
Not once Saturday afternoon did the Eastern offense and defense manage to build on each other's success.
The Eagle defense got off to a strong start, shutting out last year's FBS-leading offense on its first three possessions.
However, the offense short-circuited on its first play, as receiver Nic Sblendorio fumbled after catching a short pass and the Red Raiders recovered.
Poor field position didn't help – EWU started its next two drives on the 7 and the 4 – but Eastern managed to claw its way out of danger.
Finally, after forcing three Red Raider punts, the Eastern defense gave up 80 yards in five plays, the capper coming on Justin Stockton's 25-yard off-tackle run with 1:51 left in the first quarter.
Gage Gubrud, the only experienced EWU quarterback, said he would keep the ball when necessary, and he did so with gusto early in the second quarter.
On third-and-12 at the Tech 35, he ran out of receivers, then reversed field and rushed for an 11-yard gain. Antoine Custer Jr. converted a fourth-and-inches situation to keep the drive going.
However, Eastern was stuffed on two subsequent running plays and settled for Roldan Alcobendas' 22-yard field goal to trim the lead to 7-3 with 10 ½ minutes left in the half.
One of these offensive juggernauts had to break out of its shell, and it happened in the blink of an eye.
Certainly someone blinked in the Eastern secondary, allowing Shimonek to hit a wide-open Derrick Willies for a 75-yard score. Suddenly the Eagles were down two scores.
"On defense we had guys who were playing hard – they were flying around," Best said. "A hot day doesn't provide a lot of breathers out there against a pass-happy team."
Things went downhill in a hurry.
Eastern embarked on a another long march that ended when McPherson was swarmed for a loss on fourth-and-1 at the Tech 31.
The Red Raiders struck quickly again. Shimonek hit Keke Coutee over the middle, and the junior did the rest for a 68-yard score.
Needing a quick reply, the Eagles got one. A 60-yard drive included three completions for Terence Grady, the last one for a 22-yard score as Grady stretched the ball across the goal line.
Then it was Tech's turn to play possession ball to close the half, and the Red Raiders did it to perfection as Shimonek hit Keke Coutee for a 17-yard TD that made it 28-10 with 29 seconds left in the half.
Shimonek made it look easy, finishing 26 for 30 for 284 yards and four touchdown passes. Working out of the shotgun, he did a good job of checking out of bad plays while his line kept the Eastern rush at bay.
There would be no second-half comeback for the Eagles. They reached midfield on their first possession after halftime, but Sam McPherson was stuffed twice and Gubrud sacked for a loss of 10.
Then Tech played more ball-control, sandwiching two long drives around an Eastern three-and-out to lead 42-10 late in the third.
Futility reached its depths on Eastern's next possession, a pick-6 that left Eastern down 2-0 in the turnover battle and 49-10 on the scoreboard.
Local journalism is essential.
Give directly to The Spokesman-Review's Northwest Passages community forums series -- which helps to offset the costs of several reporter and editor positions at the newspaper -- by using the easy options below. Gifts processed in this system are not tax deductible, but are predominately used to help meet the local financial requirements needed to receive national matching-grant funds.
Subscribe to the sports newsletter
Get the day's top sports headlines and breaking news delivered to your inbox by subscribing here.
---