Sports > WSU football
Superior Washington State exorcises demons, opens with shutout win over Montana State
Sept. 2, 2017 Updated Sun., Sept. 3, 2017 at 1:03 a.m.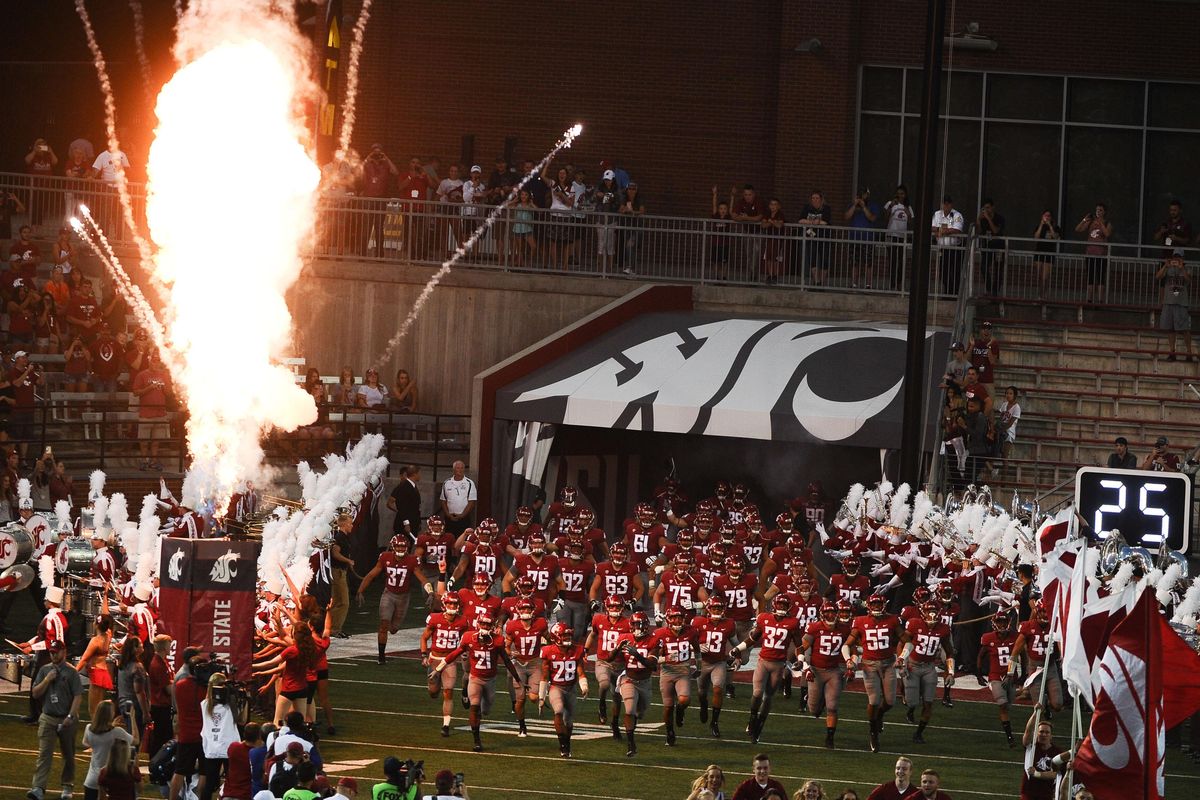 Washington State takes the field against Montana State during the first half of a college football game on Saturday, September 2, 2017, at Martin Stadium in Pullman, Wash. (Tyler Tjomsland / The Spokesman-Review)
PULLMAN – "The curse is broken."
Four words in a tweet sent two minutes before midnight from Roy Manning were perhaps the best way to sum up the collective feelings of Washington State players and coaches Saturday night following a dominant 31-0 win over Montana State at Martin Stadium.
Relief generally isn't the emotion spilling out of Pac-12 football players when a lesser opponent is handled the way the 24th-ranked Cougars handled the Bobcats. But unlike most of their neighbors in the AP Top 25, the Cougars don't take wins like these for granted. They haven't. Maybe they can now. The Big Sky beast is off their back.
Any lingering thoughts about Washington State's rotten luck against inferior opposition were put to bed almost instantly. And those concerns that Mike Leach's abysmal track record in season openers might live to see another day? Well, those were dashed, too. Dashed by a Cougars team that left no doubt they were the superior team – the vastly superior team, rather – in Saturday's opener.
It's still not great, but now WSU's three-year record against the Big Sky reads 1-2. Leach's record in openers? It's 1-5 now. Not exactly a point of pride but certainly better than where it stood coming into the season opener.
"It felt real good," running back James Williams said. "We didn't have no choice but to win because if we lost this game, we probably would be scrimmaging right now."
In a game between contrasting offensive styles, Air Raid beat read option and Luke Falk, with ample time in the pocket, methodically drove downfield time and time again, while MSU quarterback Chris Murray hardly had time to come up for air while being constantly beaten into the turf by WSU defenders.
Falk's senior season certainly began more efficiently than his junior season ended. The Cougars signal-caller directed a 12-play, 73-yard scoring drive, completing three times to junior Kyle Sweet before flipping a shovel pass to Williams for an 11-yard touchdown.
Falk didn't see a pass hit the turf until the second play of the third quarter and completed 20 straight before a downfield attempt ricocheted off the hands of Isaiah Johnson-Mack. Falk finished six completions shy of the FBS record for consecutive completions in a game, set by East Carolina's Dominique Davis in 2011 and three short of the Pac-12 mark set by Aaron Rodgers.
The WSU signal-caller was unaware just how accurate he'd been and was not surprisingly nonchalant when someone passed along the news after the game.
"It was just, what can we do to keep it rolling?" Falk said. "Talk about what we're going to run in the second half. I wasn't really aware of it until you guys just told me."
But there were other records to be had for Falk, who bypassed an opportunity to leave for the NFL Draft, where he likely would've been picked in the first five rounds, and instead came back to Pullman for another round of college football.
Falk's early dump-off to Williams marked the 90th touchdown of his career and the fourth-year starter tacked on No. 91 nearly 12 minutes later, capping a 13-play, 90-yard drive with a 6-yard slant to Tavares Martin Jr. in the end zone.
In the time it took Falk to complete 19 passes, Montana State starter Chris Murray completed just one. Murray, the Big Sky Conference Freshman of the Year in 2016, spent much of the game under heavy duress from Washington State's front seven. The Cougars forced six negative plays in the first half and Hercules Mata'afa was WSU's top aggressor with 1.5 sacks and 2.5 tackles for loss.
Falk's first incompletion led to a brief stall for the Cougars on the offensive end, but the QB and his top receiver – who happened to be a running back on this night – linked up for an 8-yard completion that saw Williams clear the oncoming Bobcat defensive player with a full hurdle. Falk went to Williams again and the redshirt sophomore buzzed down the right sideline for 21 yards, helping to set up a 29-yard rushing touchdown for backfield mate Jamal Morrow.
Williams, left unmarked time and time again, caught his second touchdown ball later in the game and finished with 13 receptions and 163 records – both of those school records for a running back. Morrow had 10 carries for 89 yards and a touchdown.
WSU's top two rushers, a big reason the Cougars had the most productive backfield in the Pac-12 last season, combined for 322 all-purpose yards.
Falk didn't get the passing yardage he needed to surpass Connor Halliday for the top spot, but still finished a superb 33 of 39 for 311 yards and three touchdowns. He needed 412 yards to leap his old teammate, so it should be easily attainable for Falk when the Cougars play next.
Murray was held to just 5-of-11 passing for just 28 yards. The MSU QB completed to only three targets. Two of those were Bobcat receivers, Mitch Herbert and Troy Anderson. The other was to Cougar safety Jalen Thompson, who came up with his first career interception in the third quarter.
"He plays fast, he's not afraid to pull the trigger," Leach said of Thompson. "He's a stronger, more powerful guy than he looks. Of course, he was good last year and I think he's going to be even better."
It'll be another night kickoff next week for the Cougars, who play the first five games of their season at Martin Stadium. WSU (1-0) plays host to Boise State (1-0) at 7:30 p.m. in a game that will air on ESPN, ESPN2 or ESPNU.
Local journalism is essential.
Give directly to The Spokesman-Review's Northwest Passages community forums series -- which helps to offset the costs of several reporter and editor positions at the newspaper -- by using the easy options below. Gifts processed in this system are not tax deductible, but are predominately used to help meet the local financial requirements needed to receive national matching-grant funds.
Subscribe to the Cougs newsletter
Get the latest Cougs headlines delivered to your inbox as they happen.
---