Sports > EWU football
North Dakota State runs over Eastern Washington 40-13
Sept. 9, 2017 Updated Sat., Sept. 9, 2017 at 9:36 p.m.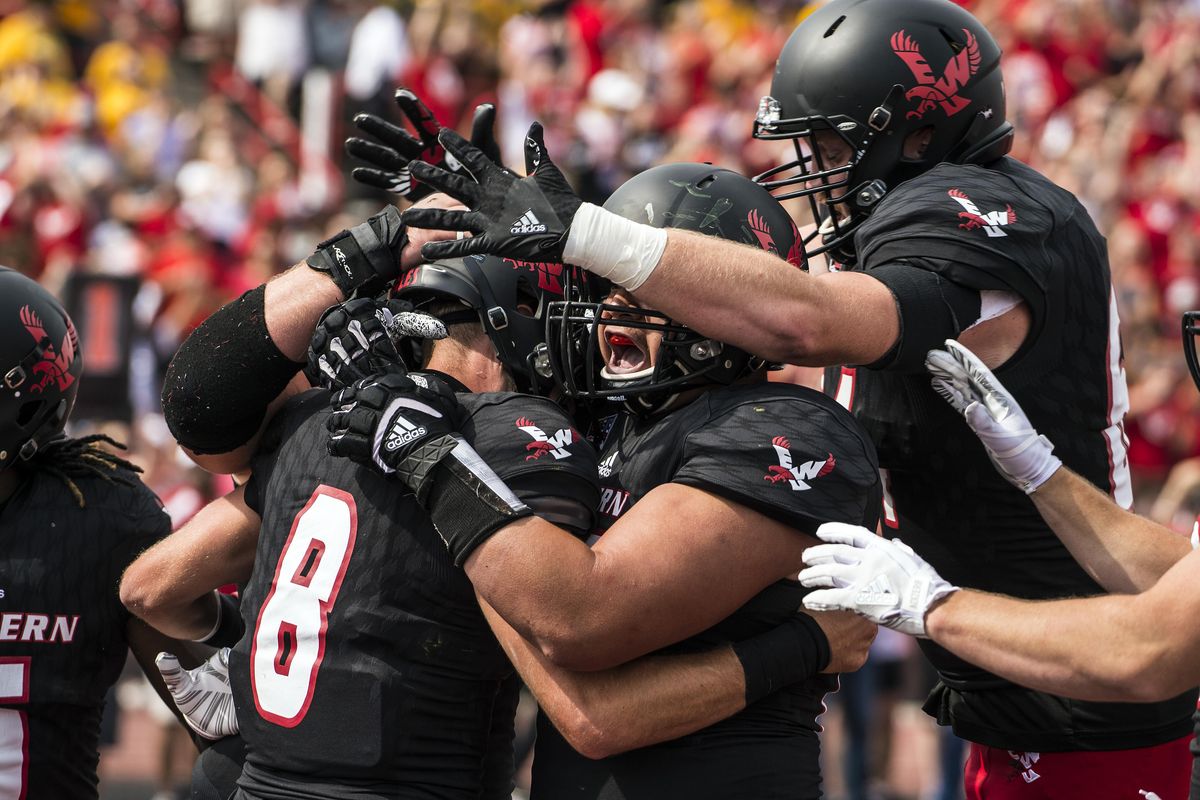 Eastern Washington quarterback Gage Gubrud (8) is swarmed by players after he scored the Eagles first touchdown against North Dakota State in the First quarter i Cheney, Sat., Sept. 9, 2017. (Colin Mulvany / The Spokesman-Review)
So much for the improving air quality in Cheney.
By game's end Saturday, the atmosphere at Eastern Washington University was downright toxic for anyone unaccustomed to losing at home by four touchdowns.
That included most of the 10,231 fans at Roos Field , because Saturday's 40-13 loss to North Dakota State was the Eagles' second-worst home defeat in 40 years, and their most one-sided home setback since a 56-point loss to Montana in 1995.
It was that bad.
Eastern was outgained 532 yards to 204 and managed just 11 first downs while running just 54 offensive plays.
Somehow the seventh-ranked Eagles (0-2) hung around with the No. 2 Bison for 2 ½ quarters. But just as they did a week earlier at Texas Tech, the Eagles flatlined down the stretch.
In the second half, Eastern managed to run just 19 plays for 60 yards while giving up 260.
"They wore us down," Eagle defensive lineman Albert Havili said as the Eagles almost ran to the lockerroom.
First-year coach Aaron Best tried to stay positive.
"All in all, our players fight and they will continue to fight – they are Eastern Washington Eagles," Best said.
"We'll look at the film closely and get better from it because there is no choice," said Best, who must rally his players for a quick turnaround and a trip to New York for a game at Fordham.
That turnaround will be more difficult after several Eagles were injured against the physical Bison. The biggest casualty was wide receiver Terence Grady, who suffered a broken left collarbone in the first quarter and is expected to be out at least a month.
Cornerback Nzuzi Webster and All-Big Sky nose tackle Jay-Tee Tiuli also were injured. Their status is uncertain. Eastern was already without linebacker Ketner Kupp.
"We sustained a few bumps and bruises, and there were a fair amount of bodies who weren't available at the end of the game," Best said.
Perhaps that was a factor, as Eastern lost momentum along with the injured players.
Trailing 19-10 early in the third quarter, Eastern was set up at its 45-yard line after a poor NDSU punt. Quarterback Gage Gubrud and running back Antoine Custer Jr. combined for 39 yards on three runs to set up first-and-goal at the 7, but the Eagles were forced to settle for a 22-yard field goal from Roldan Alcobendas.
"There were a few plays, but at times we were inconsistent. We had balls that were put on receivers and we just have to execute better," Best said.
The Bison (2-0) came back with a nine-play, 51-yard drive to go up 26-13. After an Eastern three-and-out, the Bison hogged the ball for another 12 plays and six-plus minutes before quarterback Easton Stick scored on a 12-yard keeper.
NDSU's offense was the epitome of ball control. While Stick was a solid 13 for 20 for 157 yards, the Bison ran for 375 yards. Bruce Anderson gained 160 yards on 23 carries and Lance Dunn carried 19 times for 148 yards and three touchdowns.
"We have to make sure our competitive juices continue to flow," Best said. "We talked about it last week, but the hardest thing in sports is losing. One team wins every week and one team loses, and doing it twice in a row is difficult. We have to find out who we do have for next week's game and ride those guys."
Local journalism is essential.
Give directly to The Spokesman-Review's Northwest Passages community forums series -- which helps to offset the costs of several reporter and editor positions at the newspaper -- by using the easy options below. Gifts processed in this system are not tax deductible, but are predominately used to help meet the local financial requirements needed to receive national matching-grant funds.
Subscribe to the sports newsletter
Get the day's top sports headlines and breaking news delivered to your inbox by subscribing here.
---