News > Spokane
Spokane Valley opens new $14.2 million City Hall
UPDATED: Tue., Sept. 19, 2017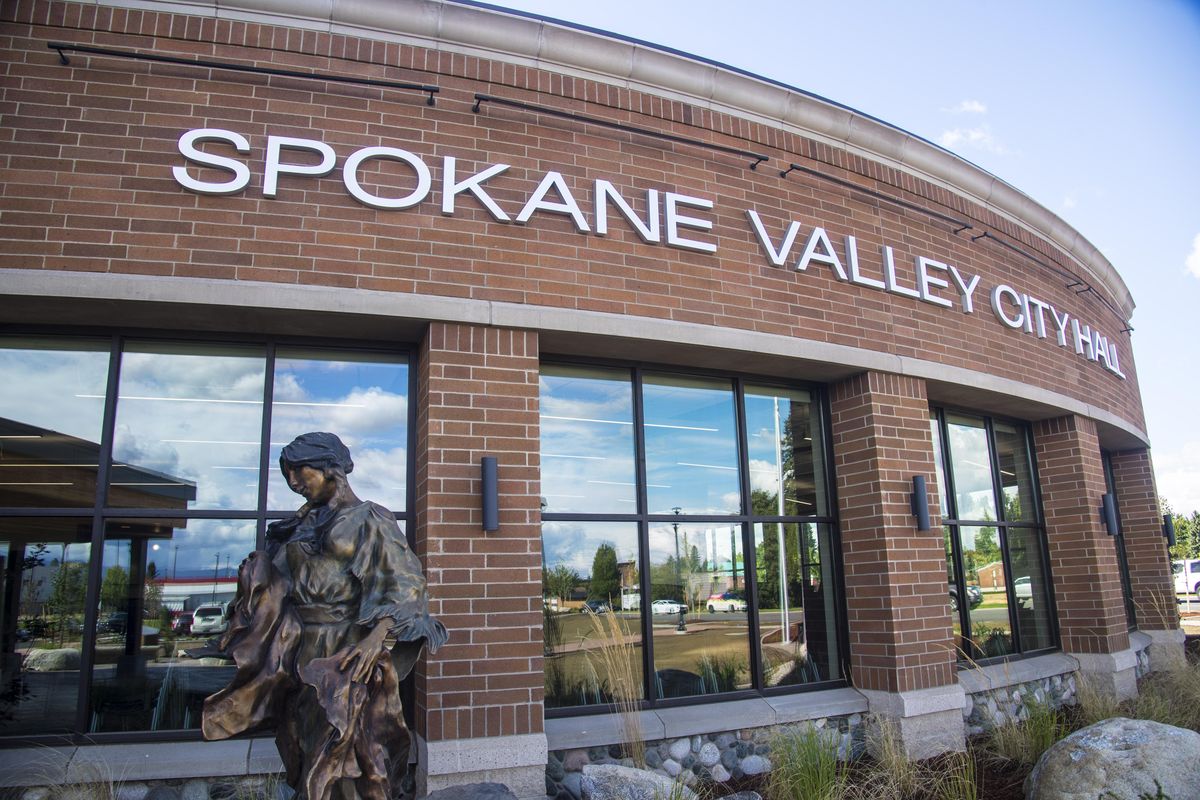 The new Spokane Valley City Hall opened for business Monday, Sept. 18, 2017. (Dan Pelle / The Spokesman-Review)
The new $14.2 million Spokane Valley City Hall opened for business Monday, 15 months after construction crews began work.
When Spokane Valley incorporated in 2003, city clerk Chris Bainbridge and city attorney Cary Driskell were among those who first went to work in city offices leased within Redwood Plaza. It remained that way for the next 14 years as the 10th largest city in Washington kept busy in the small space.
On Monday, Bainbridge and Driskell were working out of larger, cozier offices inside a new three-floor, 65,000 square-foot building on the corner of East Sprague Avenue and Dartmouth Road.
The move isn't yet finished, and a grand opening is slated for Oct. 14.
The red brick structure is equipped to serve the budding city's 96,000 residents, Driskell said.
"It's part of the maturation of the city," Driskell said. "This building is a reflection of understanding of what it is supposed to be doing and designing a central structure.
"This is a purpose-driven design and intended to be functional at its very core."
Located in front of the old University City Mall, the building features an open lobby, large glass windows and a state-of-the-art City Council meeting chamber that will seat up to 190 people with four large flat-screen TVs.
It houses various city departments and offers more office space.
"The lighting is wonderful – it's real light, not artificial light," Bainbridge said.
It's also easier for people to find their way around.
"When you walk into the entranceway, you're there," Bainbridge said. "At the old building, people would walk in and say 'Where's City Hall?' "
The old building will still be in use this week for City Council meetings, which will move into the new building next week, according to City Manager Mark Calhoun.
"We went from being a product of urban sprawl to being an actual city. We looked like it, we felt like it. But we were in somebody else's building and it wasn't a good fit for our operation."
Local journalism is essential.
Give directly to The Spokesman-Review's Northwest Passages community forums series -- which helps to offset the costs of several reporter and editor positions at the newspaper -- by using the easy options below. Gifts processed in this system are not tax deductible, but are predominately used to help meet the local financial requirements needed to receive national matching-grant funds.
Subscribe now to get breaking news alerts in your email inbox
Get breaking news delivered to your inbox as it happens.
---