Sports > WSU football
No. 18 Washington State blasts Nevada 45-7 as Luke Falk throws for 5 TD passes
Sept. 23, 2017 Updated Sat., Sept. 23, 2017 at 11:10 p.m.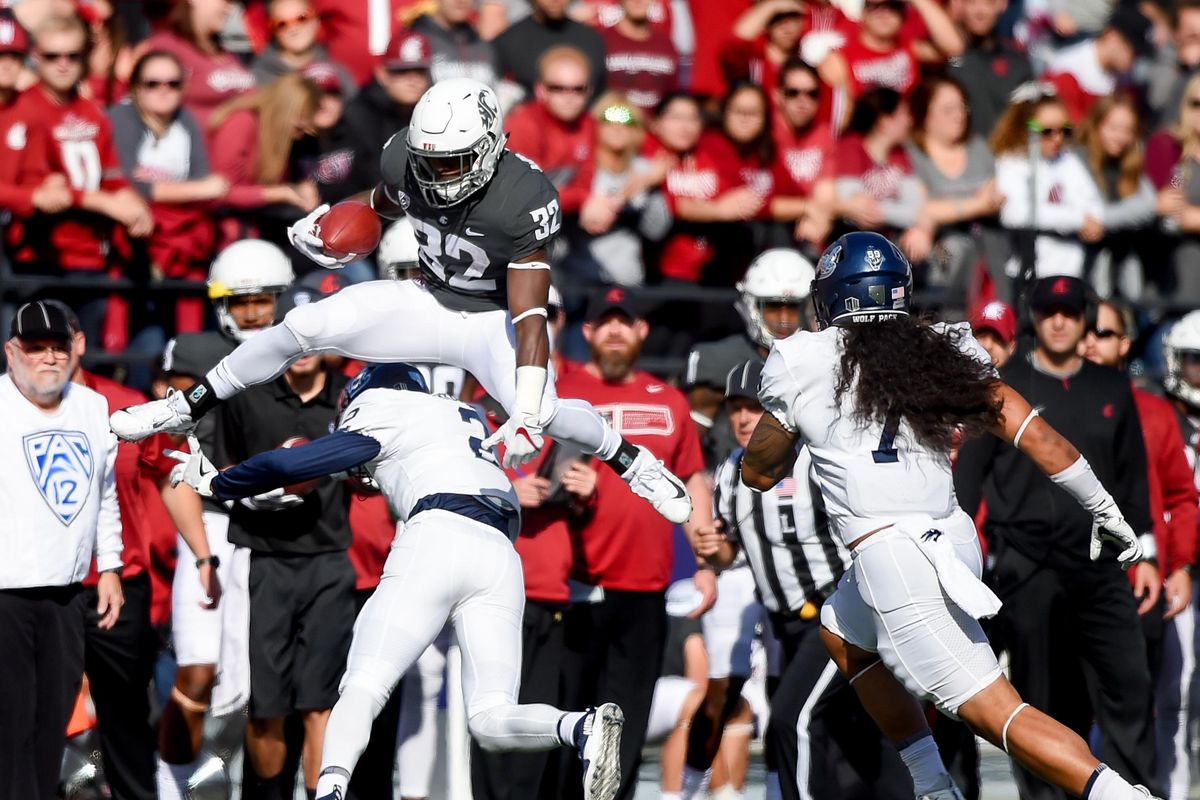 Washington State Cougars running back James Williams (32) hurdles Nevada Wolf Pack defensive back Asauni Rufus (2) during the first half of an NCAA college football game on Saturday, Sept. 23, 2017, at Martin Stadium in Pullman. (Tyler Tjomsland / The Spokesman-Review)
PULLMAN – In an effort to make college football shorter and sweeter, the Pac-12 Conference selected a handful of nonconference games this season, including Washington State-Nevada, and chopped off five minutes from the halftime intermission.
The Wolf Pack could have used those additional 300 seconds on Saturday afternoon at Martin Stadium. The visitors may have also chosen to stay holed up in the locker room when their 15 minutes were up. It wasn't a great day to be on the same field as the Cougars.
No. 18 WSU led by 35 points at the half, Luke Falk had another mega passing day and the defense conceded just 151 total yards of offense as the Cougars dispatched Nevada 45-7 in front of 30,317 fans to stay unbeaten on the year.
The Wolf Pack (0-4) gave the Cougars (4-0) a final tuneup for Friday's Pac-12 test against No. 5 USC, which beat Cal 30-20 on Saturday to remain undefeated.
WSU players now have the green light from Mike Leach to begin thinking about and game-planning for the Trojans. The coach just didn't want that to take place prematurely – and knowing the stakes attached to the USC game, it could have been easy for minds to wander before Nevada came to town.
"You always wonder, you don't want them to listen to the outside noise," Cougars coach Mike Leach said. "The outside noise, regardless of who it is – not just (the media). I've got a pile of relatives and friends that are experts on every football game I've been involved in … and got their two cents worth. And I'm sure these guys hear it from girlfriends, English teachers and the guy at the coffee shop on campus or whatever.
"They have to have the discipline to shut that out."
The Cougars nearly took it one step further and shut out the Wolf Pack. Nevada finally got on the board with 1:56 left in the fourth quarter and scored on a 3-yard run, mostly with WSU's backups in the game.
Besides that, the home team played another tenacious game on defense – the Cougars had five sacks and three interceptions – and WSU's starting quarterback made sure it would be another dominant effort on offense.
Falk buffed up his career numbers in WSU's last nonconference game and shot up the Pac-12's all-time leaderboard, further establishing his legacy as one of the best passers in conference history.
The final line for the senior signal-caller? 36 for 47, 478 yards and five touchdowns.
Falk passed two players – USC's Carson Palmer and Cal's Jared Goff – in career passing yards and moved into third all-time in the conference with 12,271. He jumped former Trojan Matt Leinart in career TD passes with 103 and moved past Palmer and UCLA's Brett Hundley in total offense (11,977).
"I think it's a great team thing," Falk said. "All those touchdowns are because we were all collectively and individually doing our job as a team, so I think it's cool from that perspective. It is humbling, but I've got to keep working, keep going at it."
Falk's flurry started midway through the first quarter, when the QB hit running back Jamal Morrow on a dump-off for a 12-yard touchdown pass. Then he flipped a shovel to James Williams for a 13-yard score with 3:11 to play in the period.
The third touchdown came in the second quarter, on a screen play to Tavares Martin Jr., who eluded a few tackles and shed Nevada's Nephi Sewell before winning a 40-yard footrace to the end zone. Williams scored his second TD of the game on a 1-yard run the next drive after Falk connected with C.J. Dimry for 45 yards to set the Cougars up in the red zone.
WSU – favored to win by 28 points – went up 35-0 at halftime when Falk hit true freshman Jamire Calvin for a 6-yard touchdown pass, the first TD of Calvin's young career.
Falk, who's thrown 11 touchdowns in his last two games, spread the ball out to 13 receivers. Eight of those finished with at least two catches.
"He really only had two series that I objected to," Leach said, "which is pretty good."
On the other sideline, it was a rather disheartening day for signal-callers wearing a Nevada uniform.
On the game's very first play, Hercules Mata'afa busted through the offensive line to sack Kaymen Cureton and the Cougars dropped the Wolf Pack starter twice more before Nevada could even get a first down.
Cureton didn't last long and after completing just 1 of 5 pass attempts, the true freshman was relieved by Alabama transfer David Cornwell. Cornwell drove the Wolf Pack 64 yards late in the second quarter, but his most productive series of the half ended with Jalen Thompson's interception in the end zone.
Thompson and Robert Taylor left no real estate uncovered Saturday night and the Cougars gave up just 105 passing yards while limiting the Nevada QBs to a 46 percent completion rate.
Taylor intercepted Cornwell in the third quarter and Thompson picked another ball out of the air in the fourth quarter for his third interception of the season.
"He's very intense," Leach said of Thompson. "Jalen's also pound-for-pound a very strong guy. He'll walk in here in a minute and be a skinny little guy but he hits harder than most skinny guys. … A lot of intangibles, too, as far as just being smart and where he needs to be."
Martin Jr. finished with 114 receiving yards on just four catches one week after rolling up 194 against Oregon State. Freshman receiver Renard Bell also hit the century mark for the second time this season with 113 yards on four grabs.
Local journalism is essential.
Give directly to The Spokesman-Review's Northwest Passages community forums series -- which helps to offset the costs of several reporter and editor positions at the newspaper -- by using the easy options below. Gifts processed in this system are not tax deductible, but are predominately used to help meet the local financial requirements needed to receive national matching-grant funds.
Subscribe to the Cougs newsletter
Get the latest Cougs headlines delivered to your inbox as they happen.
---