Sports > WSU football
Analysis: Cougars get long-awaited signature win at 'Woodstock'
Sept. 30, 2017 Updated Sat., Sept. 30, 2017 at 5:07 p.m.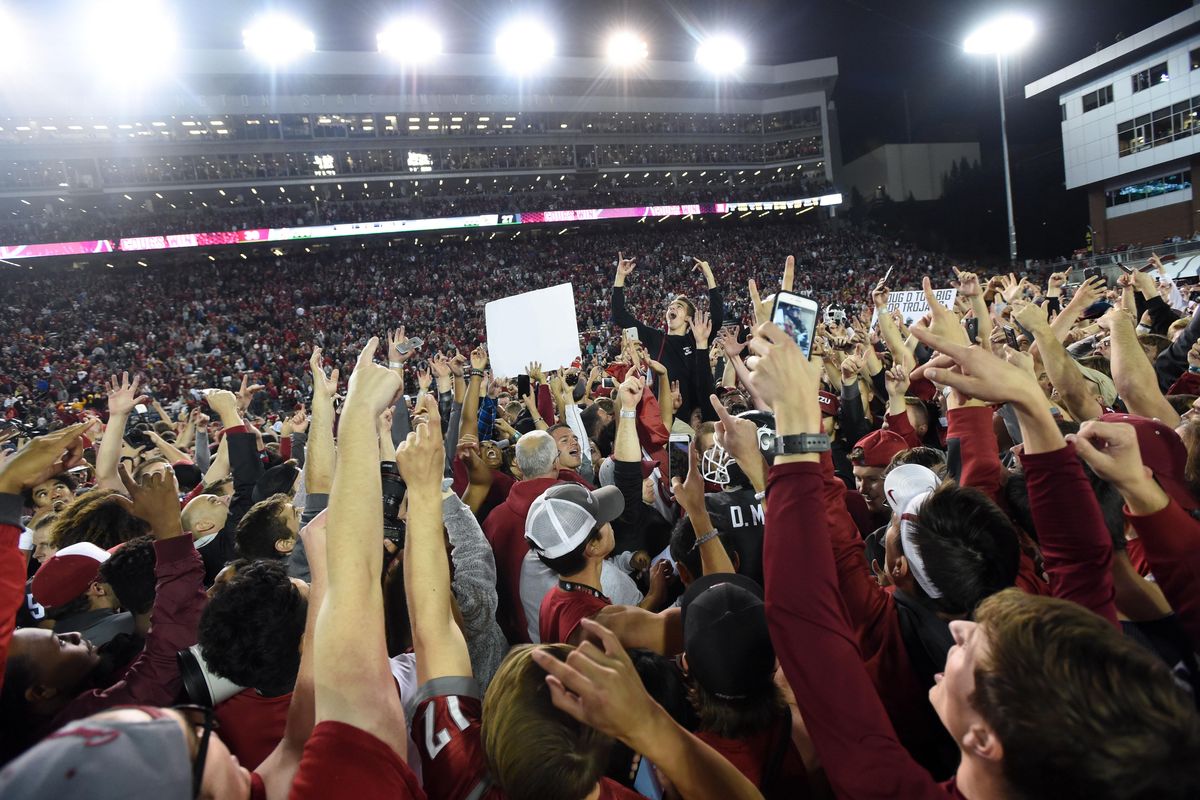 Washington State Cougars fans and players celebrate after WSU defeated USC during the second half of an NCAA college football game on Friday, Sept. 29, 2017 at Martin Stadium in Pullman. (Tyler Tjomsland / The Spokesman-Review)Buy a print of this photo
PULLMAN – Few moments in Washington State football history compare to the ones that follow an upset of the country's fifth-ranked team. As far as moments go, Friday's 30-27 triumph over USC could very well be a chart-topper. It's a contender at the very least.
But how about moments in American history? Mike Leach surveyed the scene at Martin Stadium – students piling onto the field, students piling onto other students – and the Washington State coach delivered his best analogy to Neil Everett in a postgame interview.
"It's like Woodstock," Leach told the ESPN anchor. Just one caveat: "Except everyone has their clothes on."
For the first time in more than a decade, since they beat Texas in the 2003 Holiday Bowl, Cougars went toe-to-toe with a top-five team and came out on the winning end. The last time they did that in the regular season? It happened a quarter of a century ago, in the 1992 Apple Cup.
The 16th-ranked Cougars (5-0, 2-0) won't be ranked 16th for long.
Luke Falk (34-for-51, 340 yards, 3 TDs) usurped Sean Mannion to become the Pac-12's career leader in completions, WSU's trademark Speed D put the brakes on Sam Darnold's Heisman campaign and Erik Powell erased any notion that he isn't a big-moment kicker – two years ago, he missed a pretty big one – when the senior banged a 32-yard field goal through the uprights to give the Cougars the marquee win they've long been missing under Leach, the sixth-year coach.
A sellout crowd of 33,773 saw it all play out on a crisp autumn night in Pullman.
"It was a really good environment, the fans were fantastic," Leach said. "They were loud the whole game. It was an exciting matchup with a team the caliber of USC and the tradition they have. They've been winning a lot of games for over 100 years."
And in the last calendar year – 371 days exactly – the Trojans had won every time they stepped on the field. Their 13-game streak effectively ended in the final mintue of the fourth quarter at Martin Stadium when Darnold, being pursued by multiple Cougars, tried an underhand toss as he was speared by WSU linebacker Jahad Woods.
Darnold dropped, the ball spilled and Derek Moore pounced. The Cougars took over with less than 1:30 to go and Falk, who produced all night despite USC's relentless pass-rush, coolly dropped into the victory formation.
And what a victory.
"You can't get moments like this," said Falk, who returned to WSU for his senior season for the distinct elation that comes with victories such as Friday's. "… And we're going to enjoy this one tonight, and when tomorrow hits, we're back to working. Definitely going to enjoy this one tonight, though."
For two halves, it was a blow-for-blow battle between one of the Pac-12's emerging powers and the league's most storied program.
It was a special game for the California-born Cougars who grew up in USC's vicinity, but never got the time of the day from the college football dynasty that existed in their own backyard.
Renard Bell, for instance, attended Los Angeles' Cathedral High School – just a 5-mile journey north if you're coming from the USC campus.
Bell hit 100 receiving yards for the third time in five games, catching three balls for 101, including a key 61-yard strike that set up WSU's first touchdown – a 28-yard tunnel screen from Falk to Tavares Martin Jr.
"It means a lot," Bell said of the win. "It means A LOT."
Jamal Morrow, another SoCal native who failed to pick up recruiting interest from the hometown team, rolled up 138 all-purpose yards, rushed for one touchdown and caught another.
How does Morrow feel about the Trojans?
With the score tied at 20-20, the senior running back corralled one Falk's signature shovel passes and zipped into the end zone for a 23-yard go-ahead score.
Morrow rushed to the crowd of USC fans standing closest to the Cougars running back and threw up the two-finger salute that's so sacred to the Trojans and their large network of fans.
Fight on? No. 16 WSU sure did Friday evening against the country's fifth-ranked team.
Morrow would later set up Powell's game-clincher with a piercing 35-yard run through the belly of USC's defense.
"In a situation like this where he's excited and loose like that it rubs off on other guys," Leach said of his tailback. "Of course he played real well … so yeah he had a good day."
The Cougars were vicious on defense and had to be when the offense put them in a few uncomfortable spots. The 11-minute marker in the second quarter was one of those. Falk, from WSU's 3-yard line, had a pass batted by USC's Uchenna Nwosu. Nwosu tipped it to Cougars right tackle Cole Madison, but the ball richocheted off Madison and back to Nwosu, who ended the sequence by pulling it in.
But the Trojans ran into the sharp teeth of WSU's defense on three straight plays and had to settle for a field goal.
"That was a very key point," Leach said. "No question."
WSU outgained USC 462-327 in total offense and 23-15 in first downs. Darnold did some work with his feet, rushing nine times for 46 yards and two touchdowns, but the Cougars blanketed his receivers and USC's headliner quarterback was held to 15-of-29 passing with 164 yards and an interception.
It was possibly the least productive game for Darnold as the Trojans' starter.
"I felt like we were stopping them pretty consistently," Leach said. "Only an explosive here or there."
Ronald Jones was responsible for one of the explosives. The USC running back scored on an 86-yard run in the second quarter and finished with 135 yards on the ground.
WSU's starting inside linebacker, Isaac Dotson, limped off the field with what appeared to be a lower-body injury late in the first quarter. Dotson went to the locker room in the second quarter, but eventually returned to the WSU sideline. He never returned to the game, though.
USC starting right tackle Chuma Edoga also hobbled off the field with an injury and didn't return, as did starting Trojans right guard Viane Talamaivao. USC was already playing without starting left tackle Toa Lobendahn.
Local journalism is essential.
Give directly to The Spokesman-Review's Northwest Passages community forums series -- which helps to offset the costs of several reporter and editor positions at the newspaper -- by using the easy options below. Gifts processed in this system are not tax deductible, but are predominately used to help meet the local financial requirements needed to receive national matching-grant funds.
Subscribe to the Cougs newsletter
Get the latest Cougs headlines delivered to your inbox as they happen.
---