A&E > Music
Gleason Fest welcomes Blind Pilot, Joseph, Shook Twins, more to Riverfront Park
Thu., Aug. 9, 2018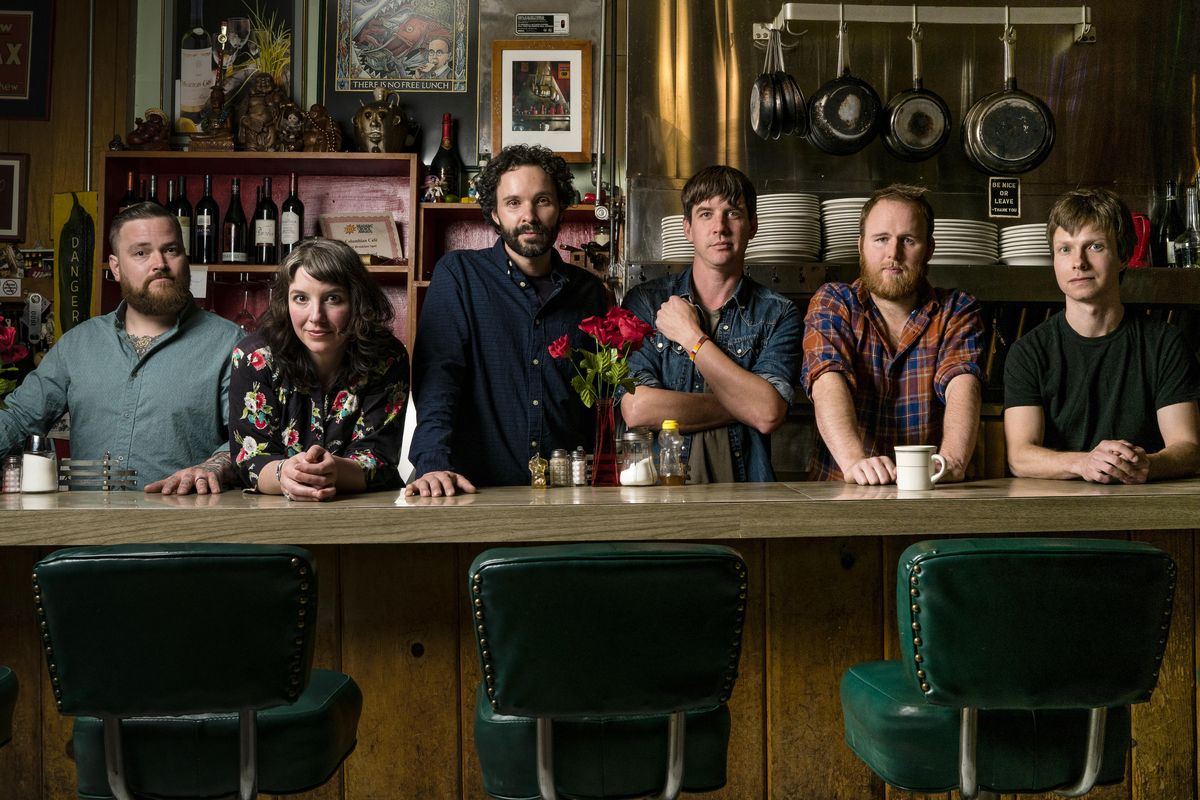 Indie-folk sextet Blind Pilot latest album, 2016's "And Then Like Lions," is a chronicle of both loss and what comes after. (Ben Moon)
As it does every August, Gleason Fest brings both bands and fans together in the name of amyotrophic lateral sclerosis awareness.
Gleason Fest, now in its seventh year, was inspired by Spokane's own Steve Gleason and benefits the Gleason Initiative Foundation's mission to help those with ALS.
The festival started small, with a weekend concert series at places like the Saranac Public House and the Bing Crosby Theater in 2012. Performers included Hey Marseille!, Blake Noble and Hey! is for Horses.
But in short time, the community's support of the event grew. So much so that the festival quickly moved to a stage at Division Street and Main Avenue to its current location, the Lilac Bowl Amphitheatre at Riverfront Park.
"That's something that we strive for," said Team Gleason publicist Rian Emmerson, who has known Gleason since college. "Not only in growth of people attending but sponsors getting involved."
This year, Gleason Fest welcomes Blind Pilot, Joseph, Shook Twins, Deep Sea Diver and Electric Son to Riverfront Park on Saturday.
"Steve really does have his finger on the pulse with this," Emmerson said. "He's passionate about music and really likes that indie music feel."
Gleason's brother Kyle and, new to this year's festival, Matt Meyer, creator of the Tinnabulation Music Festival, also had some input into this year's lineup.
Indie-folk sextet Blind Pilot latest album, 2016's "And Then Like Lions," is a chronicle of both loss and what comes after.
In one month, lead singer Israel Nebeker lost his closest group of friends and a 13-year relationship, and his father was diagnosed with cancer.
Though he admits there was suffering, Nebeker said through that suffering, as he cared for his father, he found true closeness, a deeper will to care and hope, and moments of indescribable beauty.
"This album came from love for my family, my town, my friends, my community," he said on the band's Facebook page. "We don't have to be so afraid of loss. We can speak and share its name, knowing we are together in it. If these songs are invitations to talk about loss and death, the invitation is to talk closely of the courage we find when we face loss honestly, cracked open and unsure of what we will become."
This performance comes a couple of weeks after Blind Pilot wrapped up its "3 Rounds and a Sound" 10-year anniversary tour, during which the band played the album in full, so expect to hear a tune or two from that record.
Pop-folk band Joseph's latest release, the EP "Stay Awake," finds the trio of sisters mixing originals, both old (a demo called "50 60 80") and reimagined ("Planets," from 2016's "I'm Alone, No You're Not"), with covers, like Tears for Fears' "Everybody Wants to Rule the World," in an attempt to help themselves "deal with heaviness."
On its website, Allison, Meegan and Natalie Closner, the latter of whom lived and performed in Spokane before Joseph formed, wrote they were struck by how relevant "Everybody Wants to Rule the World" is today.
In response to the current state of the world, Natalie Closner added a few lyrics to the band's cover.
"Make the most of freedom and pleasure/All I know is take care of each other/An open door, a seat at the table, there's enough to go around."
"We hope that our music can be a force of togetherness when it seems like everything's trying to divide us," the band wrote on its website.
Shook Twins – Katelyn (vocals, guitar) and Laurie (banjo, vocals) Shook, joined by Barra Brown (drums, vocals), Niko Daoussis (mandolin, electric guitar, vocals) and Josh Simon (bass, vocals) – are no strangers to the Inland Northwest.
They performed as part of the Festival at Sandpoint last year and at the Bartlett in 2016. They opened for Greensky Bluegrass at the Knitting Factory in 2016 too, though their Inland Northwest performance history stretches back to at least 2013.
It's no surprise that the indie/folk-pop band keeps the Inland Northwest close though; the Shooks grew up in Sandpoint, and the band is now based in Portland.
After a summer of travel that had them criss-crossing the country for festivals in North Carolina, California, New Mexico, Michigan, Oregon, Idaho and Colorado, plus the Fayetteville Roots Festival in Arkansas later this month, the band is back home for Gleason Fest.
The band released the "2" EP last year, and a new single called "Stay Wild" in April, so keep your fingers crossed for a new tune or two to appear on the setlist.
If you don't catch them this time around, the Shook Twins will be back in Spokane on Sept. 25 to open for Gregory Alan Isakov at the Bing.
The News section of Deep Sea Diver's website offers very little, but very exciting, information about the Seattle band.
"Deep Sea Diver is currently getting ready to record album #3!," it proclaims above a photo of the quartet – singer/multi-instrumentalist Jessica Dobson, bassist Garrett Gue, guitarist/synth player Elliot Jackson and drummer Peter Mansen – sitting on a nondescript gray couch in a nondescript studio.
After introducing themselves to the world with 2009's "New Caves" EP, Deep Sea Diver's first full-length, "History Speaks," was released in 2012.
The "Always Waiting" EP followed in 2014, and the band released its sophomore album "Secrets" in 2016.
The band's Facebook and Instagram accounts offer no more information about its upcoming album, but Inland Northwest-based fans will surely get a sneak peek or two at what the band has been working on during Gleason Fest.
And finally, Electric Son will brings its blend of funk, rock and blues to Spokane all the way from Cincinnati.
The quartet – vocalist Leslie Frimer, drummer Matt Hiudt, guitarist/lead vocalist Jim Salters and bassist Marcus Saskin – has built up quite the following in Cincinnati with regular gigs at Car Rock Cafe and Taft Ale House, but Spokane isn't completely unfamiliar territory for Electric Son.
"It's a hometown gig for Jim who can't wait to play for Steve," the band wrote on Facebook.
Before Gleason Fest, a few of the bands will perform an acoustic concert for ALS patients and their families.
Emmerson is touched by the unwavering support from both the bands and community members, but it doesn't surprise her.
"He's always been that legend from Gonzaga Prep," Emmerson said. "Two-sport athlete at WSU and that pride of Spokane when he went and was successful with the Saints. What I love about Spokane is they welcome him home with open arms and continue to support him and his mission … It's really neat to have everybody feel like he's still their hometown kid."
At Gleason Fest, the Full Sail Brewing and Kyla Kombucha Beer Garden will be open for those 21 and older, and there will also be several food trucks, a photobooth, face painting, a henna artist and Spokane Sidewalk Games at the event. Free parking is available at WSU Spokane.
Local journalism is essential.
Give directly to The Spokesman-Review's Northwest Passages community forums series -- which helps to offset the costs of several reporter and editor positions at the newspaper -- by using the easy options below. Gifts processed in this system are not tax deductible, but are predominately used to help meet the local financial requirements needed to receive national matching-grant funds.
Subscribe to the Spokane7 email newsletter
Get the day's top entertainment headlines delivered to your inbox every morning.
---