A&E > TV
Around the remote: Krasinski steps into TV's 'Jack Ryan'
UPDATED: Fri., Aug. 24, 2018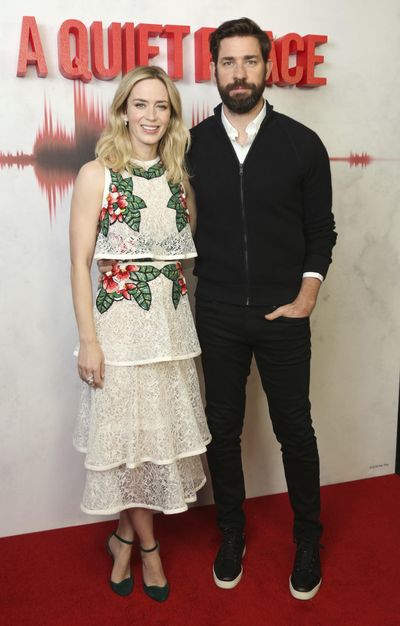 DON'T MISS: "Jack Ryan" – Over the years, Tom Clancy's butt-kicking American hero has been portrayed by various actors on the big screen, but John Krasinski ("The Office") is the first guy to step into the role for TV. In this amped-up, modern-day prequel, Ryan is a lowly CIA analyst who unexpectedly gets thrust into a dangerous field assignment for the first time. Naturally, lots of gunfire, explosions and nuclear terror ensues. The cast also includes Wendell Pierce and Abbie Cornish. (Friday, Amazon Prime).
Other bets
SUNDAY: In the provocative documentary series "America To Me," cameras follow students and teachers at Chicago's Oak Park and River Forest High School, one of the country's highest performing and diverse public schools. The program examines what has succeeded – and failed – in the quest to achieve racial equity and overcome obstacles in America's education system. (10 p.m., Starz).
MONDAY: It's getting down to crunch time on "So You Think You Can Dance." Tonight, the Top 6 finalists bust some moves for the nation's vote and two will be eliminated. (8 p.m., Fox).
TUESDAY: Brace yourself for much more drama as "Greenleaf" launches its third season. All of the turbulent forces that Grace's (Merle Dandridge) return to Memphis unleashed now threaten to destroy not just the megachurch her family built, but the family itself. (10 p.m., OWN).
TUESDAY: "The Shop" is LeBron James' contribution to late-night television. The NBA superstar pops up in barber shops around the country to have free-flowing conversations with his famous friends about sports, music, pop culture and world events. Among the first guests are Draymond Green, Snoop Dogg and Jon Stewart. (11 p.m., HBO).
WEDNESDAY: On an especially big-hearted installment of "MasterChef," Gordon Ramsay and his fellow judges direct the remaining home cooks to serve up restaurant-quality dishes to a group of heroic California firefighters. (8 p.m., Fox).
WEDNESDAY: Break out the power saws and sledge hammers. The "Property Brothers" – Jonathan and Drew Scott – are back for a new season and they're ready to oversee more makeovers for buyers seeking their dream homes. (9 p.m., HGTV).
THURSDAY: The offbeat new drama series "One Dollar" is set in a small, struggling Rust Belt town where a shocking multiple murder case occurs. Following a single greenback as it changes hands, the show cleverly connects a diverse group of characters to the case, while exploring issues tied to class and cultural divides. (CBS All Access).
FRIDAY: Season 2 of the addictive crime drama "Ozark" continues to follow Marty and Wendy Byrde (Jason Bateman and Laura Linney) as they navigate the murky waters of life within a drug cartel. Will things ever get back to normal? Probably not before more blood is spilled. (Netflix).
SATURDAY: Are you ready for some college football? Reigning national champion Alabama kicks off its title defense in Orlando, Fla. against Louisville (5 p.m., ABC). Also, Michigan takes on Notre Dame in South Bend, Ind. (4:30 p.m., NBC).
Local journalism is essential.
Give directly to The Spokesman-Review's Northwest Passages community forums series -- which helps to offset the costs of several reporter and editor positions at the newspaper -- by using the easy options below. Gifts processed in this system are not tax deductible, but are predominately used to help meet the local financial requirements needed to receive national matching-grant funds.
Subscribe to the Spokane7 email newsletter
Get the day's top entertainment headlines delivered to your inbox every morning.
---