Analysis: Zach Norvell Jr. heats up as Gonzaga wins shootout over Creighton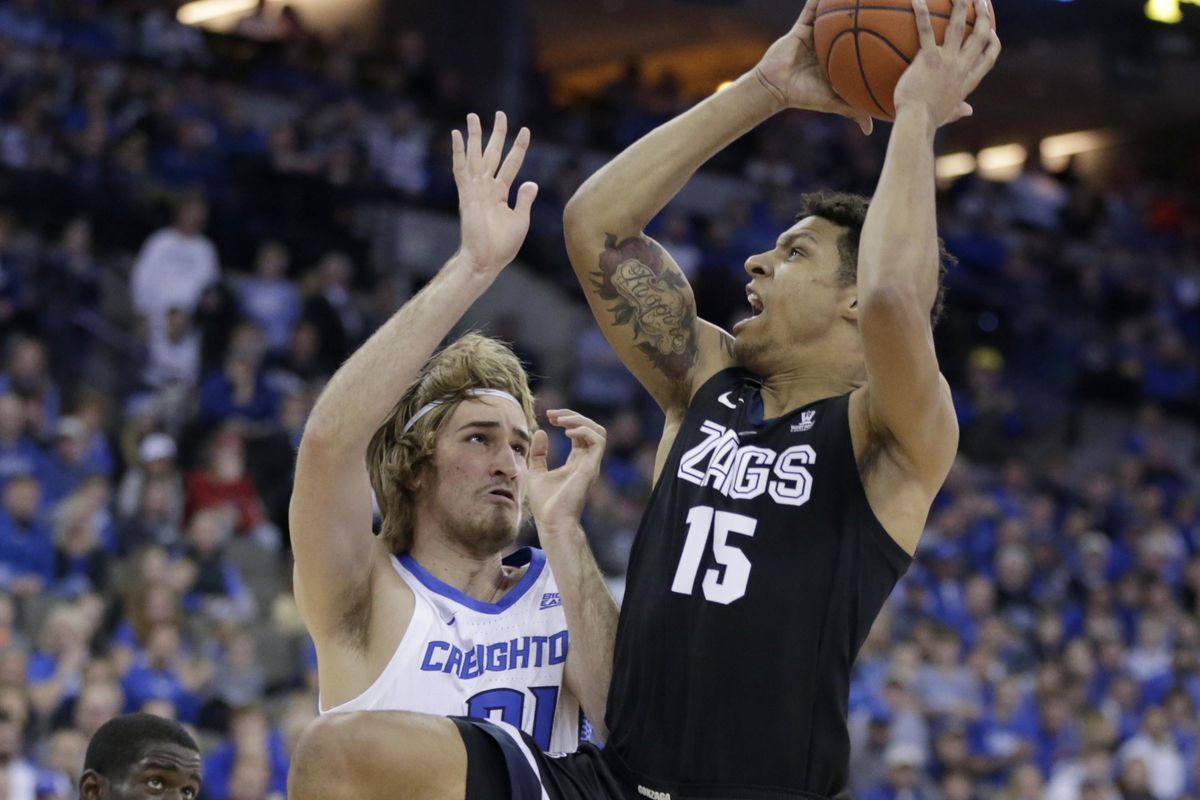 OMAHA, Neb. – Zach Norvell Jr. insists there isn't a switch attached to his jersey, one he seemingly flips to turn a miserable first half into a memorable second.
The sophomore wing has done it so many times that Mark Few has almost grown to expect it. It has a maddening quality for the head coach, but it's also something he deeply respects.
"He's literally done that to us 15 times," Few said. "That takes a special confidence, a courageous player to keep taking shots like that."
It also takes a coach willing to stay with a player when his shots aren't falling. Norvell misfired on his first four attempts Saturday before catching fire, pouring in 23 points in the second half as No. 1 Gonzaga rallied past Creighton 103-92 in front of 18,759 at the CHI Health Center.
It was nearly a replay of GU's win over Creighton last December in Spokane. Norvell scored 21 second-half points as the Zags rallied from a seven-point halftime deficit – same as Saturday – to win going away.
"Naw, I don't have a switch, just trying to stay poised throughout everything," said Norvell, who finished with six 3-pointers and 28 points. "Coach Few has talked to me a couple of times, just knowing time and score. I'm still learning that as a young player. I have to get it corrected early and not late."
In the corrections department, Josh Perkins was probably Gonzaga's biggest achiever. His game mirrored Norvell's. He was slowed by two first-half fouls, but produced nine points and nine assists in the second half. He finished with 13 assists, tied for second on GU's single-game list.
Perkins' stats were big, as were Brandon Clarke's 27 points and Rui Hachimura's 22, but the Zags (8-0) won the game with their best defensive stretch in what was otherwise a shootout.
The Bluejays (6-2), playing in front of their fifth-largest home crowd, hit their first three 3-pointers and 6 of 9 to build an early lead. Their perimeter success pumped up the crowd and their bench. Seconds after 7-foot reserve center Samson Froling checked in, he canned just his second 3-pointer of the season, pushing Creighton's lead to 26-19.
It wasn't that Gonzaga's offense had trouble keeping up. The Zags had mismatches whenever Clarke and Hachimura had the ball against the Bluejays' four-guard alignment.
"Playing small is by far our best offensive lineup," Creighton coach Greg McDermott said, "but obviously we're at a little bit of a disadvantage when you play against Clarke and Hachimura."
The Zags' forwards produced, but their baskets didn't add up as quickly as Creighton's nine 3-pointers in the first half. Seven Bluejays connected from deep as they took a 48-41 halftime lead.
Gonzaga bit into the deficit quickly as Norvell heated up. He had plenty of company, with Perkins distributing and Clarke and Hachimura operating inside.
"He changed the game," McDermott said of Norvell. "It changes everything in how you defend inside when he can shoot it from 6 feet behind the line. He's been an absolute killer to us in the second half the last two years."
Both teams were shooting well above 50 percent when Gonzaga fixed a couple of issues – rebounding and defense – that had been troublesome until that point. The Bluejays didn't miss all that often, but they had developed a habit of coming up with big putbacks. The Zags shut that down, outrebounding Creighton by eight in the second half.
Creighton went scoreless on six straight possessions, including a string of three consecutive turnovers. Perkins nailed a 3-pointer and Norvell added two 3s and a layup as GU took control 84-73.
"Our offense is always going to be fine," Perkins said. "We just needed to figure some things out defensively."
That required some listening first, and then execution. Few credited Creighton, despite being stocked with underclassmen, for countering Gonzaga's defensive switches on the fly during the first half.
Finally, Gonzaga's defensive changes took hold.
"We switched our ball-screen coverage, started making them go downhill and take some twos," said Few, whose team hosts Washington on Wednesday. "And our guys actually listened. That was actually the plan several times prior to that, but they decided to listen."
The Zags kept on getting stops, but failed to take advantage, with a rare cold streak at the offensive end. Their lead dwindled to 90-85, but Perkins hit two free throws and Clarke made four straight, allowing GU a to survive a couple of late turnovers.
---