Gonzaga women upset No. 8 Stanford behind 20 points by Chandler Smith, Jill Townsend's 15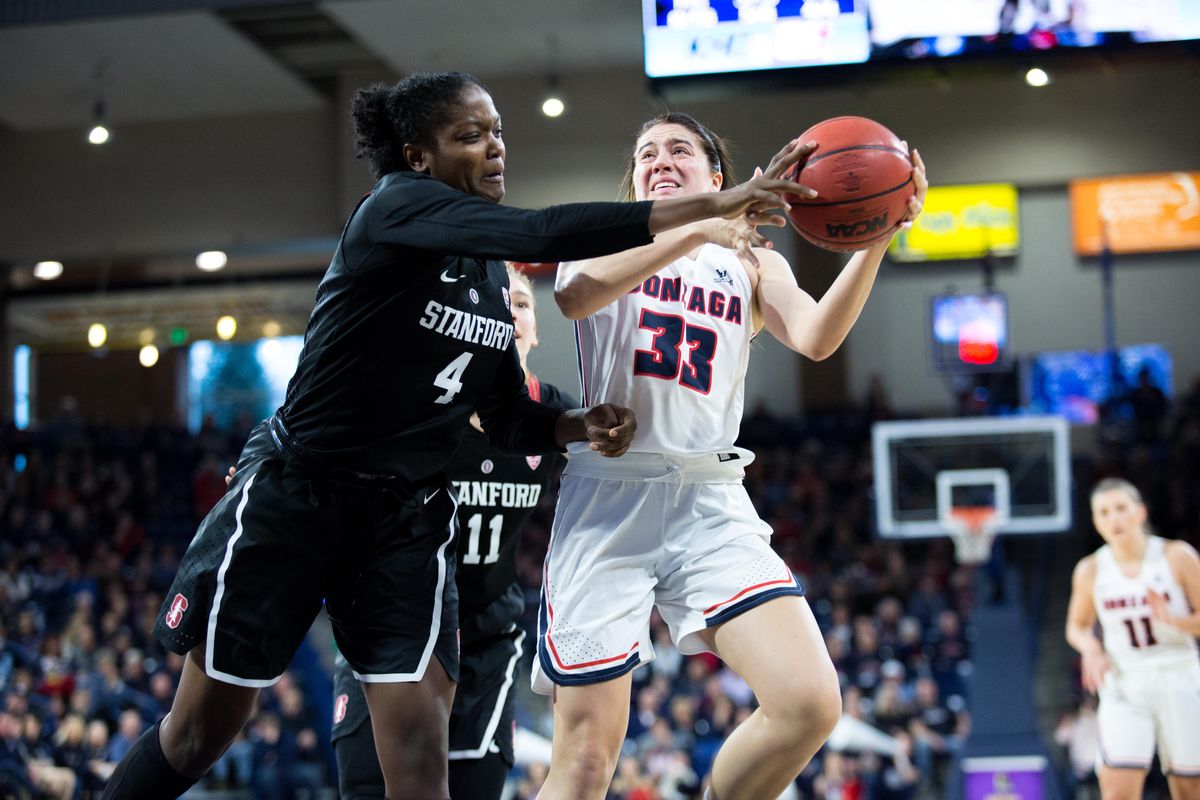 This wasn't about payback, though that felt good too.
Instead, Gonzaga's 79-73 conquest of eighth-ranked Stanford on Sunday afternoon was something to build on. Not a landmark but a signpost – for next week, next month and next March.
Even after the program's biggest nonconference win in almost four years, the Zags just want to get better.
"We're already looking forward to the next game, (on Dec. 9) against Washington State," said guard Jill Townsend, who talked like she meant it.
Senior Chandler Smith was looking ahead too.
Asked how this win ranked in her collegiate career, Smith smiled and said, "Maybe number one. But maybe later I'll have another number one."
Those moments tend to come in March, but the first Sunday in December was plenty special for the Zags and a sellout crowd of 6,000 at the McCarthey Athletic Center.
Against one of the top programs in the land, GU played with style and substance, hitting 3s and forcing turnovers.
And when Stanford stormed back, the Zags weathered that too, on a raucous afternoon at the Kennel.
"Thank you to our amazing fans," Smith said. "They make every game feel like it's the Final Four."
Close enough. For some of the Zags, it felt like a reprise of their first-round NCAA defeat eight months ago at Stanford, a chance for some payback.
"That one hurt," Smith admitted. "It was in the back of our minds."
So was the one-sided battle on the boards in that 82-68 loss last March. The Zags took the lessons to heart long before Sunday's opening tip – good thing, because Stanford came into the game with a 6-0 record and the fourth-best rebounding margin in the country at plus-17.
"We talked about rebounding all week," Townsend said.
On Sunday, the Zags (8-1) turned words into action, outrebounding the taller Cardinal 38-24. The hard work was embraced by all: No Zag had more than seven rebounds, and seven players had three or more.
GU's 43-32 halftime lead was fashioned partly on 60 percent shooting from 3-point range, but mostly on tough defense in the paint.
The stat of the first half: Stanford was 6 for 11 from long range in the first half but only 5 for 17 inside the arc.
"They got one shot and they were done," said coach Lisa Fortier said after her second career win over Stanford legend Tara VanDerveer.
"We wanted them to put it on the floor – we were a little bit over-closing in on them," Fortier said. "We dialed in on their individual players."
The Zags were simply dialed in on the other end. With point guard Jessie Loera sidelined by a concussion protocol following a midweek practice, Katie Campbell got her first start at GU.
Coming in shooting a ridiculous 50 percent from long range, Campbell pushed her average even higher by going 5-for-6 for 15 points.
Twelve of those came in the first half as GU built an 11-point lead at intermission. Her first trey gave the Zags a 10-8 lead, and midway through the second quarter she caromed one off the backboard to make it 27-22.
Gonzaga closed the second quarter with a 13-4 run, as Stanford missed nine of its last 10 shots.
Instead of a Stanford comeback in the third quarter, GU's lead grew to 58-40 in the final minute of the third quarter thanks to some clutch shooting from Smith, who finished with a game-high 20 points.
Stanford made just 2 of 12 shots in the third quarter as the Bulldogs took a 58-41 lead into the fourth.
"But you know they're going to make a run," Smith said.
It began seconds into the fourth quarter on a 3-pointer by Kiana Williams, who had a team-high 18 points. With four minutes left GU's lead was down to 65-62 following a three-point play by DiJonai Carrington.
"We were playing a little bit tight," Smith said.
Leading 67-64 with 2½ minutes left, the Zags produced the biggest play of the afternoon when Laura Stockton whipped the ball to Townsend in the corner.
"I had my feet set and felt like I had a lot of confidence and let it fly," said Townsend, who nailed the shot with 2:09 to play to give GU a six-point cushion.
Stanford missed its next two shots, and Stockton and Smith each hit two free throws to push the lead to 74-64 with 1:04 remaining.
Stanford got back to within three with 37 seconds left, but Smith answered with another 12-foot jumper to make it 76-71 with 13 seconds left.
Jenn Wirth and Smith closed out the Cardinal with three more foul shots in the final 10 seconds.
"I'm just so happy for our players," Fortier said. "It's such a good feeling, with a sold-out crowd, against a team that's so talented and so well-coached – I'm just really proud of our team."
---