Analysis: Gonzaga does it all in 101-40 rout over Denver Perfect games are usually reserved for baseball and bowling, but the Gonzaga men's basketball team was in the neighborhood for a good portion of Friday's nonconference game against Denver.
The Zags made their first 15 shots. That's not easy to do in pregame warmups, let alone against a Division I defense. They kept Denver off the scoreboard for the first 6 minutes and 20 seconds.
Suffice it to say, it was a near-perfect sendoff for the Christmas break for No. 8 Gonzaga, which crushed the Pioneers 101-40, breaking the school record for margin of victory in front of 6,000 at the McCarthey Athletic Center.
There was no stress and no new injuries, and reserves saw extended playing time.
The Zags kept their minds on Denver and not on the flights home that many will be boarding Saturday morning.
"We talked about, 'Don't think about Christmas break,' " said junior Rui Hachimura, who made all nine of his shots and finished with 23 points. "Focus on this game and after that we can take a break."
Gonzaga (11-2) went up 14-0 with its longest field goal coming on a 4-foot jump hook by Hachimura.
The streak reached 15 shots before Josh Perkins' jumper with 8:20 left in the half missed the mark.
"I was the one that missed the 16th shot, but it did go in and out," said Perkins, who had four of Gonzaga's 25 assists. "Great team shots. We work on those shots and we got to our spots."
Gonzaga's 84.6 percent shooting broke the school record for one half, eclipsing its previous mark of 80 percent (1988 vs. San Francisco, 1982 vs. Santa Clara). It was the best shooting half by a Division I team since Tennessee Tech hit 85.7 percent in January 2016.
The Zags didn't need any help, but they got some in the form of the Pioneers' 10 first-half turnovers that ignited Gonzaga's transition game. Zach Norvell Jr. and Hachimura both fired passes that were deflected right back to them in stride for easy layups.
But mostly it was just the Zags executing at a high level at both ends of the court.
Some of the biggest ovations were for Gonzaga's defense, which forced two shot-clock violations in the first half and a few other rushed shot attempts with time running out. Denver (5-9) missed some open looks, but the majority of its attempts were contested and five were blocked.
"That (two shot-clock violations) doesn't happen often," Perkins said. "For it to happen twice in one half really shows we're taking (defense) seriously. That team isn't as bad as the scoreboard showed."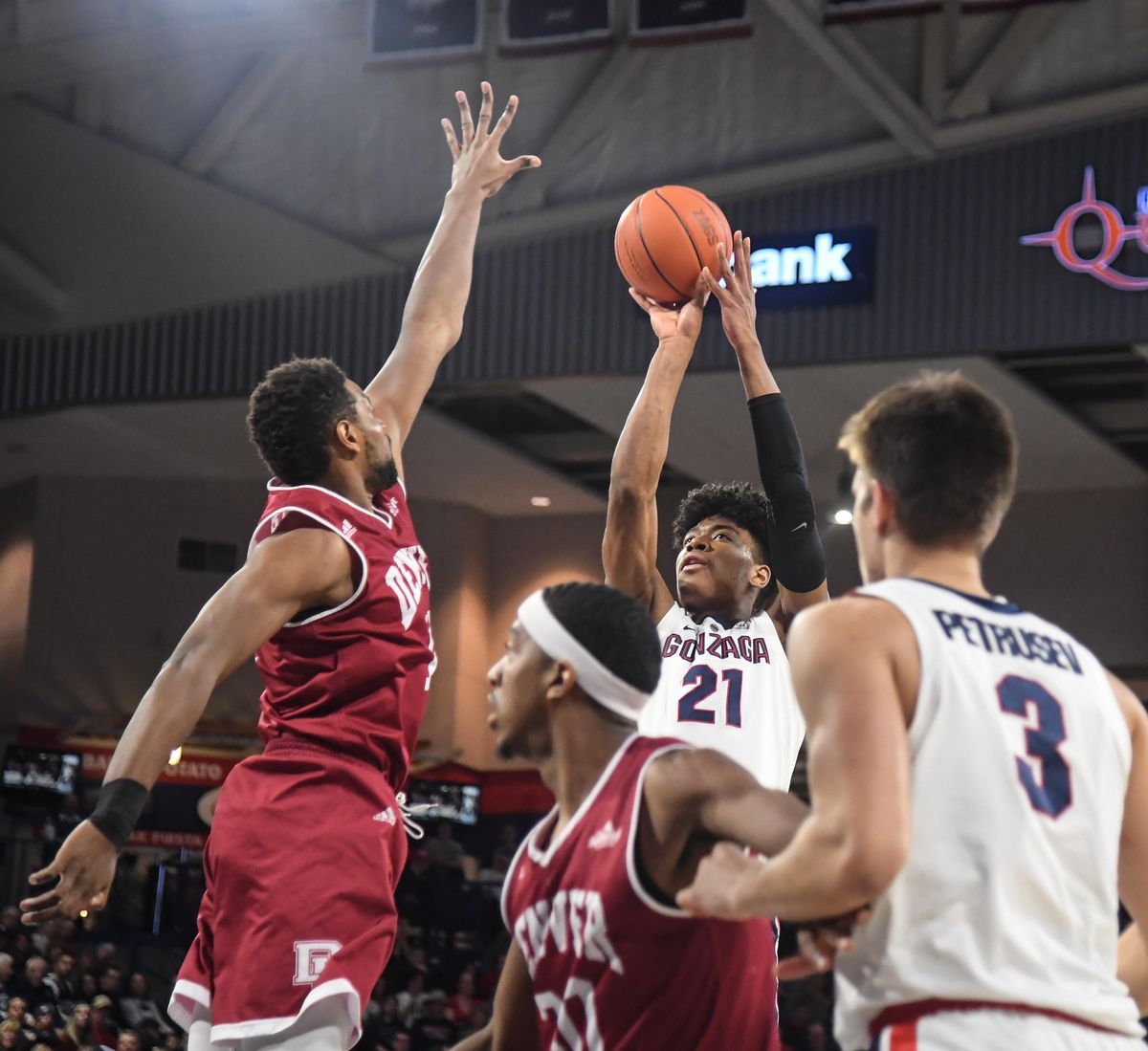 Pioneers senior wing Ronnie Harrell, the team's leading scorer at 14.3 per game, missed his first eight shots before making his first field goal with 16:50 left in the second half.
Denver, coming off a win over Montana State with 15 made 3-pointers, went 2 of 18 from distance and shot just 24.6 percent overall.
Hachimura and frontcourt mate Brandon Clarke punished defenders in the paint with layups, dunks and close-range shots. Hachimura stepped out to hit an elbow jumper and a 3-pointer. Both finished several times on the break.
They had company with Norvell Jr. (3 of 3 field goals) and Corey Kispert (two 3-pointers) as Gonzaga's lead reached 56-19 at halftime.
"I knew we were making a lot of baskets, but I was ticked off about the (eight first-half) turnovers," coach Mark Few said. "I guess that's the curse of being a coach."
The only question remaining was if Gonzaga's game record for field-goal percentage – 71.8 vs. Saint Mary's in 1996 – would stand. The Zags were in the 70s for most of the second half but finished at 68.4 percent.
Gonzaga didn't let up in the second half. The margin grew to 61 on Joel Ayayi's layup with 50 seconds remaining, breaking the previous record of 60 versus Eastern Oregon in 2001.
Freshman forward Filip Petrusev's 10 points led the bench's 25-point contribution.
Most of the Zags will visit family and friends before returning to practice Dec. 26 to prepare for North Alabama's visit on Dec. 28.
They head into the holiday break in a better mood than last season when the Zags lost at San Diego State 72-70 on Dec. 21.
"We know what it felt like last year to go home for Christmas with a loss," said Perkins, who hit one 3-pointer to move into seventh on the program's all-time list. "We wanted to finish off an impressive nonconference schedule run that we've had so far and go into Christmas with good vibes."
---