Balanced scoring, stout defense helps No. 14 Gonzaga fend off San Diego 69-59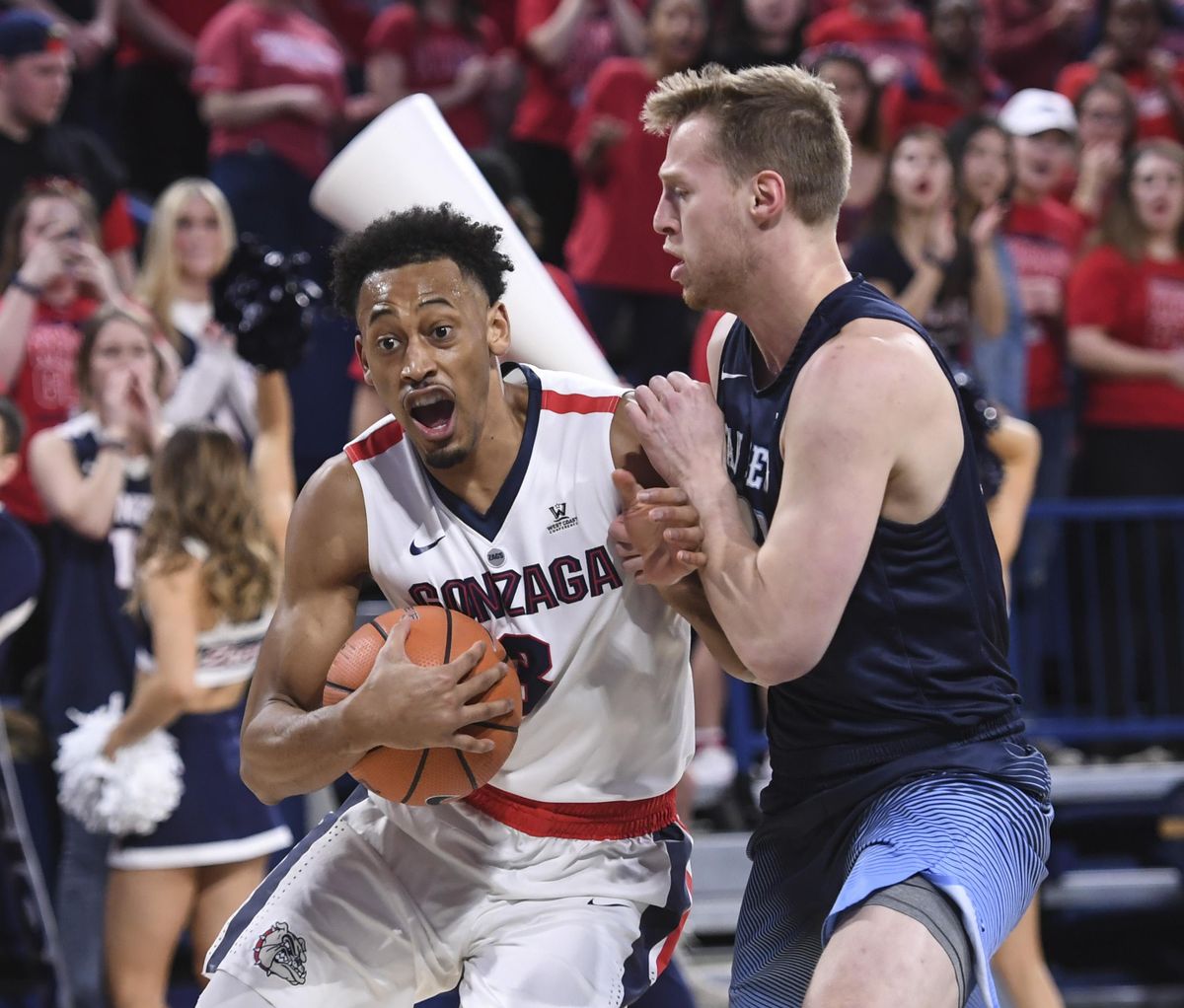 Johnathan Williams scored a team-high 14 points as No. 14 Gonzaga downed San Diego 69-59 in a defensive duel Thursday at the McCarthey Athletic Center.
Zach Norvell Jr. and Josh Perkins added 13 points apiece, along with providing clutch plays down the stretch – a deep Norvell 3-pointer and a Perkins and-one layup – to help the Bulldogs (20-4, 10-1 WCC) pull away.
The win give Gonzaga its 21st straight 20-win season.
Silas Melson also finished in double figures for the Zags with 12 points.
The story of the game was second-half runs, as both teams took turns heating up on offense. San Diego opened the half with a 13-4 spurt, followed by a 11-0 run from Gonzaga.
The Toreros (15-8, 6-5) were able to cut the lead to four points with under three minutes remaining, but the Norvell triple gave the Bulldogs a much-needed cushion.
Olin Carter III led San Diego with a game-high 21 points, while Isaiah Pineiro and Isaiah Wright added 13 and 12 points respectively.
Gonzaga will now turn its attention to BYU as the two teams meet for the first time this season at 7 p.m. Saturday in the Kennel.
Second half
Final – Gonzaga 69, San Diego 59: Gonzaga able to pull away in the end. Great defensive effort from both teams as neither hits 70 points.
Williams with 14 points for Gonzaga, Perkins and Norvell with 13.
1:57 – Gonzaga 63, San Diego 59: Carter III takes it inside on Perkins for two of his game-best 21 points as the Toreros have cut the lead back to two possessions.
3:02 – Gonzaga 61, San Diego 54: Huge drive and bucket from Williams puts him up to 14 points. The senior big man has been the Bulldogs' offense this half.
Norvell Jr. follows up with a clutch triple from way outside to give Gonzaga breathing room once again. He's now up to 10 points as four Gonzaga players are in double figures.
4:57 – Gonzaga 53, San Diego 50: Gonzaga's 11-0 run followed by a massive cold streak. Bulldogs struggling for every point, while San Diego makes its charge.
A Norvell Jr. layup stops a seven-point run for the Toreros.
7:24 – Gonzaga 51, San Diego 45: Gonzaga has really buckled down on defense, highlighted by a massive Tillie swat.
On the other end, its still all Melson and Williams for the Zags. San Diego not going away though.
11:06 – Gonzaga 49, San Diego 40: Williams the first Gonzaga player into double figures – he's up to 11 points as the Zags rattle off a 11-0 run.
Bulldogs starting to win the hustle plays, getting out on San Diego shooters to slow the Toreros' roll after the quick start.
Melson knocks down the first triple of the half for the Zags, followed by a nice steal and slam. He's now leading the team with 12 points. Gonzaga back in control of this one.
16:00 – Gonzaga 40, San Diego 40: And just like that San Diego storms into the lead, but it can't hold it for long as Johnathan Williams throws down a putback dunk to tie the game back up.
Hot shooting to start the half from San Diego. The Toreros have outscored Gonzaga 13-4 to start the half.
18:55 – Gonzaga 36, San Diego 33: Lazy start to the half from Gonzaga as the Toreros hit a 3-pointer, followed by a poor turnover from Killian Tillie, leading to another USD triple. Zags coach Mark Few quickly calls a timeout.
First half
Halftime – Gonzaga 36, San Diego 27: Bulldogs doing a great job over the last eight minutes of getting to the bucket and drawing contact. Free-throw shooting is less than perfect so far though (7 of 12).
Good games from the trio of Josh Perkins (8 points), Corey Kispert (8) and Johnathan Williams (5).
Bulldogs also shooting the ball (43 percent) better than most teams have been against this tough San Diego defense. Zags also hitting 38 percent from deep, while the Toreros are hitting at 27 percent overall and 23 percent from 3-point range.
Olin Carter III and Isaiah Wright both have eight to lead San Diego.
Gonzaga also dominating in second-chance points (14-2) and points in the paint (20-8).
3:05 – Gonzaga 31, San Diego 22: 12-0 run from Gonzaga as San Diego has gone cold from the field.
On the other end, Johnathan Williams is just starting to heat up. The senior post is up to seven points. Bulldogs also going a nice job on the glass, outrebounding the Toreros 21-16.
Bulldogs now shooting 44 percent from the field, while holding San Diego to 27 percent.
7:44 – Gonzaga 21, San Diego 20: Interior defense getting tough on both ends of the court as points are getting hard to come by.
Five straight points for Gonzaga's Corey Kispert, including a 3-pointer – the Zags first field goal in over four minutes.
The teams trade buckets, and the lead, before driving layups by Silas Melson and Norvell Jr. puts the Zags back in front.
11:57 – San Diego 15, Gonzaga 10: Toreros come out of the media break on a 7-0 run, including five points from Carter III – he's up to eight points.
Bulldogs completely out of sync on offense over the past few minutes with the team struggling to move the ball in the half court.
On the other end, Isaiah Wright buries another Toreros 3-pointer for his first bucket of the contest.
San Diego shooting 60 percent from 3 so far, compared to 33 percent for the Zags.
15:55 – Gonzaga 8, San Diego 5: What a start from Gonzaga guard Josh Perkins. An offensive rebound and bucket is followed by a deep 3-pointer.
San Diego keeping pace though with a matching triple from Olin Carter III.
Perkins adds a free throw to get up to six points. Gonzaga guard Zach Norvell Jr. with the other two Bulldogs points.
---