John Blanchette: Nail-biting victories become the new normal for Gonzaga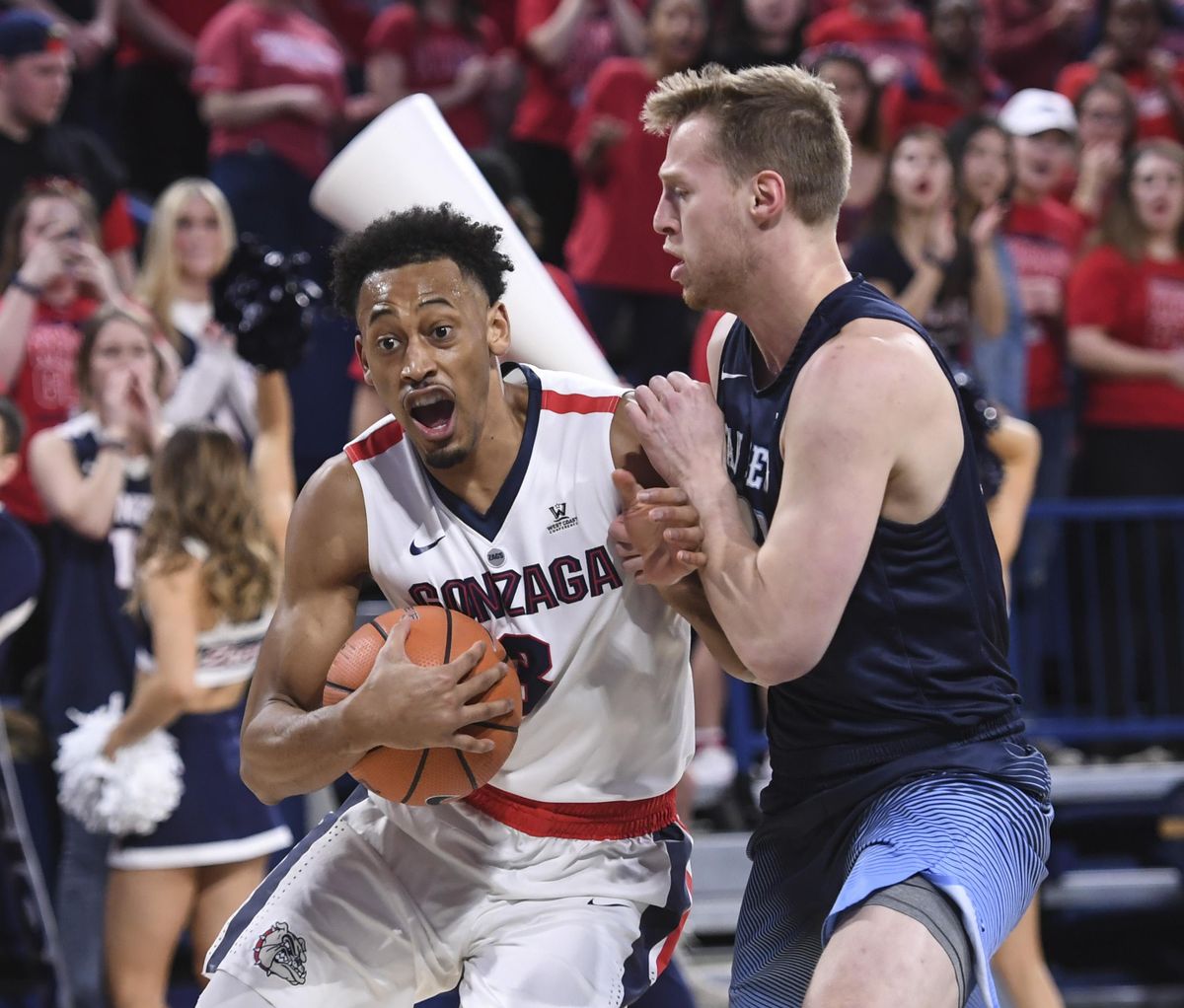 So can you deal with the new normal?
One-possession game, 3 minutes to go. Two minutes. A stop needed in the last 40 seconds, or a play call that must produce. Double-digit leads evaporating in five laps of the court, up and back. Once-easy marks evolving into gritty puzzles, with no particular dread of what's historically been a hellhole or a second thought to even recent history.
Nobody seems to care anymore that Gonzaga is, well, Gonzaga.
So maybe the Bulldogs had better.
Especially this month.
The clock struck February on Thursday night, except what unfolded on the floor of the McCarthey Athletic Center bore a remarkable resemblance to the closing chapter of January. Here again were the Zags, facing up to having to dig out a victory in the final two or three minutes – with the good news for the fretsome fan base being that they could and they did.
Yes, this was over the same San Diego program the Zags thundered by a composite 84 points in two meetings a year ago, but it was by no means the same Toreros team that fell 69-59, stubbornly to say the least.
Still, there was doubtless some handwringing on the exodus to the parking lot, oblivious to any consolation of their guys nailing down another 20-win season – the 87th in a row, or something.
"A winning culture," senior Silas Melson called it, and that it is.
But you can't count on culture alone. Not without performance.
So this night, the Zags closed out USD by scoring on their last eight trips down the floor – a stretch that included three offensive rebounds, a no-no-no-no-yes 3-pointer by Zach Norvell and Josh Perkins finally mastering (or was that mustering?) a couple of layups.
"We were a tough team," coach Mark Few said. "That's a good sign."
As they were on Saturday night, when some winning plays had to be made to stave off San Francisco – another game in which the 20-point underdog refused to tip over and instead crawled up the Zags' backsides.
Then again, sweating a few bullets beats taking them.
Down in Los Angeles, Brigham Young did its too-frequent banana peel thing, losing to Loyola Marymount. If there's a statistic that summarizes why the Cougars haven't managed to crack the Gonzaga/Saint Mary's ceiling in the West Coast Conference, it's their record against the league's lesser lights – 40-12 the last four years, compared to the Gaels' 44-4 and Gonzaga's 52-0.
But the margin for error seems to shrink with each successive week.
"As much as you want every possession to go your way, there's something to be said for getting in close games and playing well at the end," Zags assistant coach Tommy Lloyd said. "Some of these teams are really improved and they're putting in some nice wrinkles and it's like they're all working – and they're making 3s, too. Sometimes you have to give the other guys credit."
And sometimes just for courage. The Toreros shot just 33 percent against some of GU's better defense this season, and still needed just one more bucket to fall to keep it a one-possession game at the 3-minute mark.
So much for any fear factor.
There's a notion that given its skill set, Gonzaga should still be able to make things easier on itself than it's been lately, and Few is not immune from thinking that, too.
"It's hard to guess whose number to call on any particular night," he said. "We're wildly inconsistent with what we bring and even in games. It can go from a guy not doing much, and then he's great. Or a guy is hot and then dies off.
"They're a challenge – but it's a strength, too, in that we can go to different people and explore. We're not predictable. And here we are, 25 games in, and the numbers on both sides of the ball are pretty strong."
And whatever treasure they've managed to strike in these late-game dig-outs, they'd better plan on sacking more.
The Zags' WCC schedule is severely backloaded this season. BYU arrives Saturday, and the Pacific-Saint Mary's and USD-BYU road swings remain. Throw out LMU and Pepperdine – the last homestand – and GU's stretch opponents are 79-42.
Already a game behind the Gaels, the Zags could see that grow to two or three if they remain their erratic selves.
"But, you know, we just remember the good times," Few said. "We struggled at USF last year. BYU beat us in here. Most years, we didn't win every game by 30 and everybody played great. But even that's how I remember them.
"A lot of them have been like tonight where you have to make winning plays. We just have to strive to get these guys to do that – and they have to make it happen. It's not just going to happen."
And it's not just going to be culture.
---