News > Spokane
School officials ponder football fields and the future of Joe Albi Stadium
Thu., Feb. 8, 2018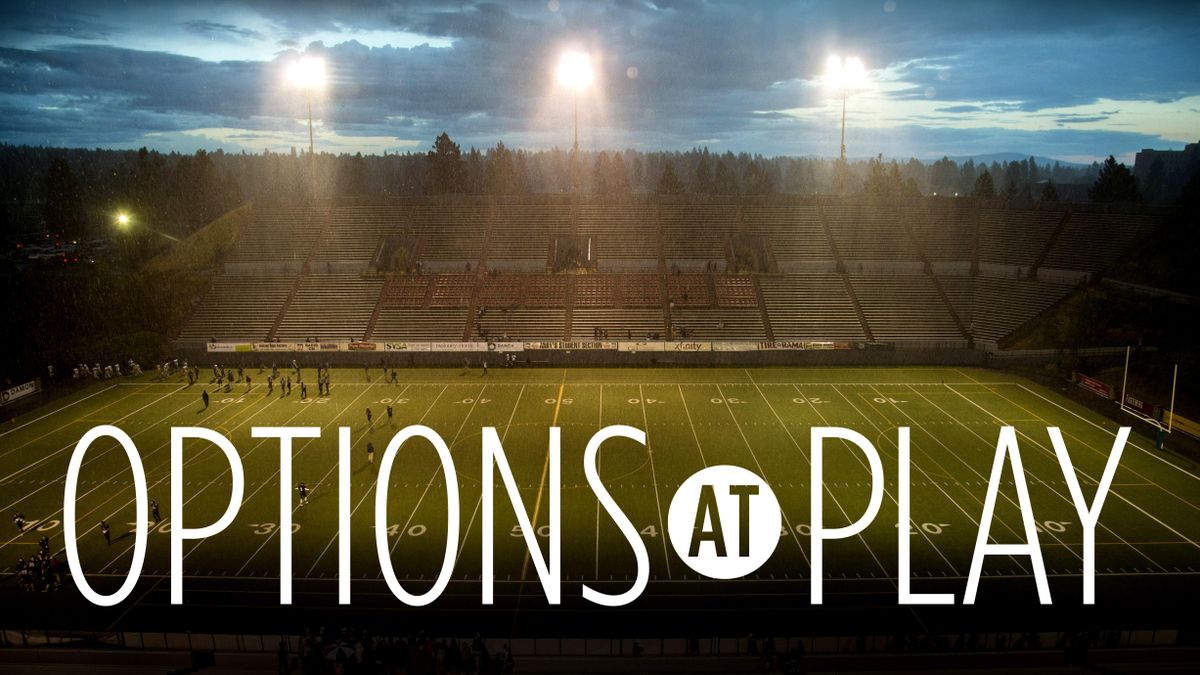 Spectators and players had take cover as a Thunderstorm with lightning delayed the Mt. Spokane vs. Peninsula GSL high school football game, Friday night at Joe Albi Stadium. COLIN MULVANY colinm@spokesman.com (Colin Mulvany / The Spokesman-Review)Buy a print of this photo
As city and school officials in Spokane study plans to build a downtown stadium for football games, two other local school districts are asking voters to take matters into their own hands.
The two biggest bond requests that go before area voters for the Feb. 13 special election are the $114.5 million bond request by the Mead School District and the $129.9 million bond by the Central Valley School District. Both include building new football stadiums.
The Mead bond includes a $21.67 million proposal to build a performing arts/athletic stadium that would house football games for both Mt. Spokane and Mead high schools. Both schools now rely upon scheduling games at the 68-year-old Joe Albi Stadium.
"This is a process that started a couple years ago," Mead Superintendent Tom Rockefeller said. "This isn't just a football stadium. It includes three soccer fields, a baseball/softball complex and two gym structures that we are going to keep and update."
For Central Valley school officials, the proposal for a new high school would also include a football stadium and facilities for soccer, baseball and softball, just like those provided at Central Valley and University high schools, Deputy Superintendent Jay Rowell said.
"We want to make sure each school has the same amenities so students have the same opportunities," Rowell said.
Central Valley spokeswoman Marla Nunberg said sharing a stadium, like Spokane schools share Joe Albi, would be counter to the goals of creating a new kinship for the school, which would be built at 16th Avenue and Henry Road in the Saltese area.
"It allows us to build an identity and culture around the new high school," she said. "Clearly, we have huge traditions with our Titans and our Bears. There would be new traditions with the new school."
Albi uncertainty
The unknowns surrounding Albi Stadium were a consideration – but not a driving factor – in the decision to ask voters to pay for the new Mead stadium, Rockefeller said.
"Joe Albi is just one piece of the bigger puzzle we are trying to solve," he said. North Spokane does not have "a lot of parks out here so we become the place where all the club sports are playing soccer, baseball, football and lacrosse. We are becoming a big enough community that we need to provide that."
As Mead and Central Valley voters decide on the new stadiums when ballots are counted Tuesday, Spokane Schools officials continue to look at the concept of either downsizing Albi, or abandoning the stadium and building a new venue downtown.
The Albi question is unrelated to Spokane Schools' levy request that would continue funding staffing levels, extracurricular activities including sports and school safety officers.
Going Downtown
Spokane Schools officials are expected as soon as March to hear back from consultants and architects about the feasibility and cost of building a new sports stadium in downtown Spokane that would be located on city-owned land bordered by Boone Avenue to the north and east of the Spokane Arena.
If built, it would allow the city to demolish Joe Albi Stadium and build more soccer fields to expand the potential of the Dwight Merkel Sports Complex. The plan would still leave the school district 20 acres near Albi to build a new middle school, said Mark Anderson, associate superintendent for the Spokane School District.
While the plan would rely on existing parking at the Spokane Arena, the district hired a consulting firm out of Florida, Sports Facility Management, to help leaders determine how much the stadium would be used and the potential for other events that it could provide.
"Parking is part of the solution," Spokane Schools spokesman Kevin Morrison said. "That comes up in every conversation. At Albi, there is no restriction on parking. But parking is at a premium downtown. What kind of additional facilities would it require?"
Rick Romero, the city's former utilities director, recently rejoined the city to handle special projects, including the options for a potential downtown stadium.
But Morrison and Anderson said school officials have been clear as to their expectations: The downtown stadium must have enough parking for visiting and home parents and be free, just like the parking at Albi Stadium.
As the feasibility study continues, school officials also asked Spokane-based ALSC Architects to update the projected cost of the stadium. In 2013, the firm estimated the stadium would cost $23.7 million.
"We've asked them to update their cost analysis and determine whether there is a big enough footprint of land the city owns for a downtown stadium," Anderson said.
Facelift for Albi
The other option would be to dramatically downsize 28,626-seat Albi Stadium, which once regularly hosted football games for Washington State University, Eastern Washington University and even preseason games for NFL teams. The Seattle Seahawks last hosted a game there in 1976.
As part of this option, Spokane Schools would pay to reduce the stadium to about 7,000 seats at a time when schools have been struggling to fill the stands.
The downsizing would reduce the need for parking and allow room on 20 acres for one of three proposed middle schools that officials say they need to reduce number of students in classrooms in elementary schools throughout the district.
Anderson said the same architectural-firm study from 2013 put the cost of stadium renovation at $18.1 million. That cost analysis is being updated.
"We are hoping that both of these (studies) come together by the first of March," Anderson said. "Where Albi is located currently, they may not be able to bring as many other activities as you would to downtown. That's why the city is interested."
When the consultants and architects bring back the potential uses and costs, school and city leaders will then turn to taxpayers for funding.
"Once we have the facts, we will be asking the community what they think," Anderson said. "We either need to downsize Albi or build it somewhere else. We want the community to be behind either option."
Local journalism is essential.
Give directly to The Spokesman-Review's Northwest Passages community forums series -- which helps to offset the costs of several reporter and editor positions at the newspaper -- by using the easy options below. Gifts processed in this system are not tax deductible, but are predominately used to help meet the local financial requirements needed to receive national matching-grant funds.
Subscribe now to get breaking news alerts in your email inbox
Get breaking news delivered to your inbox as it happens.
---