A&E > Books
Trivial pursuits: Spokane Valley Library opens its doors after hours for Random Fandom Trivia
Wed., Feb. 21, 2018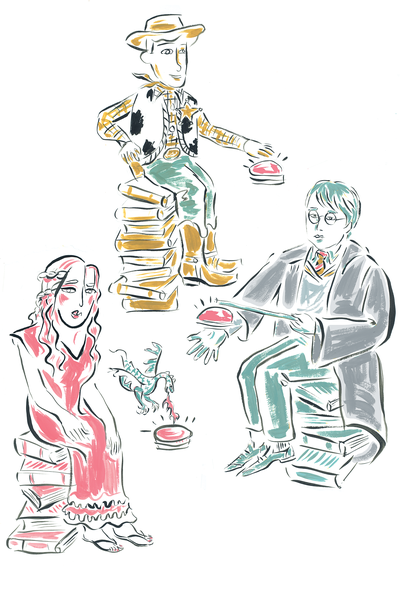 On a snowy January night at Spokane Valley Library, the fires of Mount Doom smoldered anew across the bleak and blackened plains of Mordor, and talk of wood elves, dryads and hobbits abounded.
Cloaked library staffers swirled among tables as teams vied to show their mastery of all things rings – "Lord of the Rings," that is.
It was the first Random Fandom Trivia event of the year, hosted by Spokane Valley Library – and while just a few souls braved the snow to participate, librarian Diane Brown anticipates larger crowds as the weather improves.
The idea for after-hours, adults-only trivia nights sprang from successful kids' events, Brown said.
"We've been doing themed parties for kids, like 'Harry Potter,' and there was interest from adults who wanted some fun of their own," she said.
More than 40 people attended the "Harry Potter" trivia night this fall.
"It was a blast," Brown said.
Many attendees wore Hogwarts T-shirts or other "Harry Potter" costumes. It was so much fun that the library decided to host a series of trivia nights. The events are held after the library closes right in the main room.
"It's pub-style trivia, featuring six rounds of five questions," Brown explained.
People can come with their own teams or attend as individuals and staffers will form the teams.
Library staff is heavily involved in preparing for the events Brown said. But that preparation doesn't seem like work because they get to let their inner geek flags fly.
"A lot of staffers are really into various fandoms," she said. "It gives them something to be excited about as they help with the questions."
The trivia nights may be for adults, but there is still kid-like fun to be had. At January's "Lord of the Rings" event coloring pages featuring Gandalf and Frodo were scattered on the table to keep teams occupied during between rounds.
Managing librarian Aileen Luppert circled the room with a bowl full of Nerds candy.
"I thought it was appropriate," she said, smiling.
Collin Whitlock, 20, came with her parents, Keith and Monica.
Collin and Keith Whitlock are the "Lord of the Rings" fans.
Monica Whitlock laughed.
"They watch the movies over and over," she said. "I'm just the designated driver."
Keith Whitlock first read "Lord of the Rings" in middle school. "The Two Towers" remains his favorite in the series.
"I love the philosophy," he said. "It stokes the desire to go on a quest and achieve something greater than ourselves."
His daughter grinned.
" 'The Two Towers' has the most battle scenes – that's why you like it," she said.
They dubbed their team "Spokane Wood Elves" and soon the competition began.
The questions started out fairly easy – "Where was the one ring forged?"
But gradually got more difficult – "What's the password that opens the Doors of Durin?"
In the end, the Spokane Wood Elves prevailed.
If Tolkien doesn't tickle, perhaps "Toy Story" does. The library's next trivia night will be Friday, with a theme of Disney, Pixar and DreamWorks. Adults ages 18 and older are invited to come and test their knowledge of everything from "Frozen" to "Finding Nemo."
Other upcoming trivia nights will feature "Star Wars" and "Game of Thrones."
Everyone attending is invited to bring food or have some pizza or sandwiches delivered. Cosplayers and super fans wearing costumes are welcome.
"The whole idea is to have fun and share our passions with library customers," Brown said.
Local journalism is essential.
Give directly to The Spokesman-Review's Northwest Passages community forums series -- which helps to offset the costs of several reporter and editor positions at the newspaper -- by using the easy options below. Gifts processed in this system are not tax deductible, but are predominately used to help meet the local financial requirements needed to receive national matching-grant funds.
Subscribe to the Spokane7 email newsletter
Get the day's top entertainment headlines delivered to your inbox every morning.
---