Sports > WSU football
Washington State's Mike Leach: 'No real signs' leading to Tyler Hilinski's suicide
UPDATED: Sat., Jan. 20, 2018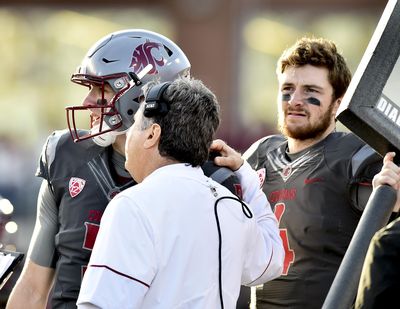 PULLMAN – On the day of his suicide, Washington State quarterback Tyler Hilinski went on a run and did so "enthusiastically," according to coach Mike Leach. That morning, Hilinski had also sent a text message to teammates to coordinate a throwing session.
But the quarterback never made it there and Pullman Police arrived at Hilinski's apartment later that afternoon to find him dead from a self-inflicted gunshot wound, with a rifle and suicide note resting next to the 21-year-old.
Leach, the sixth-year WSU coach, spent countless hours with Hilinski during the football season – some of them on the sideline at Cougars football games, some inside the quarterbacks meeting room and plenty more at team practices in Pullman.
The coach knew someone who was "steady" – someone who "would lift up others that were down." Not unlike every one of his Cougars teammates – and every WSU undergrad who he shared a learning space with, for that matter – Hilinski experieced "some ups and downs as a college student," Leach said Saturday on a conference call with reporters, "but nothing that was able to stand out or that you'd recognize as a problem.
"Everyone's got some dark space that they work through I'm sure, but nobody really saw anything like that," Leach added. "He didn't have signs of depression, he didn't have periods where he was moping around or anything like that.
Furthermore, Leach characterized his presumed 2018 starter as a "very optimistic guy.
"Tyler was one of those guys that would always come bouncing in the room and make everyone happy and just brought an energy to rooms and groups of people and huddles and all that," Leach said. … "Tyler always had a lot of energy, it felt like, around him."
The WSU coach was at his vacation home in Key West, Florida, when he received a phone call Tuesday to learn about Hilinski's death. Leach came across weather-related flight issues, delaying his return to Pullman, but still made it back in time to attend a somber candlelight vigil for Hilinski held Friday night in front of Martin Stadium.
While processing the tragedy himself, Leach has tried to provide comfort to his players by organizing counseling sessions and holding at least one team-oriented activity every day since Hilinski's death.
The school will also accommodate transportation for players who wish to attend Hilinski's funeral in southern California next week and Leach, who was advised that "resuming (team) activity is healthy," plans to offer his players that opportunity next week, although workouts won't be mandatory.
Leach said he's dealt with the loss of a player but "never like this, under these circumstances." He said he's leaned on and reached out to veterans in the coaching world who've gone through similar situations.
"You kind of adjust everybody, get as many counselors as you can to help you set a course, listen to players," Leach said. "… The counselors set a course to help you heal and everyone does that at a different pace and in a different way. And then you move forward."
The last conversation the coach had with his player came a few days after the Holiday Bowl, a game Hilinski started, completing 39 of 50 passes for 272 yards and two touchdowns in a loss to Michigan State. Hilinski traveled to Cabo San Lucas, Mexico, with his family after the game, according to Leach.
"Just talked about moving forward and the offseason," Leach said. "… Building and developing for the next year."
Hilinski's younger brother Ryan, a high school quarterback at southern California's Orange Lutheran with a WSU offer, posted a note to Tyler on his Twitter account Saturday. In it, he wrote "there are so many questions unanswered" and added that his brother "loved everyone."
Fellow WSU QB Luke Falk flew to the Palouse from California, where he's training for the NFL, to attend Hilinski's vigil. Falk intends to wear his teammate's No. 3 at the upcoming Reese's Senior Bowl in Florida.
Defensive lineman Hercules Mata'afa couldn't make the vigil, but while accepting the Polynesian College Football Player of the Year Award Friday in Hawaii, requested a moment of silence for Hilinski.
Local journalism is essential.
Give directly to The Spokesman-Review's Northwest Passages community forums series -- which helps to offset the costs of several reporter and editor positions at the newspaper -- by using the easy options below. Gifts processed in this system are not tax deductible, but are predominately used to help meet the local financial requirements needed to receive national matching-grant funds.
Subscribe to the Cougs newsletter
Get the latest Cougs headlines delivered to your inbox as they happen.
---