Sports > Gonzaga basketball
Gonzaga holds off San Francisco's rally for hard-fought 82-73 victory
Jan. 27, 2018 Updated Sat., Jan. 27, 2018 at 11:34 p.m.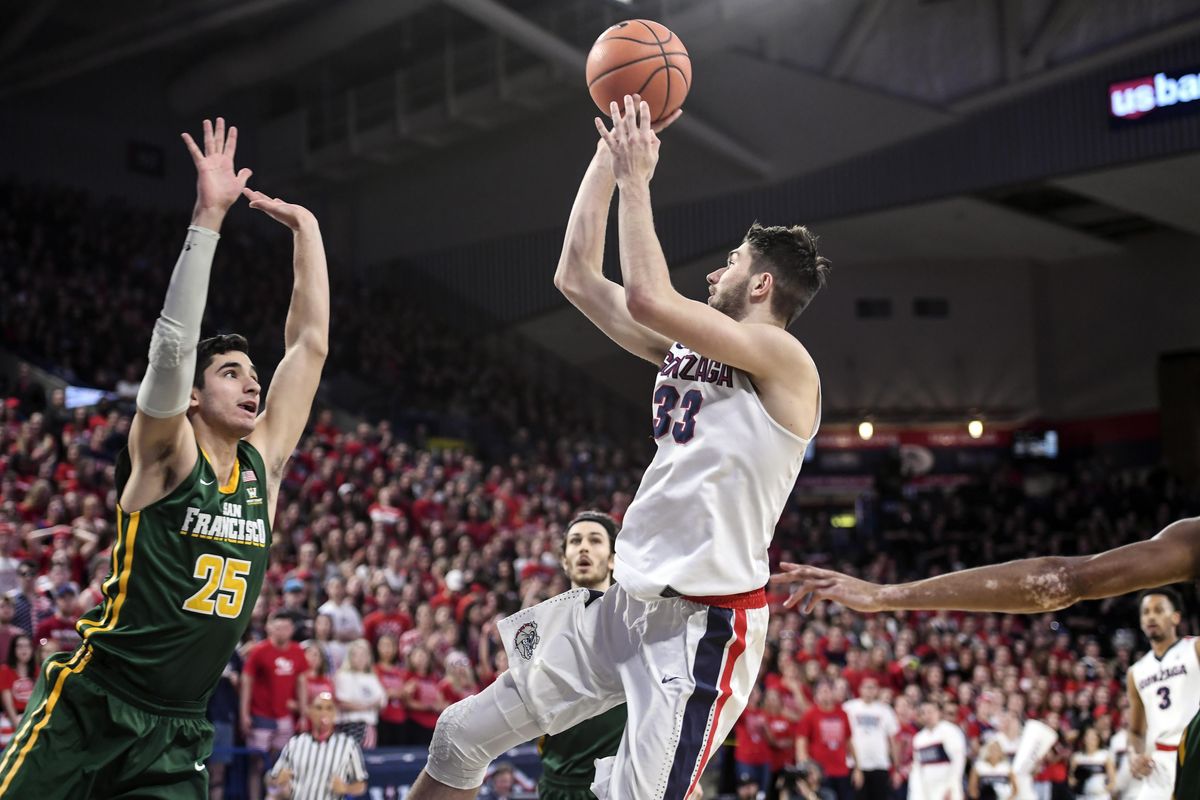 Gonzaga forward Killian Tillie is fouled by San Francisco forward Jordan Ratinho and makes the shot, Saturday, Jan. 27, 2018, in the McCarthey Athletic Center. (Dan Pelle / The Spokesman-Review)
The forward tandem of Killian Tillie and Johnathan Williams scored 16 points apiece to lead No. 15 Gonzaga to a 82-73 victory over upset-minded San Francisco on Saturday at the McCarthey Athletic Center.
Three other players finished in double figures for the Bulldogs (19-4, 9-1 WCC), including Rui Hachimura (14), Silas Melson (13) and Josh Perkins (11). Perkins also passed the 1,000-point milestone with a pair of late free throws.
The Zags led by as many as 18 points in the opening 10 minutes, before San Francisco (12-11, 4-6) held Gonzaga scoreless for nearly six minutes, climbing its way back into the contest.
Frankie Ferrari and Jordan Ratinho paced the Dons with 15 points apiece.
Gonzaga finished shooting 50 percent from the floor and 32 percent from 3-point range, while USF shot 51 percent overall and 50 percent from deep.
The Bulldogs won the turnover battle, forcing 14 compared to eight of their own. The Zags also ended the game outrebounding the Dons 30-29.
Gonzaga will remain at home for its first game of the season against San Diego at 6 p.m. on Thursday.
Second half
Final – Gonzaga 82, San Francisco 73: It may not have been pretty, but Gonzaga gets it done.
Five Zags finish in double figures, with Williams and Tillie scoring team-high 16 points apiece.
0:21 – Gonzaga 80, San Francisco 73: Two big free throws from Perkins not only put the Zags up seven, but put the junior over the 1,000 point mark for his career.
0:41 – Gonzaga 78, San Francisco 73: Fantastic defensive series from Gonzaga forces a USD travel and turnover. Bulldogs can't get the ball in-bounded though, forcing a timeout. Zags ball.
1:17 – Gonzaga 78, San Francisco 73: Williams clutch at the charity stripe for the Zags with four makes in a row. He also added a big block to help the Zags stay two possessions up on USF.
The senior forward is now up to 16 points, matching Killian Tillie for the team-high total.
4:16 – Gonzaga 72, San Francisco 68: San Francisco not out of this one yet. A 3-pointer is followed by a nice and-one bucket from Ratinho.
Bulldogs though knocking everything down from the free-throw line to keep its nose ahead. Still plenty of nervous moments ahead for the Zags.
Ratinho now with a team-high 13 points for the Dons, who have four players in double figures – same as Gonzaga
7:32 – Gonzaga 64, San Francisco 55: Massive series out of the media break for the Zags as Williams converts in the lane and then from 3, with a big Perkins block sandwiched between. Williams up to 10 points.
Hachimura gets to double figures again for the Zags with a huge slam off a Melson lob. He's at 10 points.
Gonzaga doing a much better job of getting to the rim, including a nice baseline drive and slam from Kispert.
11:48 – Gonzaga 49, San Francisco 48: San Francisco ties it up on a Jordan Ratinho 3-pointer, but a nice move inside by Hachimura puts the Bulldogs back on top.
Norvell Jr. with a fantastic, and much needed, hustle play on a long board for the Zags, which are starting to find a bit of a spark, but still can't quite get the lead to more than a possession.
15:14 – Gonzaga 45, San Francisco 42: Both Gonzaga's Melson and USF's Ferrari get off to quick starts with deep 3-pointers. Ferrari up to 12 points, while Melson has 13.
Norvell Jr. also with a quick four points out of the gate to get him to six.
Tillie also connects from deep to reach double figures with a team-high 14 points.
Dons still dominating on the glass (24-15), as forward Nate Renfro has a game-high nine boards.
First half
Halftime – Gonzaga 32, San Francisco 29: Lack of energy and focus the only way to describe the last 10 minutes for Gonzaga, which turned a red-hot start into an ice-cold finish.
San Francisco having its way on the glass (19-12) and are grabbing most loose balls. Zags have forced eight USF turnovers
Melson still leading the way for Gonzaga with 10 points, while Tillie has been stuck on eight since his perfect start to the game.
Both Tillie and Johnathan Williams with two first-half fouls as well.
Gonzaga shoots 42.9 percent in the half, compared to 48 percent for the Dons.
3:06 – Gonzaga 31, San Francisco 24: Gonzaga moving the ball very well, but starting to go cold shooting the ball. Meanwhile USF getting much more aggressive going to the rim.
Bulldogs down to 48 percent shooting overall and 31 from deep. They're also getting outrebounded by the Dons 13-11.
A Perkins jumper breaks a 5:45 scoreless drought for the Bulldogs, ending a San Francisco 9-0 run.
Jamaree Bouyea leads the way for USF with seven points off the bench. Frankie Ferrari also has seven for the Dons.
7:58 – Gonzaga 22, San Francisco 11: Silas Melson starting to catch fire for the Bulldogs. The senior guard throws down a nice dunk off an in-bounds play, followed by his second 3 of the game. He's the first Zag into double figures with 10 points.
Bulldogs doing all the little things right so far, but some of the 50/50 chances bouncing the Dons' way – about the only thing keeping this one close.
11:43 – Gonzaga 22, San Francisco 11: Josh Perkins nails his first triple of the night from deep as the Bulldogs are shooting 58.3 percent from the floor to start the game.
Bulldogs really bringing the intensity on defense as well, forcing several USF poor shots and three turnovers.
The bench rotation of Corey Kispert, Jacob Larsen and Rui Hachimura also check-in for their first action of the night as Rui knocks down a quick jumper.
16:18 – Gonzaga 16, San Francisco 3: Bulldogs and Dons trade opening 3-pointers, followed by a nice Killian Tillie drive to the bucket for an and-one layup.
Lightning-fast pace to start from the Zags as Zach Norvell Jr. provides the game's first highlight with a massive fast-break slam.
The hottest start though comes from Tillie. Two nights after pouring in 27 points against Portland, the sophomore forward is up to eight points on 3-of-3 shooting.
Local journalism is essential.
Give directly to The Spokesman-Review's Northwest Passages community forums series -- which helps to offset the costs of several reporter and editor positions at the newspaper -- by using the easy options below. Gifts processed in this system are not tax deductible, but are predominately used to help meet the local financial requirements needed to receive national matching-grant funds.
Follow along with the Zags
Subscribe to our Gonzaga Basketball newsletter to stay up with the latest news.
---