Sports > Area sports
MLB Draft: Gonzaga's Gunnar Schubert, Post Falls' Jake Pfennigs selected on Day 3
June 6, 2018 Updated Wed., June 6, 2018 at 7:31 p.m.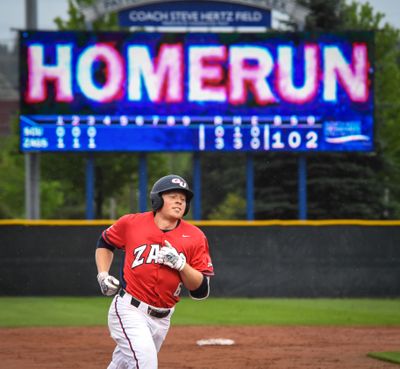 Several players with area ties were selected on Day 3 of the 2018 MLB Draft on Wednesday in Secaucus, New Jersey.
Gunnar Schubert, SS, Gonzaga: Schubert was drafted by Miami in the 28th round, 837 overall. He hit .306 with four homers and 40 RBIs as a senior in 2018. In his junior season he started all 53 games at shortstop and hit .229. He was a two-time Gold Glove shortstop for Pierce College and hit .371 with 69 hits and 45 runs as a sophomore.
Casey Legumina, RHP, Gonzaga: Legumina was selected by Cleveland in the 35th round, 1063 overall. The sophomore went 3-3 with 13 saves and a 2.77 ERA, striking out 52 in 48 2/3 innings. He made 13 appearances as a freshman, starting seven times and built a 1-4 record, 5.46 ERA in 57 2/3 innings of work with a 36/16 strikeout/walk ratio.
Jake Pfennigs, RHP, Post Falls HS: Pfennigs was selected by San Diego in the 35th round, 1041 overall. He is committed to Oregon State. He went 3-0 with a 1.91 ERA and 39 strikeouts over 36 2/3 innings over eight starts this season, leading the Trojans to third in state 5A. A three-sport star, the 6-foot-7 Pfennigs was also named Idaho's Gatorade state player of the year, leading Post Falls to a semifinal appearance at state. He averaged 18.4 points and 12.2 rebounds this season.
Joel Condreay, RHP, Whitworth: Condreay was selected by Colorado in the 31st round, 936 overall. The senior hit .355 with two homers and 25 RBIs in 124 at-bats for the Pirates, but was drafted as pitcher. He tossed 2 2/3 innings this season. Condreay was the second Whitworth player selected in this draft (Hugh Smith, sixth round, Detroit), the first time in program history that's happened.
Gage Burland, RHP, Lewis-Clark State: Burland (East Valley) was drafted by Toronto in the 22nd round, 656 overall. Burland was three-time all Great Northern League and league MVP his senior season. This season as a senior for LCSC, he pitched 33 2/3 innings in relief with 43 strikeouts and 13 walks. He made one start, against College of Idaho and struck out seven and allowed one earned run. Burland played two seasons at Gonzaga. In 2016 he struck out 28 over 20 2/3 innings. He was drafted previously in 2016 in the 26th round by the New York Yankees.
Parker McFadden, RHP, Washington State: McFadden was selected by Baltimore in the 16th round, 475 overall. This season as a junior he went 1-1 in 15 games (six starts) with a 3.56 ERA and 46 strikeouts against 27 walks in 30 1/3 innings. He struck out a season-high nine twice. As a high school senior he was named the No. 81 overall draft prospect by Baseball America. He was drafted out of high school by Seattle in the 20th round.
Scott Sunitsch, LHP, Washington State: Sunitsch was selected by Milwaukee in the 18th round, 545 overall. He went 6-4 with a 3.74 ERA and 74 strikeouts over 84 1/3 innings as a senior with the Cougars in 2018, earning all-conference honorable mention, and in April threw WSU's first solo nine-inning no-hitter since 1976. As the team's primary closer in 2017, he went 2-4 with eight saves and 35 strikeouts in 41 innings. He's tied for ninth in WSU history with nine saves.
Joe Demers, RHP, Washington: Demers was selected by Oakland in the 11th round, 323 overall. He went 7-3 in 17 appearances (15 starts) as a junior in 2018 with a 2.46 ERA and 89 strikeouts in 113 1/3 innings. He was a 2018 all-conference selection and honorable mention in 2017. Demers was California Gatorade state player of the year and MaxPreps national player of the year his senior season in high school.
Levi Jordan, SS, Washington: Jordan was selected by the Chicago Cubs in the 29th round, 878 overall. The senior hit .300 with 16 doubles, eight home runs and 39 RBIs in 213 plate appearances for the Huskies.
Ryan Walker, RHP, Washington State: Walker was selected by San Francisco in the 31st round, 916 overall. The senior went 4-4 with a 5.24 ERA in 23 relief appearances for the Cougars, earning five saves and striking out 47 in 46 1/3 innings.
Justin Harrer, SS, Washington State: Harrer was selected by Pittsburgh in the 35th round, 1044 overall. The junior hit .253 with 11 home runs and 30 RBIs in 190 plate appearances for the Cougars. He was an all-conference honorable mention his sophomore year.
Local journalism is essential.
Give directly to The Spokesman-Review's Northwest Passages community forums series -- which helps to offset the costs of several reporter and editor positions at the newspaper -- by using the easy options below. Gifts processed in this system are not tax deductible, but are predominately used to help meet the local financial requirements needed to receive national matching-grant funds.
Subscribe to the sports newsletter
Get the day's top sports headlines and breaking news delivered to your inbox by subscribing here.
---