A&E
Father creates MTFU, a network for men to connect and do good
Sun., June 17, 2018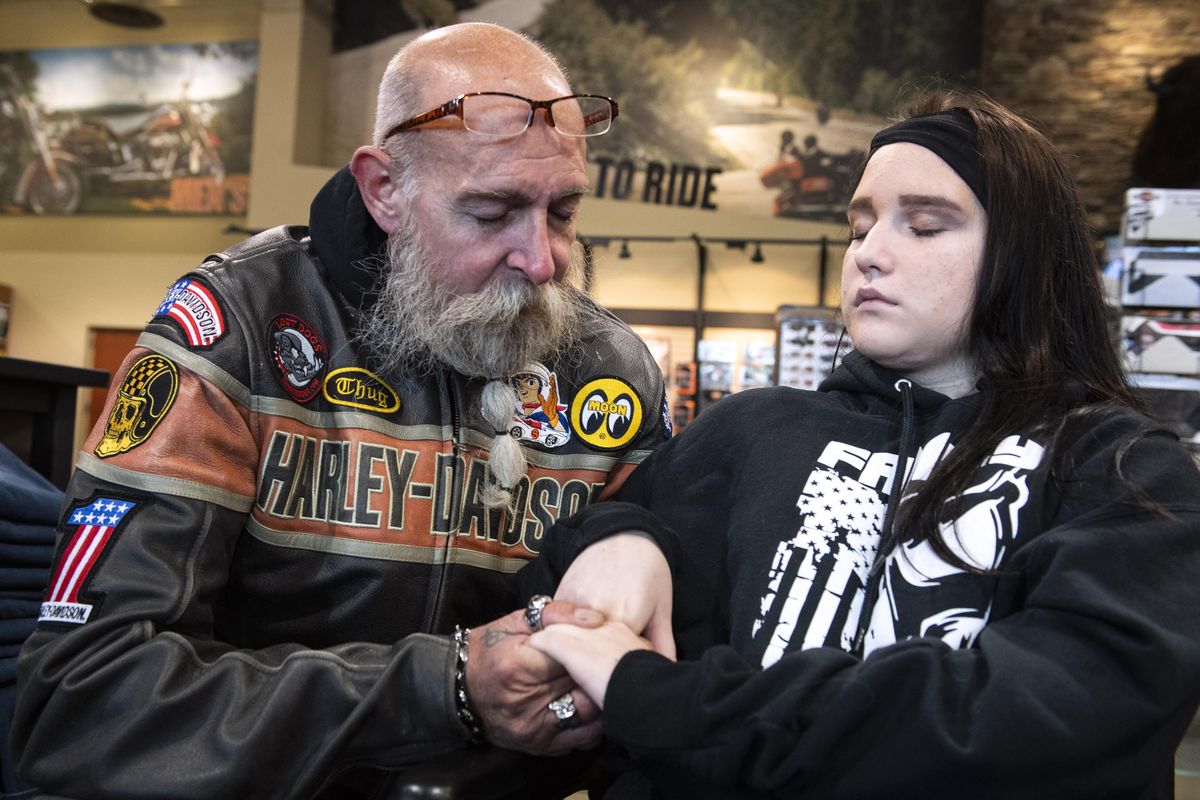 Man The Family Up member and organizer Randy Dickerson prays with Savannah Sutton, 14, who is recovering from an April car accident. MTFU held a motorcycle rally fundraiser June 10 to help the Sutton family with medical bills. (Colin Mulvany / The Spokesman-Review)
A Spokane Valley father of three, Chris Morse nearly quit Facebook in late 2016.
Dumpster-fire content is what he calls that fall's overload of politically charged posts. At first, he entered debates until realizing people with opposite viewpoints would never agree.
The endless bickering was a waste of time, said Morse, 39, a plating supervisor at Novation.
Instead, he created a version of Facebook he wanted to see – male friends talking about skills, families and hobbies – under rules of conduct. Man the Family Up began as a private Facebook group in January 2017.
"The rules I had were men could join, but there had to be no racism, no politics and no divisive mainstream social media content," he said.
"I started inviting people I knew, for sharing stories of our families, hunting and fishing, and have it be a unifying platform. I wanted to bring back the handshake in America."
It's exploded in a year and a half, now with more than 50,000 men trading advice, support and collaboration. And it's fostered groups within doing kind deeds, raising funds and even training in suicide prevention.
Most members live in the Spokane area, said Morse. The next largest base is in Boise, and other men live across the U.S. and as far as Australia. The MTFU logo – half flag, half skull – shows up on hats, shirts and bumper stickers.
Men in the group are helping each other, families, and people in need who aren't members.
"If someone needs help, anywhere from 30 to 100 guys will show up at a bar and throw money in a hat," Morse said. "It happens almost daily now."
"We've given away six to 10 cars to people who need them, like to single mothers, and one to a working man who didn't have a back-and-forth way to get to the job."
Members serve on a designated drivers' crew. If someone out on the town gets too intoxicated to get behind the wheel, they can send a message for a driver.
The group will do a meet-up in a small retail district for a day to support shop owners.
Morse credits better use of social media and "hearts of good men" for the page's popularity. It's a way to bring together men busy with jobs and family, he said.
"They just needed a different platform where they can network with each other and just get it done. The hearts of good men embraced the platform. They want to bring other men into the network and have an impact on the community."
Beyond posts
Members range in age from 18 to 79. Most are between 30 and 45, Morse said, and they come from all backgrounds.
"There are biker guys, military guys, doctors, lawyers, a behavioral scientist – everybody is in there," he said. "Predominately, they're family men."
One letter in the acronym initially stood for a more colorful term, Morse admits, but it quickly changed to stand for family.
Close friendships and support systems show up in Messenger chats.
"So many of these men in the group grew up in America when you had to figure something out, you had to do it with your own hands," Morse said.
"Now people are more reserved and behind social media. Technology has put us in a place that you don't need people as much to accomplish what you did before. A lot of men are missing that on a social level."
Spouses back the men in networking, Morse said, and a separate MTFU Family group formed.
"The wives are very supportive," Morse said. "They come to events. It's a men's group on Facebook, but out in public, everyone's welcome. We don't want to pull people away from their families."
The group acts in a variety of ways for the greater good.
For instance, one member's 9-year-old daughter thought up a contest for members' kids to design logos for a Hoopfest T-shirt. Proceeds from selling shirts will go to Love 11, a group helping kids to afford sports.
Member Bobby Howe, seeing his daughter upset about students shamed for lacking lunch money, began a Feed the Future campaign to pay any Spokane Public School meal debts. And, fathers and sons recently placed flags at a veterans memorial.
For Matthew Sutton of Medical Lake, he compares the group to his Marines brotherhood.
"If I need advice on anything, that's the first place I turn. It's like having a giant family of guys who know a little bit about everything. When I was younger, I'd call my grandpa because he knew everything. I don't have my grandpa around anymore, but I have my MTFU guys."
Sutton was in the group before an April car accident involving four Medical Lake High School students. One teen was killed and three seriously injured, including his daughter Savannah, 14.
Soon after, Morse met with Sutton to give him $600 from a MTFU group's poker match that gives winnings to causes each week. Sutton initially tried to decline the help.
"I remember kind of pushing back," Sutton said. "Chris insisted, saying now is your time to accept help. He said, 'If you don't need it now, you will eventually,' and he was correct."
Savannah, who was in a coma for 32 days, can walk now but uses a wheelchair for support. She's had surgeries for multiple broken bones and facial reconstruction. The family doesn't yet know the extent of damage to her brain, Sutton said, but she recently learned how to talk again.
Morse said members also built a wheelchair ramp at the house of another victim of that same accident.
"That happens quite a bit," he said. "We've built up to eight different wheelchair ramps in the community."
The group has raised more money for the Suttons because of medical costs and parents' missed work. Member Randy Dickerson and his wife, Wendy, organized a June 10 fundraiser motorcycle rally ending at Medical Lake, an event attended by Savannah as her first venture outside hospital care.
Bonds forged
A pivotal point for the group came in April 2017, Morse said, after member Rick Clark posted about his work giving backpacks with supplies to homeless people. Clark joined at 6,000 members.
"Rick posted that he was looking for a way to contribute to the group, and I remember his exact post, 'What if 6,000 big, burly, bearded men went downtown and handed out backpacks to the homeless?' "
The challenge actually drew 75 men for a day as a father-son event, Morse said. They helped Clark give out 100 backpacks in downtown Spokane.
"We had kids who ranged from 6 up to 17 or 18 out there with their fathers," Morse said. "We really realized then what you could do with social media if you used it correctly.
"The identity of the group was formed out of that event. It was a bonding experience, because we met. Some had breakfast together. We did this work. Others had lunch. We shook hands."
Before that day, Clark wasn't sure how he fit in with the group.
"What it was about back then was guys posting about guns, cars and a lot of manly things," said Clark 47. "I was raised by all women. I don't know a lot about cars. I've never owned a gun."
He said he posted that his way to "man up" is to help in the community.
"I grew up in severe poverty in Spokane and dropped out of high school. With poverty comes a lot of stuff that goes along with that, drug and alcohol abuse, domestic violence."
His life has turned around, and he's going to Gonzaga with a scholarship.
"But there were times not too long ago I was homeless. I relied on people helping me. I posted that I like to give backpacks to the homeless. It's the first time I've had a ton of responses, a whole bunch of people who actually wanted to go out with me."
He gets emotional when describing ways men are supportive of each other in the group. One man sought help to get past anger he felt toward a stepfather, only to learn that stepfather was also a MTFU member.
Clark said he too had wrestled with issues regarding his kids' stepdad, now calling it wasted time.
"We could have found common ground," he said. "These guys found common ground. It's kind of like finding out you're in the same family. We don't hate each other."
Then he saw a picture of both men on either side of "their little girl," all wearing the group's logo.
"I lost it," Clark said. "This is real stuff."
After site administrators began seeing suicidal posts, 30 men in the group completed suicide prevention training with Eastern Washington University expert Keely Hope, Morse said.
Now, within minutes of such a post, a crew kicks into high gear. One searches for an address. Another contacts relatives. They try to locate the person in different ways. If necessary within five minutes, the group submits a police welfare check, Morse said.
Common ground
Russell Kolts, an EWU psychology professor, admits initial qualms about joining.
After he first logged on this past February, Kolts' uncertainties ended.
Yes, he saw some "stereotypically masculine stuff," but something deeper. Men were sharing and seeking to do better for their families and community. Responses were uplifting, even a few suggestions of therapy if a guy was struggling.
"What I saw was, this was actually a group about men trying to be better men and to contribute positively to their community," Kolts said. "I thought, I'm going to join this group."
Generally, men often don't feel comfortable sharing difficulties or asking for support, he added.
"It just felt special and really unique to me. I messaged Chris and I said here's the thing, a lot of the guys in the group are about as different from me as anyone could be, but their hearts are right where mine is if this group is about being better men, supporting one another, and taking care of our community."
He also struggled at first with the "man up" in the name because Kolts has seen that term sometimes used as "kind of a toxic masculinity thing … in the sense of don't cry, be tough, don't feel scared."
But he sees this group thinking of the term differently. "It means taking responsibility for all your experience," he said.
"As psychologists, we talk about this stuff all the time, but most men don't. Some of us, we get the message that stuff is off limits; that's for women. Chris has done something brilliant because it's a fine line to walk to bring this widely varying group of guys together.
"I think Chris gets it, the significance that you've got over 50,000 men who are signing onto something like this. I think it's deeply important in a culture where the various political parties and cable news channels seem to be working hard to divide us."
Multiple outreaches
Members so far have raised more than $30,000 for different needs in the community, Morse said, including medical costs and groceries.
It might be several men doing home upkeep for an elderly woman. In April, members gave a surprise gift to 18-year-old Afghan immigrant Aziz Moltafet, who solely supports his family in Spokane.
"He works at YMCA," Morse said. "We gave him a car and check for $2,000. His story was so incredible. It was the most powerful journey to get to America I've ever heard."
They've given money to a 24-year-old cancer patient who couldn't work, and a 36-year-old woman who'd had a stroke received proceeds raised at a group race night in Stateline.
Morse also tells the story of a father and son wanting to buy a hat and shirt. He could tell something was wrong, so he asked the dad, Brandon Fenn.
He learned Fenn's 8-year-old son Marcus had severe intestinal problems requiring 10 surgeries. They planned travel to see if the child could get a transplant. Morse privately shared that with a few men.
"Within 12 hours, they raised close to $800," he said. "We wanted to give them enough money for when they get to Nebraska, he can take his son out for a good time and forget about all these surgeries."
He met the father in a Denny's parking lot.
"He was just expecting a shirt and hat, and I gave him the money; it just floored him," Morse said. "Driving off, I saw him and his wife embrace."
Morse also believes that communication changes if people really see each other, instead of making posts to strangers behind keyboards or smartphones.
"A lot of people, they don't represent themselves the way they would in person," Morse said. "Once you remove that barrier and you put a face to the person and you shake hands, that changes things."
"We need to start using these platforms to network and support each other. We're supporting men who are using social media to network and be successful in their personal lives."
To ask to join MTFU, visit https://www.facebook.com/groups/mtfu1/
Local journalism is essential.
Give directly to The Spokesman-Review's Northwest Passages community forums series -- which helps to offset the costs of several reporter and editor positions at the newspaper -- by using the easy options below. Gifts processed in this system are not tax deductible, but are predominately used to help meet the local financial requirements needed to receive national matching-grant funds.
Subscribe to the Spokane7 email newsletter
Get the day's top entertainment headlines delivered to your inbox every morning.
---