News > Business
Front & Center: Craig Goodwin finds his work as a pastor and nature photographer help hone his focus on both
March 11, 2018 Updated Sun., March 11, 2018 at 3:01 p.m.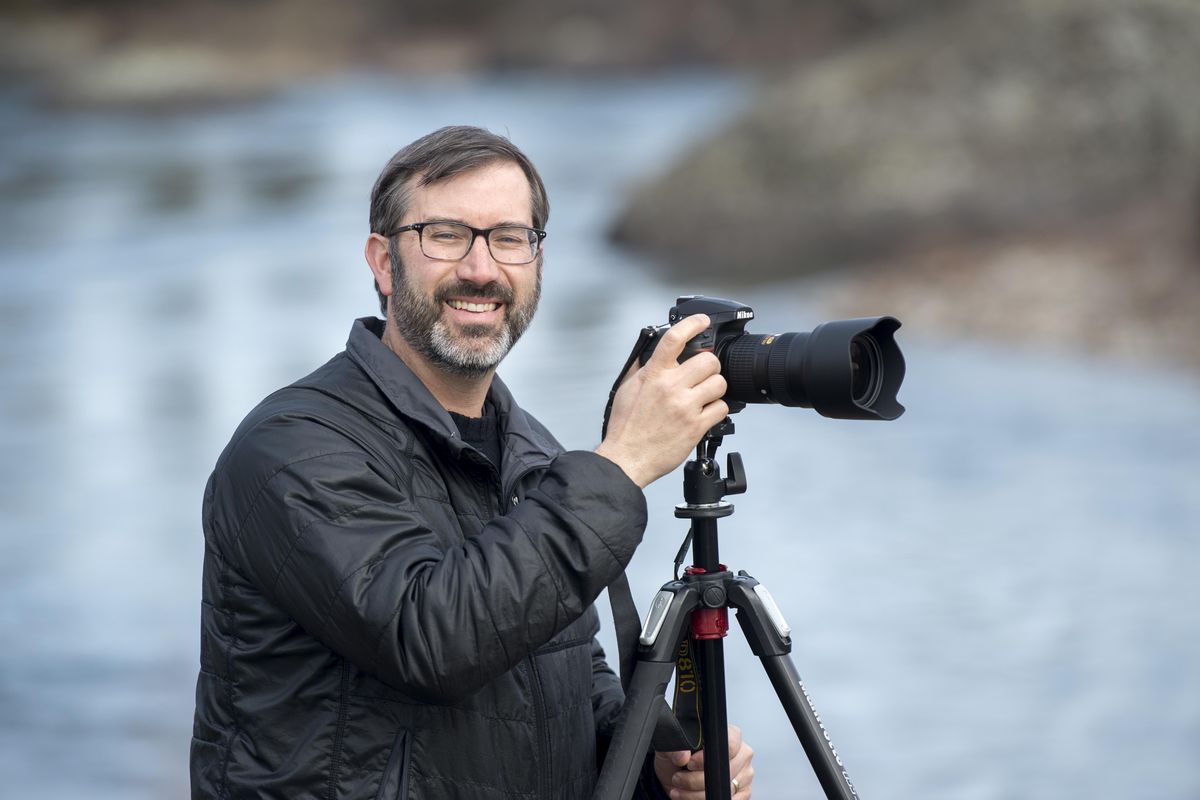 Craig Goodwin, a Presbyterian pastor, has built his hobby of photography into a busy side business. Photographed Wednesday, Mar. 7, 2018. (Jesse Tinsley / The Spokesman-Review)
Many novice nature photographers assume they must travel great distances to build marketable portfolios, Craig Goodwin says.
"They have the typical list of places they need to go for dramatic pictures – Zion National Park, Yellowstone. Then they get there and take the same pictures everyone else takes."
Goodwin, a full-time Spokane Valley pastor and part-time professional photographer, encourages beginners to save their gas money.
"What succeeds artistically and financially are unique perspectives we're able to tease out of pretty ordinary places.
"One of my best-selling pictures was taken from Argonne Bridge on a frosty morning," several blocks from Goodwin's church. "A rainbow appeared through the fog as geese flew over. The result looks like a painting."
Another tip: "Always be ready for something magical to happen."
Goodwin recalls spending countless hours at Wolf Lodge Bay east of Coeur d'Alene watching bald eagles.
"If nothing is happening, it's easy to get lulled into a sense that nothing will happen," he said. "And right then an eagle will swoop down."
Eagles, owls, sunflowers and full moons are among the images Goodwin sells at area art shows, as well as online and in local stores.
During a recent interview, he discussed cancer, cursing and chasing the moon.
S-R: Where did you grow up?
Goodwin: I was born in Pullman, but grew up in various places – mostly Kent, Washington. I went to Kentwood High School.
S-R: Did you have a favorite class?
Goodwin: Probably writing.
S-R: How about extracurricular activities?
Goodwin: I played tennis and basketball, and was really involved with my church.
S-R: What was your first real job?
Goodwin: During my senior year of high school, I was hired to deliver pizzas and crashed the shop's pizza car my first week on the job. Surprisingly, they didn't fire me.
S-R: Did you envision a career for yourself back then?
Goodwin: When I was a Rotary student of the month, they asked what I planned to do. I said I could see myself being a lawyer, an artist or a pastor.
S-R: Where did you attend college?
Goodwin: The University of Washington.
S-R: Was there a moment that changed the direction of your life?
Goodwin: My junior year, I sensed a call to go into pastoral ministry. So after earning a degree in marketing, I spent a year working at University Presbyterian Church in Seattle, then went to Fuller Seminary in Pasadena and got a master of divinity degree.
S-R: What brought you to Spokane?
Goodwin: My wife and I were pastors at a church in Houston and our kids were young, and we were eager to get back to the West Coast. So we looked around for opportunities and ended up at Millwood Community Presbyterian.
S-R: When did you start getting serious about photography?
Goodwin: We were going on a trip to Thailand in 2008 when I got my first digital SLR camera and was captivated by it.
S-R: Did you have any formal photographic training?
Goodwin: No, but I always felt I had an artistic eye. My mom was a potter, so maybe I got that from her. Photography gave me a medium in which to express a side of me that had been dormant.
S-R: Have you had mentors?
Goodwin: A guy in Montana named John Ashley encouraged me to try looking at the familiar from a fresh perspective. That's particularly important for me, because being a pastor anchors me in this place.
S-R: Describe that process.
Goodwin: One evening I decided to shoot a picture of the iconic Washington Water Power building downtown as seen from below the Monroe Street Bridge. So I climbed down to the river, not knowing what I would find. Just as I got there, the sun set and the light changed in a sort of magical way. An ad agency saw the picture online somewhere, showed it to Avista along with several similar shots, and they ended up using it for last year's annual report cover.
S-R: Smart-phone cameras have made point-and-shoot picture taking convenient, but SLR cameras allow you great latitude in adjusting settings. Does that come naturally to you?
Goodwin: It's been a learning process. When I first started shooting, I used auto mode – letting the camera tell me what to do. Learning to tell the camera what I want was maybe the biggest step I've taken as a photographer.
S-R: Starry night skies can be challenging. How were you able to make those your signature images?
Goodwin: It started when my daughter was studying how the Earth spins, and we experimented with time-lapse photos of the sky. Eventually, I got away from the city's shroud of light pollution, and it was like, "Wow!"
S-R: Your 2018 calendar includes an image of Arbor Crest Wine Cellars' Cliff House backlit by an enormous moon. Was that a lucky coincidence?
Goodwin: No. I have an app on my phone that tells me where the moon will rise on the horizon based on where I am. Whenever a full moon happens, I'm thinking about what would be an interesting vantage. The night I took that shot, I went out to Felts Field with my 500mm lens and a teleconverter (to increase the effective focal length), and waited. But even with the app, it's a crap shoot where exactly the moon will rise. When it came up to the right of where I expected, I ran, because you only have a couple of minutes before the moon crests above the horizon. I was expecting something interesting, but couldn't imagine it would look as amazing as it did.
S-R: How much time do you devote to your pastoral duties?
Goodwin: Depending on the week, 40 to 50 hours.
S-R: And how many hours a week do you spend on photography?
Goodwin: Ten to 20. If there's a show like Artfest, maybe more. But photography complements my church work. Being a pastor is very relationally intensive. I have 500 congregants I'm caring for and counseling and preaching to. Part of the photography involves getting away. That, and the creativity, help me in my other role.
S-R: What do you like most about the business side of photography?
Goodwin: Interacting with people who say my photography somehow speaks to them. That's very rewarding.
S-R: What do you like least?
Goodwin: Art shows can be a very inefficient way to sell photos. I'll usually do seven or eight a year, and by September, I'm almost dreading them.
S-R: Can you imagine yourself eventually being a full-time photographer and part-time pastor?
Goodwin: Maybe. Some veteran photographers are discouraged by how the internet has hurt the value of their portfolios. But others shrug and say, "We just need to adapt to the market." There will always be a demand for fresh images. The best path to success is diversifying – having nature stuff, fine-art stuff, assignment work, even some photojournalism.
S-R: Which photographs are you most proud of?
Goodwin: My pictures of Palouse Falls with the Milky Way arching overhead. About four years ago, I was diagnosed with non-Hodgkin lymphoma. After a week of chemo, dragging myself down to Palouse Falls became kind of a pilgrimage. I still go back. As much as it's been photographed, I keep finding new ways to look at it.
S-R: What's the farthest you'll go for a photo?
Goodwin: Last month I drove (150 miles) to Vantage to get a picture of the moon behind the Wild Horses Monument – a shot I'd been imagining for a couple of years. When conditions were finally right, it was really exciting. Afterward, David Govadare, who made the statues, told me the moon was part of his inspiration for the basket that's supposed to go along with the horses.
S-R: What advice would you offer someone who wants to turn a hobby like photography into a business?
Goodwin: Learn to value your time, or you'll work very hard without making any money. When I was starting out, what I most wanted was the affirmation – it felt good that someone actually wanted to buy one of my pictures. Now I try to sell them for what they're worth, depending on the market. Avista paid $900 for that annual-report cover shot.
S-R: Can people steal images off the internet?
Goodwin: Yes, there are tools for that. I discovered an Australian graphic designer used one of my images for an album cover. When I contacted her, she apologized and paid me.
S-R: What's the longest you've waited to snap the shutter?
Goodwin: I waited about four hours for two tiny eaglets to both pop their heads out of their nest at the same time.
S-R: Did you pray they would?
Goodwin: (laugh) I prayed. I cursed. Photography can be so cruel. Sometimes you have magical moments where everything comes together, but more often you'll drive four hours and discover the owls didn't have their babies yet. In those cases, I tell myself, "At least I got to have an amazing encounter with nature."
Writer Michael Guilfoil can be contacted at mguilfoil@comcast.net.
Local journalism is essential.
Give directly to The Spokesman-Review's Northwest Passages community forums series -- which helps to offset the costs of several reporter and editor positions at the newspaper -- by using the easy options below. Gifts processed in this system are not tax deductible, but are predominately used to help meet the local financial requirements needed to receive national matching-grant funds.
Subscribe now to get breaking news alerts in your email inbox
Get breaking news delivered to your inbox as it happens.
---