Sports > Idaho football
Idaho AD Rob Spear's future uncertain
Wed., March 28, 2018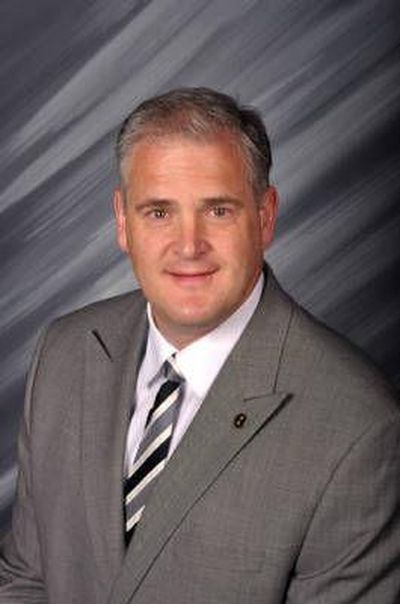 As the Associated Students of the University of Idaho listened Wednesday night to testimony about a resolution they will vote on next week calling for the firing of Vandals athletics director Rob Spear, they tried to reconcile a former student-athlete's account that Spear was inept and callous in dealing with her sexual assault and harassment by a UI football player in 2013 with assertions from current athletes, coaches and UI president Chuck Staben that Spear is a forward-thinking campus leader in promoting student safety.
"Frankly, I think he is at this point in time a role model for this university in his actions in this respect," Staben said.
This picture of Spear runs counter to an account in a Tumblr blog in January in which former Vandals diver Mairin Jameson said she and distance runner Maggie Miller reported six instances of harassment by Jahrie Level, a UI wide receiver at the time, to Moscow Police and athletics department officials.
Jameson claims Spear did not report the claims to the dean of students. He told Jameson the UI could not investigate an inappropriate touching incident involving Level because it occurred off campus. He emailed Jameson's parents to assure them that "Level was not a threat," and after Level was kicked off the football team two weeks after Jameson's complaint and later expelled from the UI, Spear did not send that information on to Jameson, who said she contemplated transferring from Idaho because she feared for her safety if Level remained on campus.
Spear did not acknowledge he followed outdated federal Title IX guidelines in dealing with her complaint, not did he apologize to her until this year, Jameson said.
Throughout the course of lengthy testimony for and against the resolution, student government officials were urged to get facts about the university's response to Level's behavior, in addition to the account in Jameson's compelling blog posting.
"At moments like this we realize just how powerful a student voice can be," ASUI director of policy Briggs Jackson told his student government colleagues. He urged them to be professional: "Let us not undermine the integrity of due diligence."
However, a number of people speaking on Spear's behalf pointed out that university officials are limited in what they can say about Jameson's situation due to provisions of the federal Family Educational Rights and Privacy Act.
"I don't feel you have been getting both sides of the story. That is to protect her and to protect privacy," Melissa Weitz, a former UI student and current fundraiser for the university, told the student officials. A frustrated Sen. Jacob Lockhart asked at one point, "How do we get the facts?"
A key charge against Spear was that his claim the UI could not investigate activity off campus was incorrectly based on a Title IX interpretation that had, in fact, been changed in 2012, a year before Jameson claimed harassment. However, UI volleyball coach Debbie Buchanan said a lag time in getting a new policy implemented after it was adopted could account for that.
"If a policy were to change today, we are not going to get taught about it for up to a year," she said.
Since 2013, Spear has made sure that athletes, coaches and athletics department staff have all been trained on their responsibility to report complaints, according to Staben, and Spear acquired a grant to develop a program directed at males on campus to get them to take accountability for their actions with women.
Staben acknowledged that policies on dealing with complaints like Jameson's and Miller's "were frankly less clear in 2013 and far less clear a few years before that."
Dave Eubank, who identified himself as a graduate student and editor of a UI women's center blog, dismissed excuses about outdated policy. "Do I need policies to tell me how to be a human being?
"Words and documents are one thing. Actions are another," he said in calling for Spear's dismissal.
Sarah Solomon, a founder of the student group Students for Accountability and Safety, which is pushing for Spear to be fired, read into the record a recent statement from Jameson, who said the UI needs "to instill a new culture in our athletic department, and it will start with new leadership."
Current members of the department who attended the ASUI meeting were firmly in Spear's corner.
"As a soccer team, we are unified as a team in supporting Rob Spear," senior soccer player Kelly Dopke said.
Assistant women's basketball coach Kristin Sanford said Spear knows all the approximately 400 student-athletes at the UI. "I don't know any professor on campus who knows all their students' names."
Jill Reader, a Vandals soccer player in 2013, told the ASUI, "I never once felt this athletics department was a boys' athletics department…I chose to be a Vandal because of the safety I felt here."
As they approach next week's vote on the resolution calling for Spear's termination, Staben cautioned the ASUI senators, "You need to be very careful. I doubt any of you have terminated the employment of another individual," he said.
Solomon answered that.
"It's no small matter to ask someone to leave their job," she said. "But it's also no small matter to mishandle a sexual assault allegation."
Local journalism is essential.
Give directly to The Spokesman-Review's Northwest Passages community forums series -- which helps to offset the costs of several reporter and editor positions at the newspaper -- by using the easy options below. Gifts processed in this system are not tax deductible, but are predominately used to help meet the local financial requirements needed to receive national matching-grant funds.
Subscribe to the sports newsletter
Get the day's top sports headlines and breaking news delivered to your inbox by subscribing here.
---