A-MAY-Zing race: Touchmark program aims to keep residents sharp while offering a fun adventure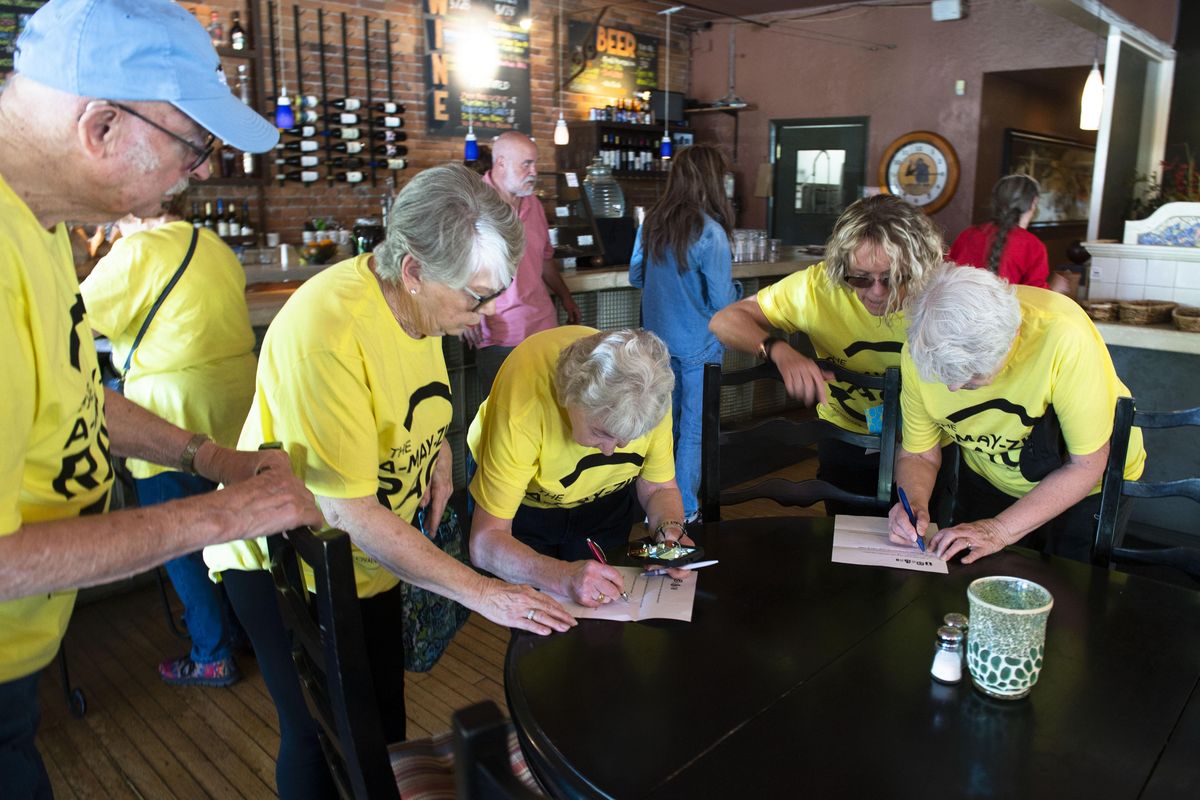 Faces intense, they eyed a list of tasks at Lindaman's. Contestants then spread out to find clues.
They learned the eatery's history, bought a cookie and sought wine prices. Next, groups were outside tossing Frisbees into hula-hoops before receiving a clue to the next destination.
"We think the competition has ramped up this year," said Joyce Cutler, 84, prior to the A-MAY-Zing race. "We're very competitive, but we have a lot of fun."
Each May, the senior community Touchmark on South Hill holds its own version of the TV reality series "Amazing Race," which sends teams around the world to do mental and physical challenges.
Touchmark's game sticks close to Spokane. The fourth annual competition runs each Friday afternoon during May. Teams are given routes and secretive clues, all organized months ahead by Touchmark employees.
What's on the line for the race's top-scoring team is announced on June 1: Dinner at a fancy restaurant.
Cutler competes with the team, Sweet Chicks, winners of the race two years now.
Angling for a third victory, they're up against the teams known as the Silver Tones, Rebounders, Entourage and Red Hot Mammas.
Each Friday's route takes teams to about six locations, arranged so teams don't typically show up at the same place, to complete certain tasks and follow clues to find the next destination.
All teams are timed from start to finish, and they might be penalized with added minutes if they don't complete a task correctly or have to open up subsequent envelopes with easier clues.
"I think we win because nobody's the boss, and we're very persistent," said Sweet Chicks' Bev Khun, 86. "There's no bickering; well, OK, there's minimal bickering.
"We've gotten very close because of it, and you learn a lot about Spokane."
Her 60-year-old daughter, Denise Bartlett, also is part of Sweet Chicks along with Khun's daughter-in-law Cary Snyder, 52.
Bartlett credits thinking outside the box when it comes to figuring out clues.
"We're keen on abstract thinking," Barlett said. "And sometimes the answer will pop out of someone's mouth. They haven't contributed all day, then they say something, and that's it."
Smartphones are allowed, so Snyder said she and Bartlett are tech support. "We're flying thumbs," she said. "We talk to Siri a lot. They don't make this easy with the clues."
This year, the game has about 42 participants, including Touchmark drivers. Residents make up most of the six members per team. Relatives or prospective Touchmark residents can play too.
The drivers, all Touchmark employees, don't know the intended locations or answers to clues given to teams. Contestants sitting in the back of a vehicle have to communicate with a front passenger, who is the only person who can talk to the driver.
Lora Hovland, Touchmark's life enrichment director, said the center's former executive director, Jeff Bair, first suggested the game with a local flair and inspired by the CBS show.
Hovland and coworker Cindy Garvin organize all the logistics. Touchmark sends teams out in the company's vehicles, with travel depending on teams' decisions and interpretation of clues.
"Cindy and I start usually in February," Hovland said. Sometimes, destinations are themed such as park locations. "We go out and do scouting. We meet with the manager at each location and tell them what we're doing."
Only four team members go out with a driver for each Friday's session, so the participants can alternate, Hovland said. Touchmark also has employees stationed at each location to provide tasks.
For 2018's A-MAY-Zing race, the wild ride covers 24 destinations and 72 clues over four weeks.
Teams leave Touchmark by around 1:30 p.m. Assignments and clues, especially early ones, are meant to be challenging. Teams might be required to find a city landmark or send paper airplanes off the rooftop patio to a target below.
Once teams complete the day's route and actions – or even if they haven't finished – they head back to Touchmark for a happy hour at 4 p.m. and to discuss the day's events, often over laughter about snafus, Hovland said.
"We tell everyone's times and we have a big banner with scores. On Monday, Cindy and I take all the envelopes, and if they opened Envelope B or C, they get dinged. They could come in first time-wise, but then if they opened a lot of envelopes, they could end up in last."
Garvin said that each year they brainstorm clues for each game destination. If teams have to buy an item or pay for an activity, Touchmark provides the money.
"Our goal is for residents to learn about the businesses or locations, whether they're new to Spokane or they've lived here for years," Garvin said. "One year we did parks, and they had to play horseshoes or shoot baskets. We try to change it up every year."
"There are at least three or more tasks at each location," Hovland added. "There's something fun, a puzzle or finding out information."
Sometimes, if the route follows a theme, such as historical sites, Hovland and Garvin might throw in a random unrelated destination.
"It keeps them guessing," Hovland said. "That's part of the adventure."
And sometimes teams get a little off track.
"There was one year, either the first or second year, the team thought they were supposed to be in the Gonzaga District, and they were supposed to be in Browne's Addition. They lost like 20 minutes."
Participants each year wear matching T-shirts. They're passed out before the launch. Rules and safety are discussed, and each team selects a captain.
Yes, the event is a little over the top, Hovland and Garvin agreed, but residents love the game. There's no extra cost for participants.
"It highlights the active lifestyle of our residents," Garvin said. "They want to do things that are out of the ordinary and different."
---