News > Spokane
Then and Now: Temple Court building
Mon., May 14, 2018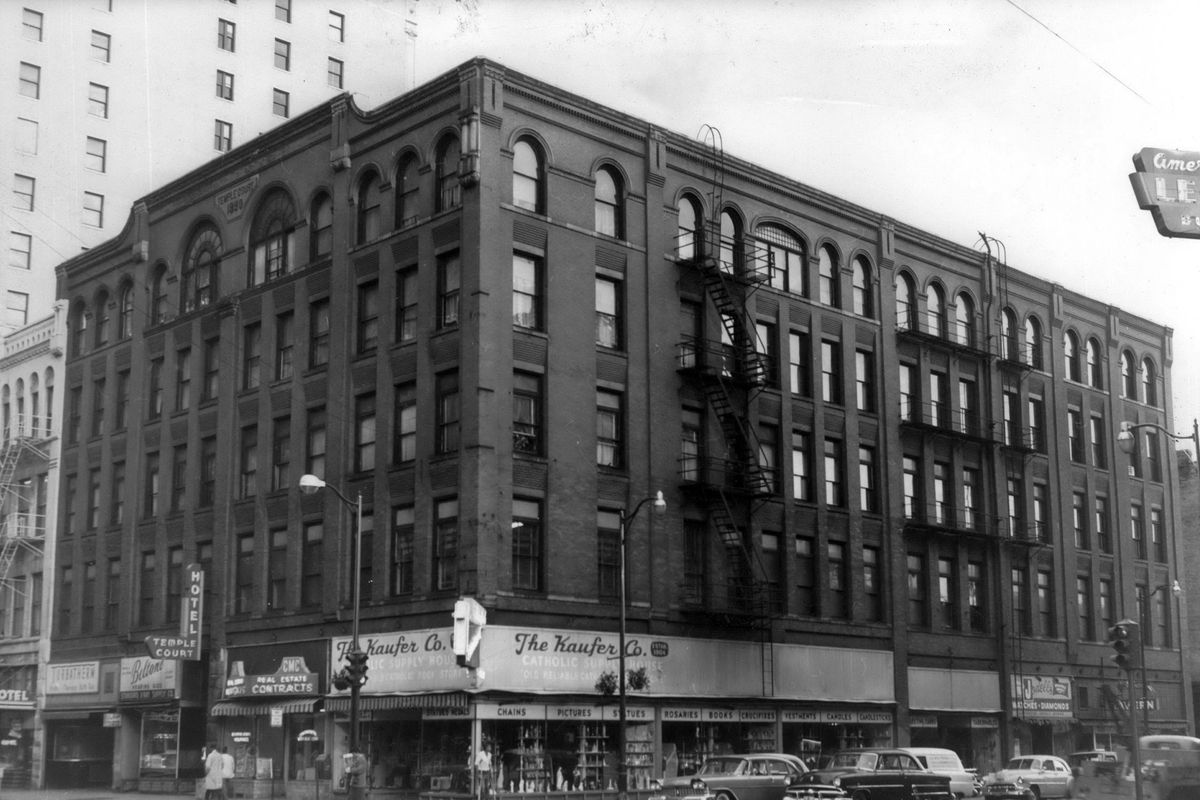 1961: The Temple Court Building housed ground-floor retail and the Temple Court Hotel above, until it was torn down in 1962 to create parking for Old National Bank. (Spokesman-Review Photo Archive / Spokesman-Review photo archive)
Brothers Albert P. and William M. Wolverton, ages 25 and 31, arrived in the frontier town of Spokane Falls in 1880 and paid $350 for a lot on the northeast corner of Riverside Avenue and Wall Street. There they completed the two-story, later three-story, Wolverton block, which holds the distinction as the first brick building in Spokane, in 1881. They started a hardware store together.
After a couple years, Albert sold out to his brother and started Spokane Hardware on his own. He began to have health problems and sold out of that business as well. In 1884, he bought 155 acres on the north side and platted the Wolverton and Conlan Addition to build residential housing.
The Wolverton block was destroyed, along with dozens of other buildings, by the Great Fire of 1889. William didn't rebuild right away. But Albert began a new five-story block, which he called Temple Court.
The upper floors were the Temple Court Hotel, a residence hotel. A variety of retail businesses were on the ground floor. One was Wolverton and Byrd, a new hardware store run by a younger brother, Grant Wolverton, and John Byrd. The hardware business would eventually merge with Jensen-King Co. of Sprague, Washington, to become Jensen Byrd, a hardware distributor that is still in business today.
Albert Wolverton had serious heart problems and died in 1907 at age 52, leaving behind a wife and two children. William had rebuilt the Wolverton in 1891 and continued in the hardware business. He died in 1910 at age 60.
The Wolverton block was torn down to be a part of the new Newberry store in 1946. The Temple Court building was eventually bought by the nearby Old National Bank, which tore it down in 1962 to provide parking for customers who had shown a preference for suburban banks where parking was easier. When the ONB was able to buy and remove the narrow Tidball and Green buildings and clear the Riverside frontage on the block, they added drive-through banking. Old National Bank was acquired by US Bank in 1988.
Local journalism is essential.
Give directly to The Spokesman-Review's Northwest Passages community forums series -- which helps to offset the costs of several reporter and editor positions at the newspaper -- by using the easy options below. Gifts processed in this system are not tax deductible, but are predominately used to help meet the local financial requirements needed to receive national matching-grant funds.
Subscribe now to get breaking news alerts in your email inbox
Get breaking news delivered to your inbox as it happens.
---