Stream on Demand: 'Coco,' 'Outside In' come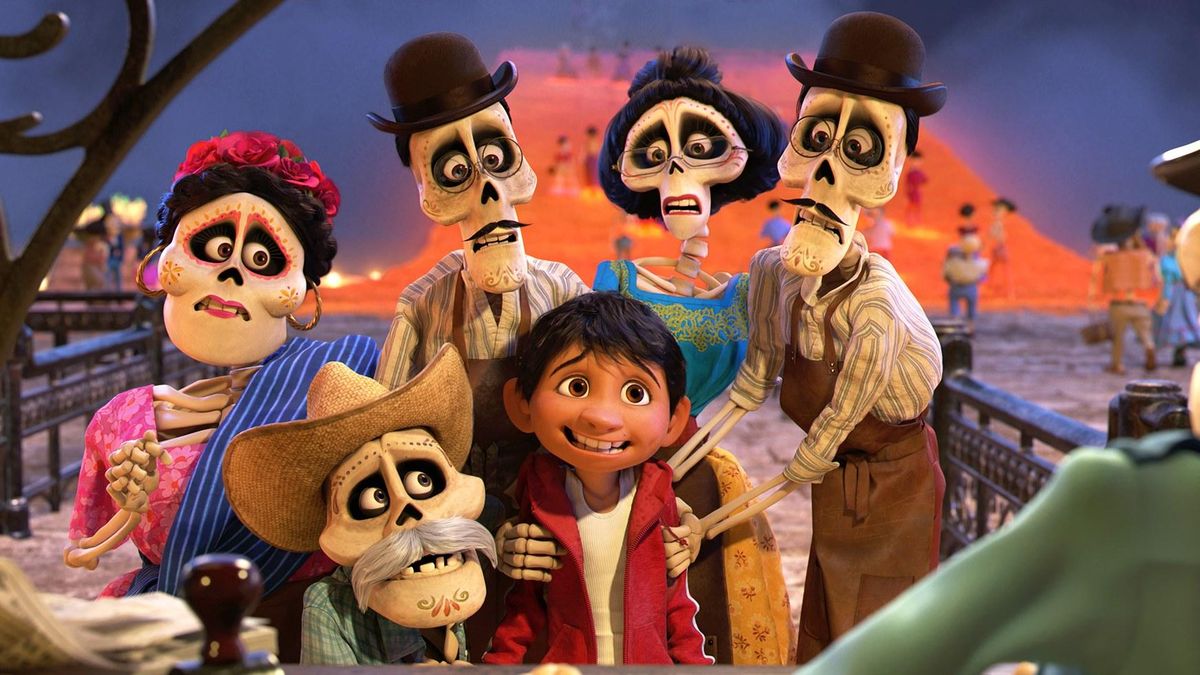 What's new for home viewing on Video on Demand and Netflix, Amazon Prime, Hulu, and other streaming services.
Top streams for the week
Pixar's Oscar-winning animated feature "Coco" (2017, PG) draws from Mexican folklore and music for the colorful adventure of a boy's journey through the Land of the Dead to contact his ancestors. Now streaming on Netflix.
Also on Netflix is "Outside In" (2017, not rated), a drama directed by Seattle filmmaker Lynn Shelton and made in Western Washington with Edie Falco as a high school teacher torn between her family and the former student (Jay Duplass) she helps readjust after spending half his life in prison.
James Franco directs and stars as Tommy Wiseau in "The Disaster Artist" (2017, R), a stranger-than-fiction comedy based on the true story behind the creation of the midnight movie phenomenon "The Room," one of the best bad movies ever made. On Amazon Prime Video.
Margot Robbie is Tonya Harding in "I, Tonya" (2017, R), a self-aware, blackly comic, class-conscious take on the story of the Portland figure skater who was banned from skating for her role in the attack on Nancy Kerrigan. Allison Janney won an Academy Award for playing her bullying, chain-smoking mother. Streaming on Hulu.
"Annihilation" (2018, R) stars Natalie Portman as a Special Forces soldier who joins a team of women scientists to investigate an alien force field slowly growing on Earth. Adapted by "Ex Machina" director Alex Garland from the novel by Jeff VanderMeer, this is a moody science fiction thriller that favors science and mystery over action. On Cable On Demand, VOD, and DVD. Also at Redbox.
Pay-Per-View / Video on Demand
"The Last Witness" (2018, not rated), a drama about the secret slaughter of 22,000 Polish officers during World War II, and the eerie low budget sci-fi thriller "They Remain" (2018, not rated) arrive after limited theatrical release.
Available same day as select theaters nationwide is the romantic comedy "Social Animals" (2018, R) with Noël Wells and Josh Radnor.
Netflix
"Bombshell: The Hedy Lamarr Story" (2017, not rated) reveals the multifaceted life of the glamorous actress who created the technology behind Wi-Fi and cellphones.
"The Break with Michelle Wolf," a new Netflix Original topical comedy series, presents the comedian notorious for her unfiltered monologue at the White House Correspondents' Dinner offering comic commentary on the news interspersed with skits. New episodes arrive each Sunday.
Foreign affairs: A Spanish lawyer (Laura Alonso) searches for her missing sister in the violence and chaos of the Congo in "Sara's Notebook" (Spain, 2018, not rated, with subtitles), which debuts in the U.S. on Netflix.
More true stories: Netflix Original documentary "November 13: Attack on Paris" featuring survivors and first responders of the 2015 attack telling their stories; Emmy-winning documentary "He Named Me Malala" (2015, PG-13) about the Pakistani-born schoolgirl who won the Nobel Peace Prize; and "Joseph Campbell and the Power of Myth" (1988), the PBS series hosted by Bill Moyers.
More streaming TV: the second season of the CW young adult soap "Riverdale," which reimagines the characters of the "Archie" comics in a corrupt town out of "Twin Peaks," is available weeks after the TV finale.
Also new: "Arrested Development: Season 5," another round of dysfunctional comedy with the Bluth family; "Unbreakable Kimmy Schmidt: Season 4" with the chipper enthusiasm of Ellie Kemper; and the DCU superhero series "Arrow: Season 6" and "Supernatural: Season 13," also fresh from their respective runs on the CW network.
Older films newly added this month: Woody Allen's "Blue Jasmine" (2013, PG-13) with an Oscar-winning performance by Cate Blanchett; Martin Scorsese's Oscar-winning "The Departed" (2006, R) with Leonardo DiCaprio, Matt Damon, and Jack Nicholson; "Miracle" (2004, PG), the story of the 1980 U.S. Olympic hockey team's underdog victory; and the romantic comedy "Nick and Norah's Infinite Playlist" (2008, PG-13) with Michael Cera and Kat Dennings.
Amazon Prime Video
Kate Winslet stars in Woody Allen's "Wonder Wheel" (2017, PG-13), a melodrama involving a romantic triangle and a stepdaughter with discomforting echoes Allen's own life.
Also new: "The Man Who Invented Christmas" (2017, PG) with Dan Stevens as Charles Dickens, and "LBJ" (2017, R) with Woody Harrelson.
The Starz miniseries adaptation of the E.M. Forster novel "Howards End" (2018), scripted by Oscar-winning screenwriter Kenneth Lonergan, stars Hayley Atwell and Matthew Macfadyen in a romance complicated by class, money, and social arrogance.
Foreign affairs: August Diehl is "The Young Karl Marx" (France, 2017, not rated, with subtitles) in the film directed by Raoul Peck.
Burt Reynolds is "The Last Movie Star" (2017, R) in a drama co-starring Chevy Chase and Ariel Winter. Also new: the black comedy "Kill Your Friends" (2015, not rated) with Nicholas Hoult as a ruthless music executive; the thriller "The Iceman" (2012, R) with Michael Shannon as a hitman leading a double life as a loving husband and father; Martin Scorsese's "The Age of Innocence" (1993, PG) with Daniel Day-Lewis and Michelle Pfeiffer; and the iconic sports fable "The Natural" (1984, PG) with Robert Redford.
More streaming TV: Prime Video now offers all five seasons of "Babylon 5," arguably the best and certainly the most ambitious science fiction show of the nineties. Also new: "Rescue Me: The Complete Series" with Denis Leary as a New York firefighter with a self-destructive streak; and "The Waltons: The Complete Series," the beloved seventies family drama with Ralph Waite, Michael Learned, and Richard Thomas as John-Boy.
Amazon Prime and Hulu
The bride will not let anything spoil "The Wedding Plan" (Israel, 2017, PG, with subtitles) when her fiancé backs out in this Israeli romantic comedy (Prime Video and Hulu).
Johnny Deep is "Sweeney Todd: The Demon Barber of Fleet Street" (2007, R) in Tim Burton's film version of the dark Stephen Sondheim musical (Prime Video and Hulu).
Peter Sellers is Inspector Clouseau in the hilarious slapstick comedies "The Pink Panther Strikes Again" (1976, PG) (Prime Video and Hulu) and "Revenge of the Pink Panther" (1978, PG) (Prime Video and Hulu).
Hulu
Return to the wondrous world of J.R.R. Tolkien's "The Lord of the Rings" in Peter Jackson's dazzling fantasy epic trilogy: "The Fellowship of the Ring" (2001, PG-13), "The Two Towers" (2002, PG-13) and "The Return of the King" (2003, PG-13).
Dakota Fanning stars as an autistic Trekkie in the road movie "Please Stand By" (2018, PG-13).
A dozen direct-to-video animated superhero films from the DCU are now available, including the retro-origin story "Justice League: The New Frontier" (2008, PG-13), alternate reality adventures "Justice League: Crisis on Two Earths" (2010, PG-13) and "Justice League: Gods and Monsters" (2015, PG-13), and the supernatural-skewing "Justice League Dark" (2017, R) with Matt Ryan voicing John Constantine.
Also new this week: "Across the Universe" (2007, PG-13) with "Westworld" star Evan Rachel Wood and the music of the Beatles; "The History Boys" (2006, R) with Richard Griffiths as an inspirational teacher of gifted boys; Oscar-winning "Brokeback Mountain" (2005, R) with Heath Ledger and Jake Gyllenhaal; Guillermo Del Toro's "Hellboy" (2004, PG-13) with Ron Perlman; "Apollo 13" (1995, PG) with Tom Hanks as astronaut Jim Lovell commanding a NASA mission in crisis.
HBO Now
The HBO Original documentary "John McCain: For Whom the Bell Tolls" (2018, TV-14) profiles the venerable Senator from Arizona as he battles brain cancer.
Laura Dern is a woman who questions the memories of her first sexual experience in the HBO Original drama "The Tale" (2016, TV-MA) from documentary filmmaker Jennifer Fox.
New films this week include indie drama "Patti Cake$" (2017, R) starring Danielle Macdonald as an aspiring rapper from New Jersey and surreal horror thriller "A Cure for Wellness" (2017, R) with Dane DeHaan and Jason Isaacs.
Older films returning to HBO include the superhero sequel "X2: X-Men United" (2003, PG-13), live-action family-friendly fantasy "Peter Pan" (2003, PG) with Jason Isaacs, "The Postman Always Rings Twice" (1981, R) with Jack Nicholson and Jessica Lange, and the sixties western "Butch Cassidy and the Sundance Kid" (1969) with Paul Newman and Robert Redford.
Arriving Saturday night is "Blade Runner 2049" (2017, R), the sequel with Ryan Gosling and Harrison Ford and on Sunday night the new HBO Original series "Succession" debuts.
Showtime Anytime
Oscar-nominated filmmaker Liz Garbus directs the Showtime Original documentary series "The Fourth Estate" on challenges faced by The New York Times covering the Trump presidency. All four parts available to stream.
Also new: comic drama "Dean" (2017, PG-13) starring director/writer Demetri Martin as a New York cartoonist facing an emotional crossroads and "Mrs McCutcheon" (2017, not rated), an Australian drama about a 10-year-old boy who chooses to live as a girl.
FilmStruck
TCM Select Pick of the Week is "The Women" (1939), George Cukor's adaptation of Clare Booth Luce's play, where men are usually the topic at hand but never seen on screen. Cukor was celebrated in Hollywood as a great director of women and he works here with the best of MGM's female stars. Norma Shearer is a happily married woman whose husband is having an affair with Joan Crawford, Rosalind Russell is the incorrigible gossip in this society of women, and Mary Boland, Paulette Goddard, Joan Fontaine, Ruth Hussey, Marjorie Main and Lucille Watson co-star. There is not a single male actor to be found in this alternately catty and consoling melodrama of social climbers, gossips, homewreckers, and the innocents caught between their conniving plots. "There's a name for you ladies, but it isn't used in high society, outside of a kennel." Available to stream through November 23, 2018.
Joan Crawford is also Star of the Week, featured in 21 films from the silent horror classic "The Unknown" (1927, silent with score) with Lon Chaney to her final role in the trashy cult horror "Trog" (1970). A few of the stand-outs in between: the all-star "Grand Hotel" (1932) with Greta Garbo and John Barrymore, "Possessed" (1931) and "Strange Cargo" (1940) with Clark Gable, crime melodrama "A Woman's Face" (1941) with Melvyn Douglas, and romantic drama "Humoresque" (1946) with John Garfield.
Also new: six films from (plus a documentary about) "Director of the Week: Lina Wertmüller," including her Oscar-nominated "Seven Beauties" (Italy, 1975, R, with subtitles), and eight films presenting "Peter Sellers Before Clouseau," including the comedy "I'm All Right Jack" (1960) and Stanley Kubrick's "Lolita" (1962).
Acorn TV
"800 Words: Series 3, Part 1," the quirky Australian comedy about a widower newspaperman who packs his family off to New Zealand, rolls out with new episodes each Monday.
Also new: British crime drama miniseries "A Place of Execution" (2008) with Juliet Stevenson, and Australian comedy drama series "Bed of Roses: Series 1" (2008) with Kerry Armstrong.
New on disc
"Annihilation," "Midnight Cowboy (Criterion)"
Now available at Redbox: "Red Sparrow," "Annihilation," "The 15:17 to Paris"
Sean Axmaker is a Seattle film critic and writer. His reviews of streaming movies and TV can be found at http://streamondemandathome.com.
---