News > Transportation
Getting There: The future of pavement
Nov. 5, 2018 Updated Mon., Nov. 5, 2018 at 12:23 p.m.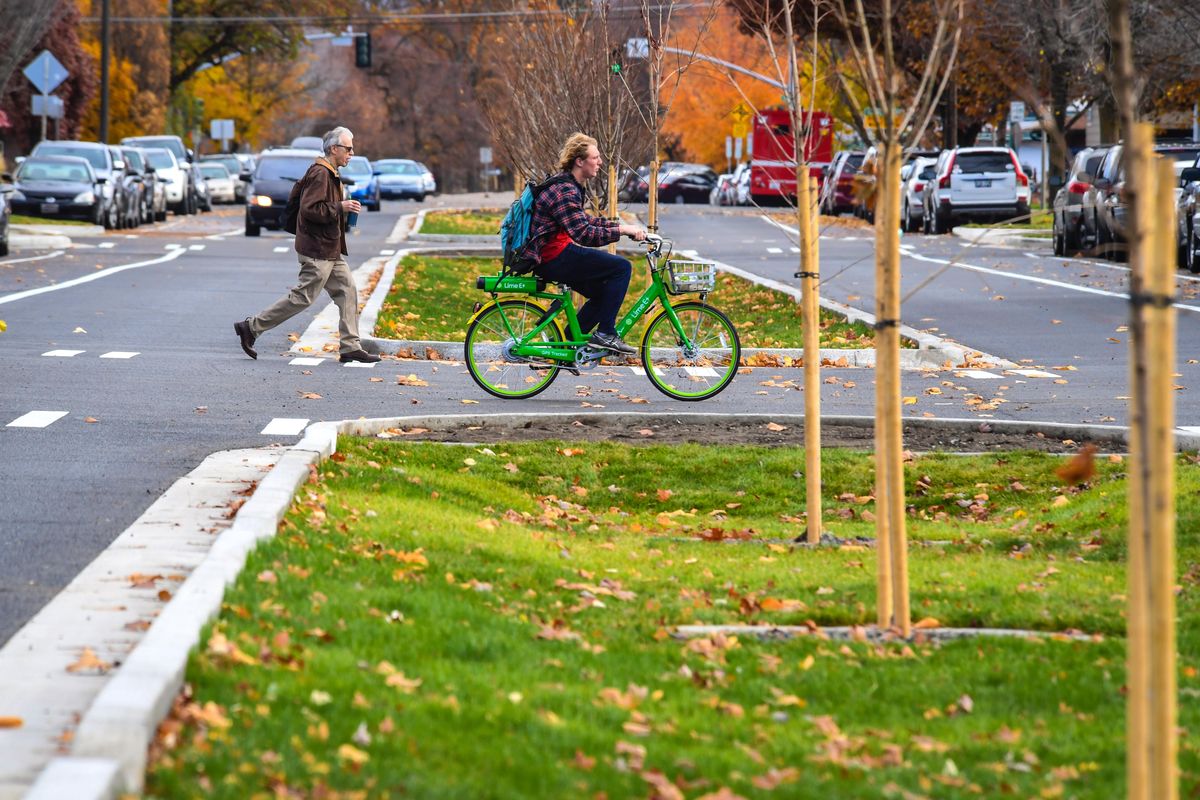 A pedestrian and a cyclist cross Sharp Avenue at Standard Street on Nov. 2 near the Gonzaga University campus. Sharp now has permeable pavement and bike lanes. (DAN PELLE/The Spokesman-Review)
Seers don't generally gaze into the pavement to tell the future. Such visions are better found in a crystal ball, the bottom of a tea cup or in the palm of a hand.
But if any oracles want to divine the future of Spokane's streets, they could do worse than looking at Sharp Avenue.
Last week, the city wrapped up its $2 million project to completely rebuild the half-mile of road running from Pearl Street to Hamilton Street in front of Gonzaga University. The work took the road from four lanes to two, added bike lanes and a treed center median, and made the street a friendlier place to walk.
It's also an experiment in pavement.
Heading west on Sharp, motorists or cyclists will notice the changing character of the street surface. First, they'll travel over pervious concrete in the bike lanes, parking stalls and the west-heading vehicle lane. Then, the road reverts to standard pavement. Lastly, the road shifts to porous asphalt.
If this seems at all random, it's not. It's part of a trial the city is doing to test the viability of such permeable, pervious and porous pavement, which all allow water to seep through, rather than run over the surface.
"It's an experiment, a pilot," said Marcia Davis, a principal engineer with the city's integrated capital management program. "We're checking for durability and maintenance. How do we maintain it? Is it going to wear out quicker? And how well will it clean the stormwater?"
As Davis suggests, this experiment is about more than streets. It's about dealing with stormwater.
Roads do more than act as roadways for vehicles. Their flat, impermeable surfaces shuffle rainwater to drains, where it's conveyed to stormwater systems. In Spokane's case, stormwater and sewage share pipes on their way to the treatment facility in Riverside State Park and, during storms, the pipes get overloaded and dump their contents into the river.
Under a deadline and threat of stiff penalties from the U.S. Environmental Protection Agency, the city has been working to stop such polluted road water – and other distasteful, more human fluids – from entering the river. Commuter headaches on Spokane Falls Boulevard, First Avenue and elsewhere can be traced to this work, as the city constructs massive holding tanks for combined sewage and stormwater. In short, these tanks give the treatment facility extra time to process its charge.
Then there's Sharp. A lot has changed there. Before the work, the high point of the road was in the center, where a little curb of concrete separated opposing lanes of traffic. When it rained, water rushed to either side of the road, along a culvert and into the stormwater system.
Now the rain water does anything but rush to the sides of the road. The low point in the road is now the center, which has swales – rain gardens with trees and other landscaping. Swales such as these are used all over the city. Instead of rain water entering pipes, it goes into the soil, which acts as a "biofilter."
They'll do the same work on Sharp – if the rainwater makes it that far.
"All the rain should go through," Davis said of the permeable pavement. In other words, the swales are a back-up if the street can't absorb all the stormwater. The city installed sensors to see how much water can get through the street and into the earth below. Before the road opened, the city tested how much capacity the road has to let water through. The equivalent of 1,000 inches of rain made it through the permeable pavement. To put that in perspective, Spokane gets an average of 16.5 inches of rainfall a year, and 45 inches of snow.
"You design it so you have plenty of capacity to infiltrate," Davis said. "So, over time if it gets clogged from road dirt, then we'll have plenty of capacity."
Since the city is banking on Sharp working as a stormwater filter, it has a plan to keep the permeable pavement, well, permeable. The city uses "regenerative air" street sweepers, which suck like a vacuum. If that doesn't work, city workers will take a high-pressure washer to the pavement. Finally, Davis said, the city may need to get the "vactor out there to do some vactoring." A vactor is a big, vacuum-equipped truck used to clean streets and sewer lines.
Perhaps more important, though, is seeing whether the new pavement can handle the weight of vehicles. The average passenger vehicle weighs about 4,000 pounds, and the city isn't sure how the roadway will react to the 7,500 vehicles Sharp sees on an average day.
"That's what we're trying to determine, where they make the most sense to use," Davis said. Intersections get pretty beat up, with turning vehicles and twisting wheels. The Sharp project has intersections made of different pavement to see how they handle the different forces.
"It's very unique," Davis said, noting that similar street projects on the west side of the state avoid using permeable pavement on intersections and on arterials. "They're all looking to us to see how this is going to work, and what we can learn. It's another example of how Spokane is leading the way."
As an experiment, the city is keeping a close eye on Sharp. How well the street performs in terms of stormwater is the "driver" to the project, and Davis said the city needs "eight good storms" to test the performance. She anticipates the city will have some solid results in about three years.
And if it works, expect to see more of Spokane's streets made from the leaky pavement.
"If we can use a stormwater facility as a road surface, that one dollar can do two things," she said. "This project will inform us of decisions in the future."
No crystal ball necessary.
Got a transportation question or story idea? Write to nickd@spokesman.com.
Bigelow has a name
Last week's column about the Bigelow Gulch Urban Connector said it was "unclear where the name 'Bigelow' came from, but it attached itself to a gulch, and that gulch named the road."
Well, the origin of the road name has been cleared up, thanks to some readers.
Charles Bigelow owned a farm near what is now Bigelow and Farmer Road, which became a produce farm called Japanese Gardens in the 1960s, wrote a reader named Ken. He recommended reading "A History of Spokane Valley."
Another reader, David Beine, provided documents showing Charles Bigelow owned land in Orchard Prairie in 1886. Beine is a professor of intercultural studies at Great Northern University who has been doing research on Spokane Garry and Orchard Prairie's Doak family, which is how he came across the Bigelow documents. He'll be presenting findings this month at the Spokane Public Library as part of Native American Heritage Month.
To find out more, visit SpokaneLibrary.org/calendar.
New parking lot at airport
Travelers flying out of Spokane International Airport have a new parking option beginning today.
A new economy parking lot adjacent to inbound Airport Drive and across from the cellphone lot contains 1,404 parking stalls, including four electric vehicle charging stations. Shuttle service to the terminal is available.
With the lot, the airport now has more than 9,300 spaces in its garages, economy, concourse C and outside lots.
The new Economy Parking Lot entrance is located on McFarlane Road. Customers can access the lot by turning left off Airport Drive onto Flint Road, then right onto McFarlane Road.
Local journalism is essential.
Give directly to The Spokesman-Review's Northwest Passages community forums series -- which helps to offset the costs of several reporter and editor positions at the newspaper -- by using the easy options below. Gifts processed in this system are not tax deductible, but are predominately used to help meet the local financial requirements needed to receive national matching-grant funds.
Subscribe now to get breaking news alerts in your email inbox
Get breaking news delivered to your inbox as it happens.
---