News > Religion
Spokane bishop on Catholic Church abuse crisis: 'How much more can the people of God put up with?'
Sun., Nov. 11, 2018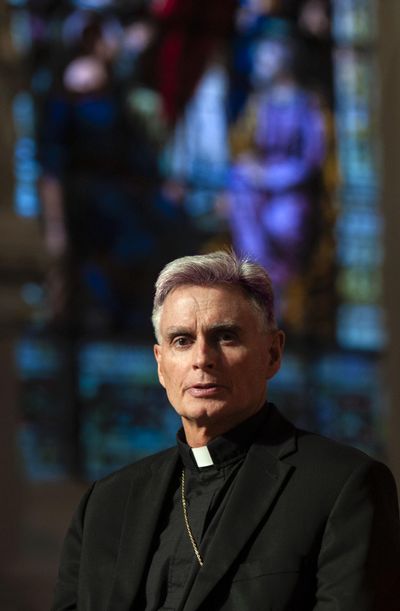 Light streamed into Bishop Thomas Daly's office one recent afternoon as he spoke, in sometimes blunt terms, about the widening scandal of sexual abuse by Catholic clergy in the United States.
"It's a moral crisis," Daly said. "We have degenerate behavior, hypocrisy and now cover-up. My thought is, 'How much more can the people of God put up with?' "
As the leader of the Spokane diocese since 2015, Daly has the final say on some investigations into abuse by clergy. He talked to The Spokesman-Review in late October following a wave of headlines about sexual abuse in all ranks of the Roman Catholic Church.
It began anew in June, when allegations emerged that Cardinal Theodore McCarrick, the former archbishop of Washington, D.C., had sexually abused minors and adult seminarians over the course of decades. Pope Francis accepted McCarrick's resignation in July. And then in August, the Pennsylvania attorney general's office released a grand jury report finding that church leaders had covered up the abuse of more than 1,000 people over a 70-year period, prompting investigations in several other states.
Sexual abuse scandals have rocked the church for nearly 17 years. After the Boston Globe exposed a systemic cover-up in that city's archdiocese in 2002, similar reports emerged across the country and the world, forcing the church to pay billions of dollars in settlements and establish reporting and prevention programs. The Spokane diocese is among those with a history of predator priests – revelations that sent it into bankruptcy in the early 2000s and dogged it for more than a decade.
The diocese has responded to new allegations in the aftermath of the bankruptcy. Last year, for example, Daly sanctioned a retired priest who had been "credibly accused" of raping an altar boy in Spokane in the 1980s.
This week, Daly is scheduled to be in Baltimore for a meeting of the U.S. Conference of Catholic Bishops, where the abuse crisis tops the agenda.
Church bans priest over rape claim
One day in July 2016, a man called Roberta Smith to share a disturbing allegation.
Giving only his initials, and reluctant to discuss details, the man told Smith that a retired priest, Otto Koltzenburg, had sexually abused him decades earlier at St. Augustine, a church on the South Hill near Manito Park. It happened sometime between 1984 and 1986 in the priest's private home, the man said. He had been an altar boy, only 10 or 11 years old.
Smith, a former psychiatric nurse who is now the victim assistance coordinator for the Spokane diocese, knew what to do. Following a standard procedure, she immediately passed along what little information she had to the Spokane Police Department, even though it was too late to pursue criminal charges. Under Washington's statute of limitations, child-rape suspects can't be prosecuted after the victim's 30th birthday.
Another police report was made the following October, with some additional information. The accuser had revealed his identity to Smith, though his name is redacted in copies of the police reports obtained through a public records request. The second report states that the alleged abuse "began with simple touching" and progressed in severity during "special outings" with Koltzenburg.
The church hired a private investigator, who worked with Smith to assess the credibility of the allegation.
Smith declined to discuss details of the investigation. But, speaking generally, she said such inquiries involve interviews with potential witnesses, as well as research into the past, such as the layouts of old buildings where the crimes are said to have occurred. Some claims are also reviewed by a diocesan panel of laypeople.
Smith, who has been the victim assistance coordinator for 11 years, said she usually learns of abuse through relatives of the victims. In some cases, a claim has nothing to do with ministers in the Spokane diocese, so she gathers basic information and passes it along to her counterpart in another diocese.
"The bishop and I both agree my job isn't just for the diocese," Smith said.
In the Koltzenburg case, Bishop Daly said he and Smith traveled across the state to meet with the accuser and his family. They also interviewed Koltzenburg.
In March 2017, church bulletins across the state declared that Koltzenburg had been "credibly accused," and he was permanently barred from Catholic ministry.
"I felt – for the good of the church and the good of God's people – I had to make sure that he was known as someone who has a criminal allegation, and he's not to function as a priest nor present himself as a priest," Daly said.
This was not the first allegation made against Koltzenburg. After leaving the Spokane diocese around 2002, he had been assigned to churches within the Seattle archdiocese, which covers all Washington counties west of the Cascades. In 2008, he had been shunned from the Seattle jurisdiction for what Daly described as "boundary issues."
Those issues, however, did not lead everyone in the church to turn their backs on Koltzenburg. Daly said that when he assumed leadership of the Spokane diocese in 2015, one priest recommended that Koltzenburg be allowed to return and hold "limited ministry."
Daly said he consulted the archbishop of Seattle, who reviewed Koltzenburg's file. The bishop and the archbishop agreed that Koltzenburg was the subject of too much suspicion. Then the former altar boy from Spokane came forward, reaffirming that suspicion.
Koltzenburg, a German native, was last assigned to Holy Family in Auburn, Washington. He's now 68 and lives in Leavenworth. Reached by phone on Thursday, he identified himself as "Father Otto" and vigorously denied the allegations, claiming he had never even met his accuser.
"My conscience is clear that I have never done any harm to a child," Koltzenburg said. "I'll maintain this until the day I die."
Asked if he was aware of any other allegations within the Spokane diocese, Daly said some people recently raised concerns that their family member had been abused, but that individual declined to speak about the matter.
Daly said he is determined to get to the truth in such cases, even when the truth is ugly.
"Yeah, the church doesn't want its reputation tarnished," he said. "But what happened? That's the most important thing."
Church divided as allegations swirl
The Pennsylvania grand jury report prompted the U.S. Department of Justice to subpoena records from Catholic dioceses in that state in October. It also inspired prosecutors to open investigations in other states, including Nebraska, New Jersey, New Mexico and New York.
A spokesman for the Washington state attorney general's office, Dan Jackson, declined to say whether state prosecutors had opened any investigation into the Catholic Church.
"We do not comment on pending investigations, including confirming whether they exist," Jackson said.
Daly, meanwhile, said the church conducts annual audits of each diocese to ensure that claims of abuse and misconduct are handled correctly.
"The audit is a way to see if we're following the procedures we put forth," Daly said.
Recently, he said, the audits have been conducted by a large consulting firm, but he prefers when the interviewers have law enforcement background.
"My experience has been the best people to do the audit, they were retired FBI agents," he said. "They know what questions to ask."
He said laypeople, and especially parents, should play a prominent role in holding the church accountable, too.
Some church procedures have been mandated by litigation and settlements. The Spokane diocese, for example, is required to publicly disclose when it has determined abuse allegations to be credible, as with Koltzenburg.
At this week's conference in Baltimore, American bishops are certain to discuss the allegations against Cardinal McCarrick, as well as claims that Pope Francis and other church leaders have known about the allegations for years.
In a series of open letters, Archbishop Carlo Maria Viganò – a former papal ambassador, or nuncio, to the United States – has accused the pope of covering up McCarrick's sexual abuse and giving comfort to a "homosexual current" within the Vatican. The letters have exacerbated cultural and ideological divides within the church, pitting Francis' inclusive vision against conservative opponents of abortion and homosexuality.
Daly said he has no firsthand knowledge of the McCarrick situation. But Spokane's bishop indicated he has some faith in Viganò.
"I would not call Archbishop Viganò a liar," Daly said. "I think he's a man who wants to – I think he wants to make sure his conscience is clear before God. Now, I don't know the vast majority of his letter. But there are segments of that letter that I know and I can attest that are true."
Local journalism is essential.
Give directly to The Spokesman-Review's Northwest Passages community forums series -- which helps to offset the costs of several reporter and editor positions at the newspaper -- by using the easy options below. Gifts processed in this system are not tax deductible, but are predominately used to help meet the local financial requirements needed to receive national matching-grant funds.
Subscribe now to get breaking news alerts in your email inbox
Get breaking news delivered to your inbox as it happens.
---