Apple Cup notebook: Washington defensive coordinator Jimmy Lake, a Spokane native, ready for 'very good' Washington State team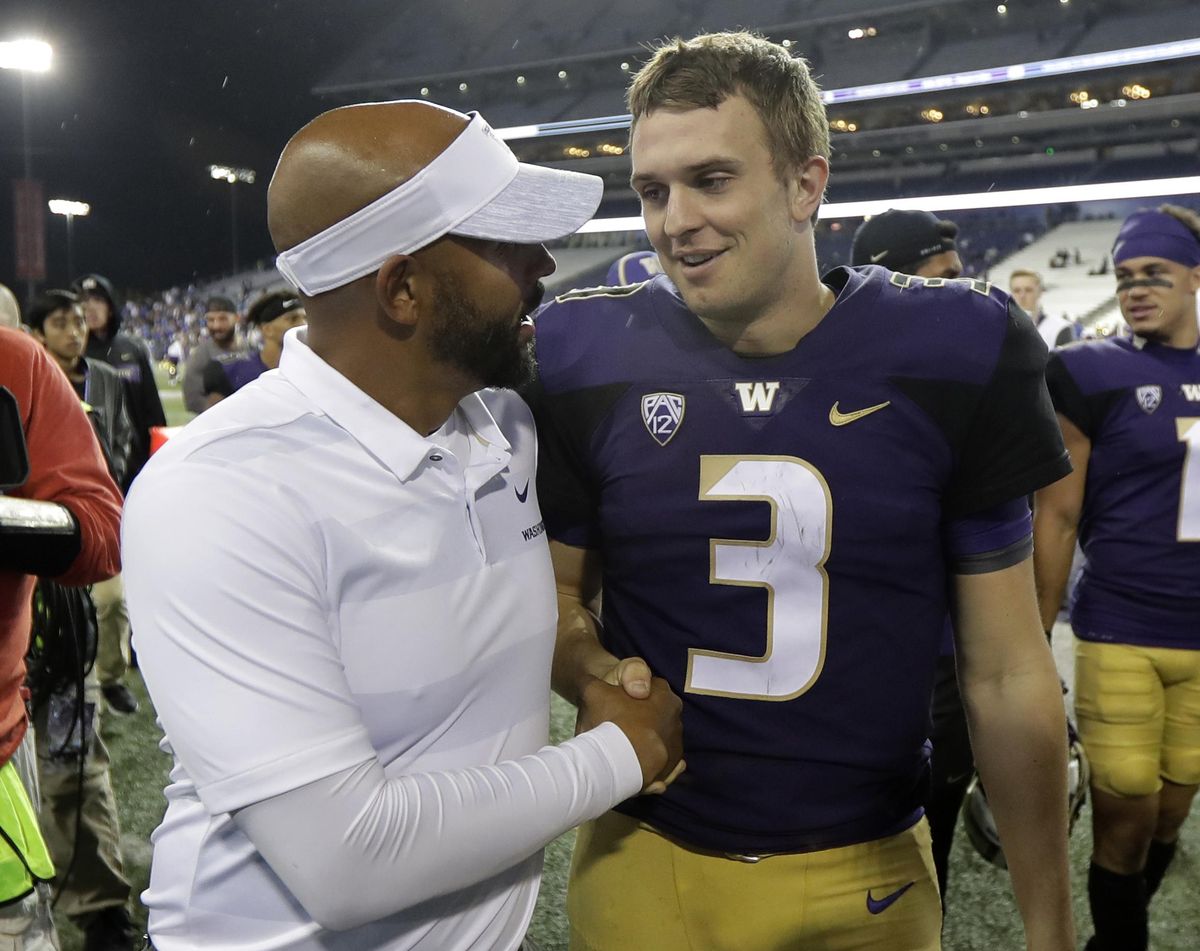 Washington defensive coordinator Jimmy Lake calls his office his bunker.
It's where the North Central and Eastern Washington graduate is holed up for hours a day dissecting Pac-12 offenses, finding weaknesses the Huskies can potentially expose.
Lake, 41, must have found deficiencies in Washington State's vaunted Air Raid attack in recent years.
Washington has limited the Cougars to an average of 13.5 points the past four Apple Cups, forcing a total of 18 turnovers in that stretch.
The 16th-ranked Huskies (8-3, 6-2) visit the seventh-ranked Cougars (10-1, 7-1) on Friday at Martin Stadium, a game that will decide who wins the Pac-12 North title and face Utah in the conference title game.
So what's been the key to consistently stifling one of the nation's most productive offenses?
The former EWU defensive back was coy, but lauded his boss.
"Coach (Chris) Petersen does a good job of preparing our team," said Lake, a co-defensive coordinator at UW in the 2016-17 seasons and a defensive backs coach in 2014-2015.
"He's the best in the business. I've been around a lot of coaches, and he treats his assistants and players with respect, and makes sure you're developing."
The Huskies are tasked with a slowing down a Washington State team that leads the nation in passing yards (400.5 per game), is 14th in total offense (482.3) and has the country's 25th-ranked defense (333.8 allowed).
Lake praised the Cougars.
"I really give Mike Leach a lot of credit. He has an amazing system, and it's difficult to defend," he said.
"And with all of the adversity they've experienced this year, the tragedy with Tyler Hilinski and then have a graduate transfer (Gardner Minshew) come in and not a miss a beat, that's something we can all get behind."
Washington is surrendering 16.6 points a game and is ranked 16th in total defense (318.0 yards ). Lake's stock has been rising with that success.
He was one of the first rumored as a candidate for the head coaching position at Colorado, according to FootballScoop.com.
Lake said he wants to be a head coach one day, but that he's happy at his current post. He signed a three-year contract extension in May that will reportedly pay him $1.1 million for this season, making him the highest-paid assistant in UW history.
"When the time and opportunity is right," Lake said of being a head coach.
Cougs to wear 'throwback' uniform combo
Washington State will wear crimson jerseys, crimson pants and grey helmets with crimson facemasks Friday against the Huskies, according to WSU's equipment Twitter account.
The "throwback uniform combo" is the same combination the Cougars wore in the memorable 1992 Apple Cup game in which quarterback Drew Bledsoe led WSU to a 42-23 win at a snowy Martin Stadium in Pullman.
In that game, WSU also used a crimson "Cougars" script on their helmets, something a Twitter video posted Thursday teased to a possibility of seeing.
---