Remembering '88: Members of Washington State's 1988 Apple Cup-winning team reflect on their historic comeback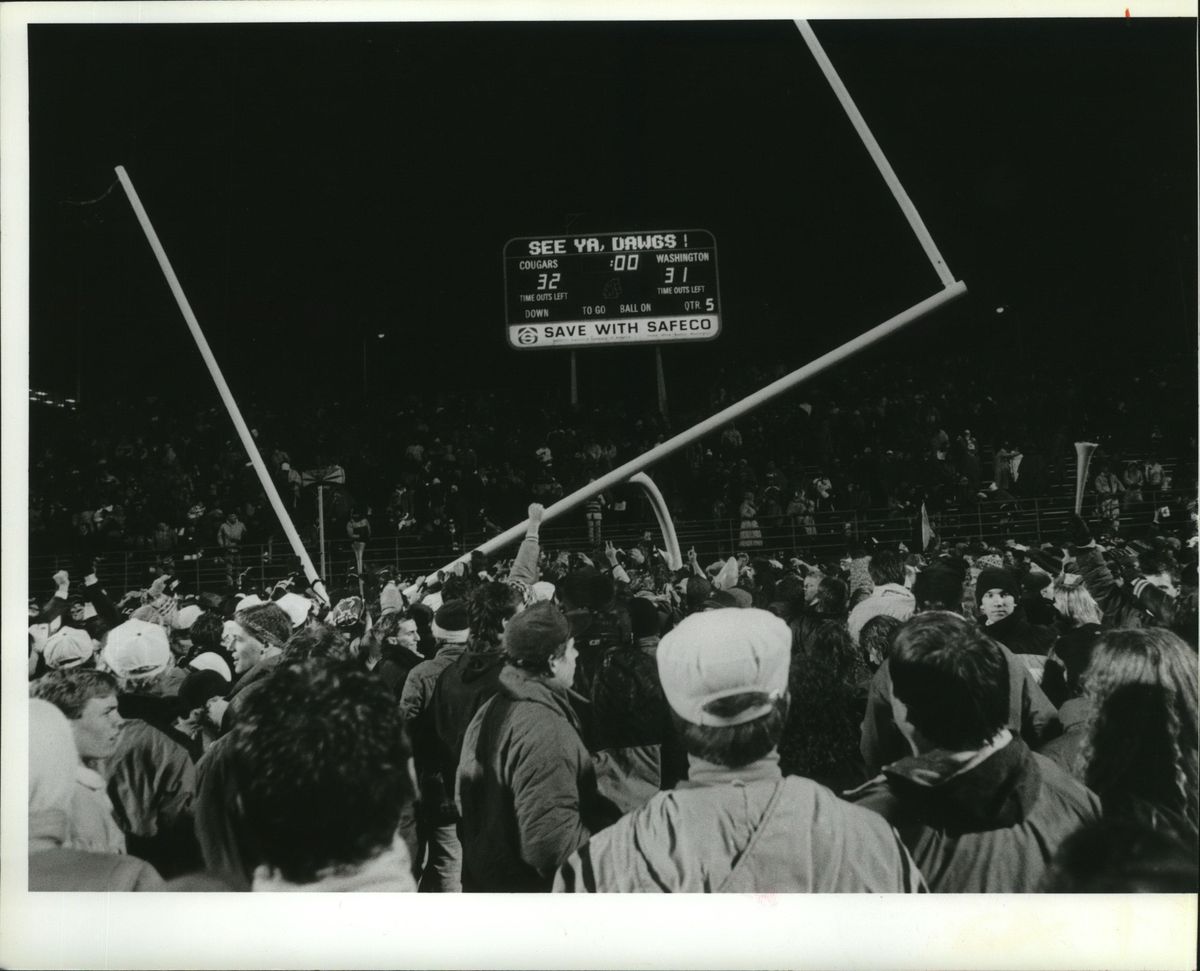 PULLMAN – Dennis Erickson could have been describing any number of Pullman-based Apple Cups.
"If I can remember correctly, it was a cold, freaking windy, snowy day," the former Washington State coach said on the phone Monday afternoon from his home on Lake Coeur d'Alene, reminiscing on football history while peering out at the icy crust that's started to form on the surface of the water behind his northern Idaho house.
But Erickson gives it away with his next line. And those who know their Washington State history well enough probably figured out the game he's referring to by a simple process of elimination.
The 71-year-old Erickson spent just two years of his coaching career – one that has lasted almost a half-century – in Pullman, and one of his Apple Cups was a much sweeter memory than the other.
"We came back in the second half," Erickson said, "and Rosenbach played extremely well."
Yep. Must be '88.
When No. 7 WSU and No. 16 Washington kick off Friday at 5:30 p.m. (Fox 28) at Martin Stadium, it'll have been three decades – and 30 Apple Cups – since the Cougars erased a 12-point halftime deficit and stunned the Huskies in front of 40,000 fans in Pullman.
Swirling winds transformed Martin Stadium into a snow globe on Nov. 19, 1988. It was widely thought the Cougars, ranked No. 19 in the country, were better than their 7-3 record showed, and they came into the 81st Apple Cup dreaming of tropical rays and soft Hawaiian sand.
Beating the Huskies would enable them to play in the Aloha Bowl. A loss would extend their postseason drought to seven games – and UW would make it three straight Apple Cup wins over WSU.
Those elements, blended together, turned this into a game the Cougars couldn't concede.
"There's still something that we've always felt we were the red-headed stepchild and it's just like the big brother, little brother," said Doug Wellsandt, the Cougars tight end who came from Ritzville to play for WSU from 1987-89. "We didn't want to be the little brother anymore. We just wanted to win."
At this point in the season, the Cougars were already oozing with confidence – and justifiably so. They rode a three-game win streak into the Apple Cup, which was kick-started by an Oct. 29 upset of No. 1 UCLA.
"UCLA's got first-and-goal and you stop them," Wellsandt said. "That just built momentum and belief in everybody, and confidence that hey, we can fight through this. It was awesome to see that for our defense, it was awesome to see how the offense responds."
Erickson's Cougars were just 4-3 before their late-October trip to Pasadena. It would've been easy to cast off the season right there, especially taking into account WSU's pitfalls the year prior. The Cougars had gone 3-7-1 in 1987, Erickson's first season.
"When we were sitting there before we played UCLA, I'm sure there was a lot of doubters," he said, "and we got on that roll and had a chance to go to a bowl game if we beat the University of Washington."
But even for a team with as much self-belief as WSU, taking down the Don James-led Huskies was an immense challenge.
The "Dawgfather" won 153 games in his 17 seasons on Montlake, and the legendary UW coach didn't let too many Apple Cups slip out of his hands. James left his post after the 1992 season with a 13-4 record against the Cougars.
"Any time you can beat the Huskies when he was there was a great win," said Erickson, who arrived at WSU in 1987 after head-coaching stops at Idaho and Wyoming.
Erickson had an offensive cast most of his peers in the coaching world would've taken in a heartbeat. The general was Timm Rosenbach, a 6-2, 215-pound quarterback who threw the football – and the javelin – for two years at Pullman High before accepting a scholarship to play for the Cougars.
Rosenbach was leading the nation pass efficiency and fourth in total offense, and he had a full complement of weapons, starting with running back Steve Broussard, the Pac-10's rushing king in '88.
Mike Wimberly and William Pellum may not have been the most projectable receivers, but both added something different to WSU's one-back schemes – a variation of the spread offense Erickson and only a few other coaches had adopted by the late 1980s.
"When Dennis first got there, he brought in some receivers," Rosenbach, now offensive coordinator at Montana, said on the phone Tuesday afternoon. "Mike Wimberly and William Pellum. We were like, 'Who are these guys? How are they going to help us?' Well, they turned out to be two really big-time contributors."
Rosenbach had an entire battalion of offensive linemen tasked with protecting him. Or maybe that's just what it felt like. Mike Utley, a consensus All-American, was the group's ringleader. Other notables included Paul Wulff, Jim Michalczik and Chris Dyko.
"You had six or seven guys probably – maybe an eighth guy – that could jump in there and play and you not really lose a beat," Rosenbach said. "So that was pretty comfortable for the guys handling the ball."
From Rosenbach to Broussard, and Utley to Tim Stallworth, the talent was exceptional and the schemes were cutting-edge.
"We were explosive," Erickson said, "and what we were doing was pretty unique back in 1988."
It just didn't always translate to the field – at least not in the first half of games, and the Cougars had a head-scratching tendency of falling behind early.
"I just think we always knew we could play. We always knew we could win," Wellsandt said. "Unfortunately, there were some games where either mistakes were made, and we just got ourselves in a hole."
The hole in 1988 was 28-16. The Huskies took a 12-point lead into the break, scoring four touchdowns after Jason Hanson got the Cougars on the board with a first-quarter field goal. WSU fumbled five times and Rosenbach added to a sleepy first half for the Cougars with an interception.
"We didn't play that great," the QB said, "so we had to come out in the second half and battle."
Enter the kings of the comeback.
"We were really good at fighting through the crap," Rosenbach said. "We kind of just kept playing."
Another kick from Hanson, followed by a defensive stop and then a short scoring run from Richie Swinton, made it 28-26. But the Huskies, now at the opposite end of the momentum scale, weren't ready to whimper out of Martin Stadium and miss out on a bowl game for the first time in a decade.
John McCallum booted a field goal through the uprights to establish a five-point Husky lead, but UW's next special-teams effort wasn't quite as fortuitous. WSU defensive back Shawn Landrum shot through the Huskies' offensive line and came up with perhaps the most consequential punt block in school history.
That gave Rosenbach's offense exceptional field position, from the 13-yard line, with 9 minutes left. UW probably expected Rosenbach to go to his rocket arm – not an irrational thought. In the same game, the junior broke John Elway's single-season Pac-10 passing record.
But instead, from the 5-yard line, Rosenbach trucked into the end zone with his legs. It didn't matter that the 2-point conversion failed – the Cougars finally led 32-31.
"All I can remember is I came up to hug him and give him a high five, and he was like, 'Don't touch me,' " Wellsandt said. "He had taken a shot. But he was just a competitor, and he won't be denied."
Nor would the Cougars. They prevailed, and the ramifications of the victory were much larger than beating a bitter rival on home turf. WSU defeated Houston 24-22 in the Aloha Bowl to finish the year with five straight wins and a 9-3 record, which gave Erickson's successor Mike Price a foundation to build upon.
"That got the program going in the right direction, and Mike came in and did a heckuva job, obviously," Erickson said. "But that was a big win, that (Apple Cup) game stands out to me. That says a lot about the character of the football team."
Three of the game's key figures – Erickson, Rosenbach and Wellsandt – will be glued to their television sets Friday night as the present-day Cougars attempt to break a five-game Apple Cup drought at Martin Stadium.
They're 30 years removed from staging one of the top comebacks in school history, and watching Mike Leach's 2018 team is a little bit like looking in the mirror.
"No one pointed fingers. It was like, 'OK, let's go make up for it,' " Wellsandt said. "And we just got behind each other. That's what I see is really the neat thing about this group. You've got eight, nine receivers that – three of them could be superstars, but they're all happy when anybody catches a touchdown, anybody catches a pass. You always see them running over and congratulating them. That's what good teams get. It doesn't matter who gets the stardom for the day, they're all happy these guys were playing well."
---