Apple a day has kept Washington State away as Washington's Chris Petersen has thrived against Mike Leach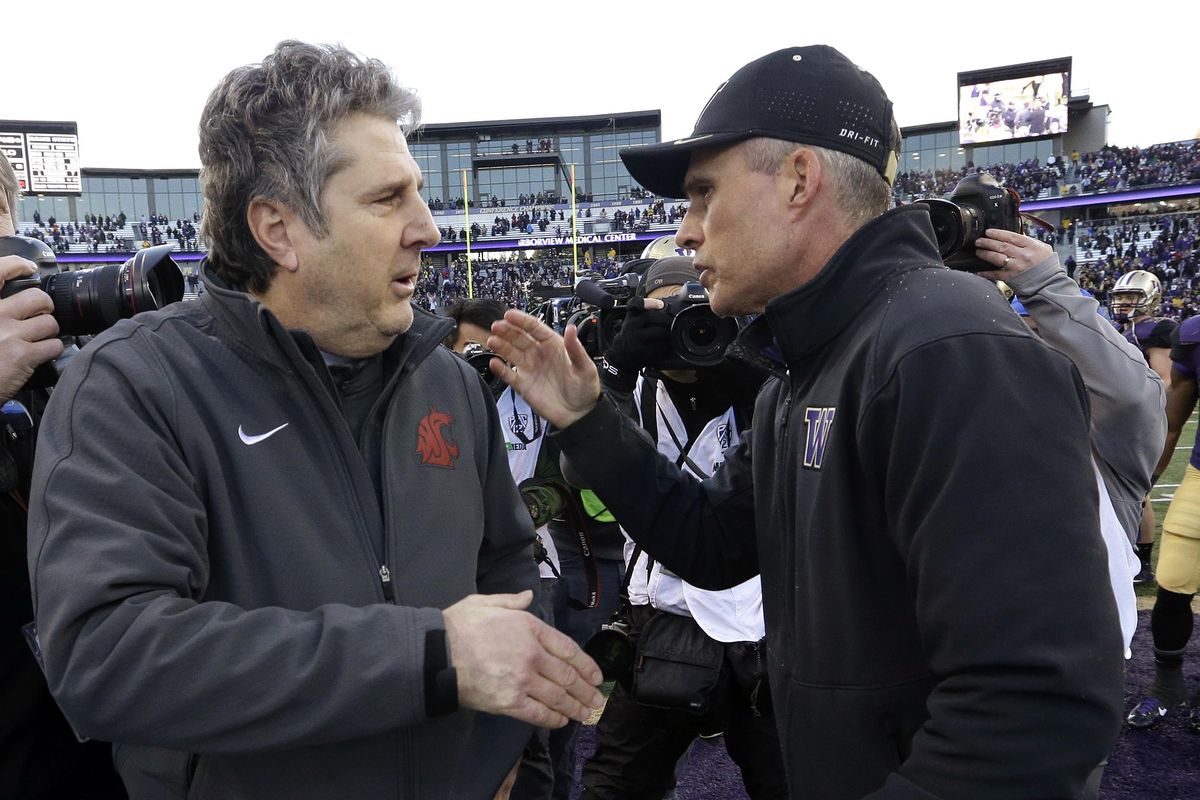 Washington coach Chris Petersen has had no trouble stifling Mike Leach's Air Raid offense.
In Petersen and Leach's four previous meetings, the Huskies have held Washington State to an average of 13.5 points and forced 18 turnovers.
Leach's Cougars haven't scored a first-quarter touchdown against Petersen's Huskies.
Nov. 29, 2014
Where: Martin Stadium, Pullman
Score: Washington 31, Washington State 13
What happened: The Huskies nearly handed Leach the first shutout loss of his head coaching career, jumping out to a 31-0 lead and holding the Cougars scoreless until the 9-minute, 55-second mark of the fourth quarter. WSU's offense was the second-coldest thing that day: Temperatures dropped to 19 degrees, the chilliest Apple Cup on record.
Key stat: UW running back Dwayne Washington scored on the second plays of each half on runs of 51 and 60 yards.
What they said: "I thought the biggest thing was just trying to do too much," Leach said. "We went out there trying to play perfect, and you don't play perfect. You've got to turn it loose and don't hesitate. And definitely offensively, I think we went out there and tried to play too perfect, and it took us awhile to relax."
Nov. 27, 2015
Where: Husky Stadium, Seattle
Score: Washington 45, Washington State 10
What happened: WSU freshman quarterback Peyton Bender started in place of Luke Falk (concussion) and accounted for four of the 20th-ranked Cougars' seven turnovers in a blowout loss. WSU didn't score a touchdown until late in the third quarter. Washington freshman running back Myles Gaskin had 143 rushing yards.
Key stat: The Cougars got within 5 yards of Washington's red zone on two of their first three drives, yet came away with just three points.
What they said: "That was the most disappointing part of today," said Bender, who threw two interceptions returned for touchdowns. "We just have to finish those drives, but we missed opportunities. Dropped balls, misreads on my part."
Nov. 25, 2016
Where: Martin Stadium
Score: Washington 45, Washington State 17
What happened: In a game that decided the Pac-12 North title, fifth-ranked Washington jumped to a 28-3 first-half lead and breezed past No. 23 Washington State.
Key stat: Falk was 33 of 50 for 269 yards with one touchdown and three interceptions for WSU, which had four turnovers and three turnovers on downs.
What they said: "I don't think we psyched ourselves out," WSU receiver Gabe Marks said. "We just got outmuscled by another team. We're soft."
Nov. 25, 2017
Where: Husky Stadium
Score: Washington 41, Washington State 14
What happened: Gaskin ran for 192 yards with four touchdowns and the No. 15 Huskies routed 14th-ranked Washington State, which was held scoreless until the fourth quarter.
Key stat: In what would be Falk's final college game, he was sacked five times and had a hand in all four Cougars turnovers.
What they said: "I didn't feel like we collectively, the whole game, played well at any position," said Leach, whose team would have secured a Pac-12 North title with a win.
---