Sports > WSU football
Ryan's return: Former Washington State QB Ryan Leaf talks analyst debut, Tyler Hilinski and 2018 Cougars in wide-ranging Q&A
Thu., Sept. 13, 2018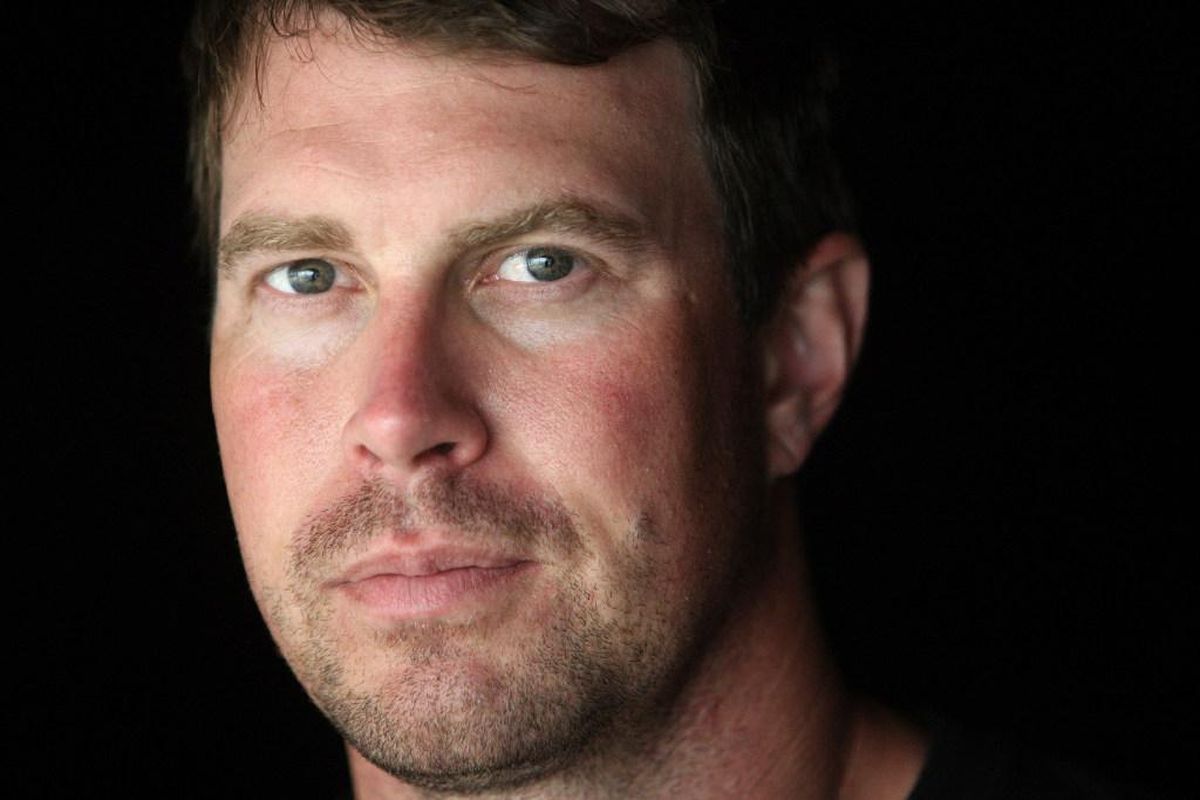 This is a July 27, 2010, file photo, showing former NFL quarterback and Washington State star Ryan Leaf, in Holter Lake, Montana. Ryan Leaf is joining SiriusXM's for regular talk show appearances on the satellite radio's college sports channel. (Mike Albans / AP Photo)
PULLMAN – Ryan Leaf may have gone unnoticed the last time he ventured to the Palouse to visit his alma mater. During the summer of 2017, he and fiancee Anna Kleinsorge – then pregnant with the couple's first child – toured the Washington State campus and visited the Cougars' football facilities, which had undergone renovations since Leaf's last visit in 2011.
"I kind of came in in the cover of dark," Leaf said, "because no one was around in the summer and just got a workout in, went and saw the field, new facilities and then we were headed on our little sojourn we were on."
Leaf returned to Pullman last weekend – not nearly the ghost he was during last summer's pass through.
Making his debut as a color analyst for the Pac-12 Networks, Leaf joined Guy Haberman, his co-host at Sirius XM Pac-12 Radio, and Cindy Brunson, a former SportsCenter anchor who once was a classmate of Leaf's at the Murrow College of Communication, on Saturday night's broadcast of WSU's home opener against San Jose State.
Some Cougar fans knew Leaf would be in the broadcast booth beforehand and the rest knew by the second quarter, when WSU recognized the former All-American quarterback and Pac-10 Offensive Player of the Year during a TV timeout and showed him on the jumbotron in the east end zone.
"That was kind of supposed to be a surprise, I guess," Leaf said. "Which it was – of course pleasant."
Just three days removed from the San Jose State game, Leaf, who will be back in Pullman on Saturday as a color analyst for WSU's game against Eastern Washington, answered a few questions while biding time during an airport layover in Houston. The one-time Heisman finalist critiques his TV debut, talks about Tyler Hilinski and assesses the 2018 Cougars.
The Spokesman-Review: What's the feeling like when you return to Pullman?
Ryan Leaf: It will always mean a lot to me just because what it gave me and how special it was. This weekend was a little tough. I think it was kind of under the (Bill) Moos regime, it was kind of mandated that, let's keep our distance from Ryan. And I understand that. I understand that totally, so I don't have any resentment toward that. I just wanted everybody's message to match up with their actions, that's all. So it was nice and I just kind of wanted it to happen organically and it did in the case where the Pac-12 Network had hired me and asked me to be on the broadcast. So it kind of happened organically in the way it was supposed to.
S-R: Had the school reached out about recognizing you during the second quarter of the SJSU game?
RL: No, they didn't. That was kind of supposed to be a surprise, I guess. Which it was – of course pleasant. But in this new job I'm a color guy and it's supposed to be observe, articulate and just stay out of the story. So it was something I didn't need or anything, but it was really kind of them, of course. And it was great that the first call in my broadcasting career was a Washington State game. I thought that was super special.
S-R: Were you nervous or anxious before your first TV broadcast?
RL: I think really the best analogy is, kind of like a rookie quarterback I kind of stumbled around my first quarter and then kind of started to feel my groove in the second and third and fourth quarter. And just had a blast. And it was over before I knew it and I was just like, 'Damn it, I want to keep doing this.' Luckily, I get to do it again this weekend, but then I'm kind of in limbo and I have to wait for another opportunity. I really liked doing it, I really liked watching the game and educating people on the things I saw from a quarterback's perspective, but then also talking about the gamesmanship of it all. Whether they should go for it on fourth down. The fact that (Gardner) Minshew ran the ball on the last play of the first half, when like if he got tackled at the 1-yard line, they probably won't get another play off and they don't score a touchdown there. So it was really a lot of fun.
S-R: So, like a rookie quarterback, will you go back and watch game film?
RL: Oh yeah, oh yeah. I've got the video and sat down with my fiancee and she's really good at giving me constructive criticism because she sits around enough with me watching football games where I'm always spouting off at the television and stuff, so she knows kind of the idea of what Chris Collinsworth is saying or Joe Klatt or Kirk Herbstreit. So she was very constructive. She thought I was a little fast early on, like a little excited. So I was kind of talking too fast, then really got my pace down throughout the game and just kind of remembered I was having a conversation with Guy. Which is easy because Guy's my co-host on my Sirius XM morning show, and he's such a pro. He's just awesome at what he does and he really kind of tees it up for me.
S-R: If you had to give yourself a letter grade …
RL: Probably a C. Probably middle of the road. Plenty of room for improvement, but definitely not an F.
S-R: Was it meaningful to have Cindy Brunson there, too?
RL: I think so. Cindy and I go back. We were in school at the same time, we were in the Murrow Communication School at the same time together. I watched her rise all the way up to SportsCenter and ESPN, and then she told me the story about how she was on air when she had to report about me being arrested and just the downfall there. So just to come full circle, both of us on the call, I think was very meaningful. I love her to death.
S-R: What was it like to hear the applause you got from WSU fans during the second quarter?
RL: I think, and I say this in such a positive way, that no matter what, the fanbase of Washington State University never, ever gave up on me. They unconditionally cared about me for 24 years and that never swayed at all. It was just a reaffirmed feeling. I don't think a lot of people knew I was actually there on the call and those that found out, it was something pretty special to have 25,000 people stand up and kind of just appreciate you – not for what you necessarily did but also what you've overcome and the person you've become, which I think is the most important part of it all.
S-R: What did it mean to be there when the school was honoring Tyler Hilnski?
RL: I think it was meaningful. I've become pretty close with Kym and Mark (Hilinski) and their family and wanted to be there to support them in any way I could do it. I was a little disappointed in the opportunity missed by the university to truly honor him. I think they honored awareness, but I don't necessarily know if they honored him. And I understand the direction they're going with the guidance of the mental health professionals and things like that, but I thought that was a missed opportunity. But really liked to see them raise the flag in honor of Tyler and Pat Chun's been very upfront about it. This is something that the university didn't ask for, but they are ever present at the forefront of it and I think it's now their responsibility to be at the front of it and shine a spotlight on him. And I think they're attempting to do that. They've done a lot, they can do more and they can be better and I think they would agree.
S-R: General impressions of the Cougars?
RL: Well for me it's defensively. That offense is going to generate points and throw the football, be dynamic. But for me the big question mark was what they were going to look like with the loss of Alex Grinch. I really think they're the reason, the defense is the reason they've been so successful the last three years. Which isn't to take anything away from Mike Leach and that offense, it's just that he's never had a comparable defense that could really stop people. When there were nights they couldn't do much offensively, they just flat-out stopped people and I had a question mark on what Tracy Claeys was going to bring to the table and sure enough the first two weeks, he puts together the sixth-lowest and the first-lowest defensive totals in the Mike Leach era. So I think he's got a pretty good hand on things now. The competition's going to get much better and this Eastern Washington offense is very, very good for an FCS football team. So I'm really interested in the game and of course two weeks from now, they go down to USC that Friday night and we're really going to get a good idea of what they're going to bring to the table when it comes to the competition within the conference.
S-R: Aside from the household names, did anyone on that defense really stand out to you?
RL: Jahad Woods. The comparison Tracy made to him is he's kind of like a guy he used to coach named Bart Scott, who's pretty darn good. So it was fun to watch him. I find that the corners do a pretty good job. They play a lot of Cover 4, so they're going to be out on an island most of the time and I was pretty impressed with that. But defensive front-wise, their ability to get to the quarterback I thought was outstanding and that's what really disrupted that football team and they barely got over 100 yards of total offense, which is crazy.
S-R: Is it special to see another No. 16 out there playing quarterback?
RL: (Laughs) Yeah, it was fun to see. It hadn't been on a quarterback for almost over 20 years and I'm not really a big proponent for retiring jerseys. I think they should be celebrated and records were made to be broken. So it was nice to see him and he does such a tremendous job. He knows how to play in that offense and I think he's going to be very successful with the Cougars this year.
S-R: You were able to spend some time with Gardner the day before the game. What was the conversation like with him?
RL: I didn't get to spend much time. I talked to him a little about what it's like to be here. He's traveled quite a bit to come to a place where he gets a chance to lead a team. I actually told him that this fraternity of quarterbacks here at Washington State is second to none and if there's anything I can do for him or be there for him, if there's anything he's going through, that's what I kind of told him and he was very respectful and tremendously fun to watch the next night.
S-R: Will you change your season prediction of the Cougars after wins over Wyoming and SJSU?
RL: (Laughs again) No, I had them winning these two games. I had them beating Eastern Washington. I think after seeing Arizona play, there might be a fifth win in there. I don't know, they have to prove something to me and this weekend's going to be a proving point because Eastern beat them two years ago and that quarterback (Gage Gubrud), it was his first start ever. So he's got a lot of experience now. But yeah I think they probably could get to six wins. If that defense is able to stand up to the Pac-12, then definitely they might be able to get there and possibly get to another bowl game – a fourth in a row, which would be incredibly impressive. I think a six-win season this year would be a good testament to what was ahead of them this year.
S-R: Could you see this broadcast thing lasting a while?
RL: For sure. What I took away from not only shadowing people last fall, but then also getting the opportunity to do it last week was that A) I can be good at it and B) I really want to do it. So those were kind of the two things I needed the answers to and I think I found them, so definitely something I want to do the further it gets down the line here.
Local journalism is essential.
Give directly to The Spokesman-Review's Northwest Passages community forums series -- which helps to offset the costs of several reporter and editor positions at the newspaper -- by using the easy options below. Gifts processed in this system are not tax deductible, but are predominately used to help meet the local financial requirements needed to receive national matching-grant funds.
Subscribe to the Cougs newsletter
Get the latest Cougs headlines delivered to your inbox as they happen.
---