A&E
ALSSO: Support group offers hope and help for those with ALS and their families and caregivers
Wed., April 24, 2019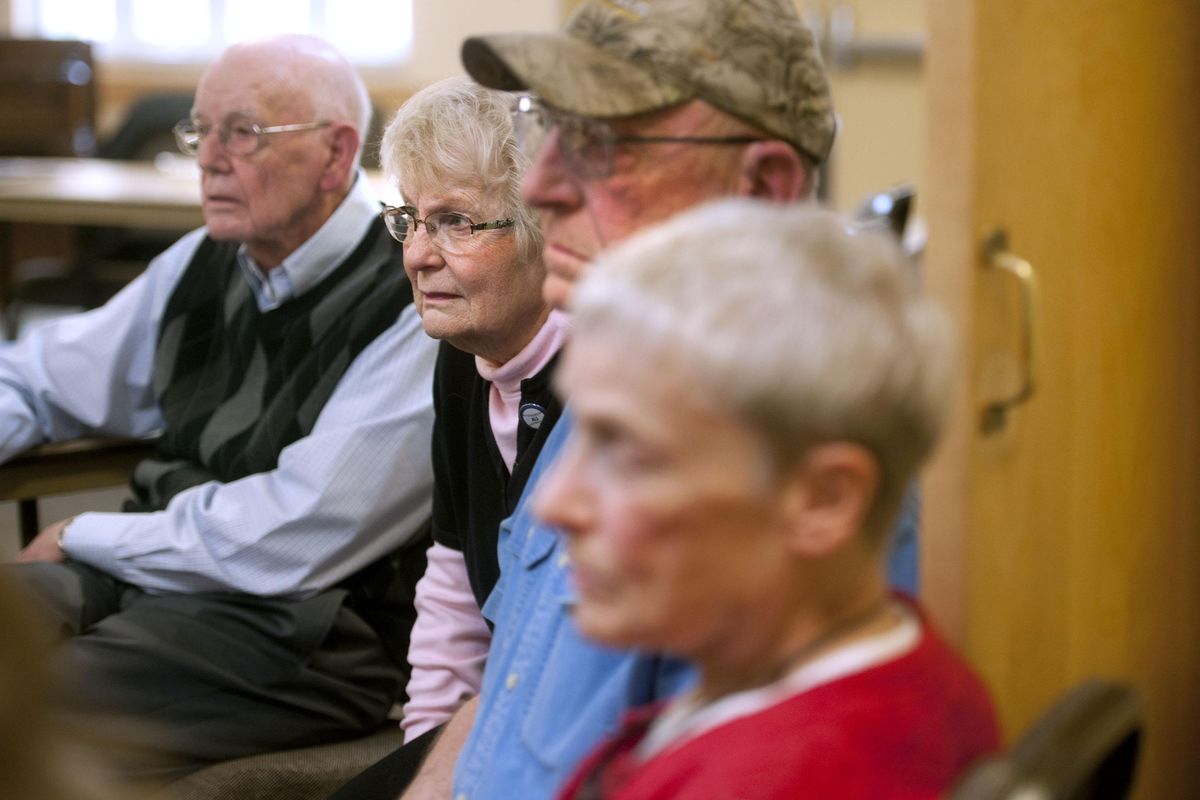 ALS Service Organization president Jerry Williams, far left along with volunteers Carol Williams, center left , Pat Priddy, center right and Cathey Priddy listen to members describe their experience with ALS before the meeting at Millwood Presbyterian Church on Wednesday, April 4, 2019. (Kathy Plonka / The Spokesman-Review)
Kathy Martin arrived at the monthly meeting of the ALS Service Organization quite damp. She'd been caught in a rain shower on the way from the parking lot to the front door of Millwood Presbyterian church. Bella, her therapeutic service dog, got wet, too.
Cathey Priddy sprang into action, sending her husband, Pat, to their car for a blanket, making sure both Martin and Bella were dry.
"Bella takes notes," Martin said, smiling. "She comes to every meeting."
Priddy's actions exemplified the purpose of the organization. ALSSO offers practical help and emotional support for those with amyotrophic lateral sclerosis and their families and caregivers.
ALS, sometimes known as Lou Gehrig's disease, is a progressive neurodegenerative disease that affects nerve cells in the brain and the spinal cord. It usually strikes people between the ages of 40 and 70. It's estimated there are more than 20,000 Americans who have the disease at any given time.
The Priddys and their friend Debbie King founded the group in 2003 after Pat's sister was diagnosed with ALS.
"There were very few resources in Spokane at the time," Pat Priddy said.
Originally affiliated with the national ALS association, ALSSO separated in 2008, becoming its own 501(c)(3).
"The national organization wanted us to focus on fundraising, but we wanted to be more hands-on," Pat Priddy said.
Indeed. The group often refers to themselves as "Bidets R Us," having purchased and installed and estimated 100 bidets for ALS patients since 2008.
"We also own six platform lifts," said Pat Priddy. "We move them where they're needed for as long as they're needed."
Those practical helps are important, but the emotional support the group offers is also vital. There's no cure or treatment that stops or reverses the progression of this disease.
"It's a grieving process – the moment you hear those words," said Martin, who was diagnosed in 2016. "It's family here. Everyone knows what you're going through."
Martin lives in Coeur d'Alene in a home specifically designed for those with ALS. The house was built by Matt's Place Foundation, one of several organizations ALSSO collaborates with to support patients and caregivers.
Matt's Place was founded by Matt Wild, a former Marine, who was diagnosed with ALS in 2015. The foundation is currently working to build a similar house in Spokane.
Newcomers to the group quickly find they have much in common with the members – including the difficulty of getting a definitive diagnosis.
"I've had symptoms since 2012, but it took years to get a diagnosis," said Morgan Noesen. "ALS is a rule-out disease. There's no one definitive test."
The progression of ALS is different for everyone.
"I could use my hands when I first started coming to the group," said Martin. "Now I can't do anything."
Larry Coombes was diagnosed seven years ago.
"My progression has been a lot slower than most. I was still doing 90% of my life when I first started coming," he said. "My wife, Angie, wanted more support and information."
She is thankful they found both.
"I couldn't ask for a better group," she said.
Gifts from large to small from ALSSO make a huge impact in the daily lives of those dealing with the effects of ALS.
When the Coombes recently moved, ALSSO provided assistance.
"We got a surprise check in the mail to help with our moving costs," Angie Coombes said.
Grants for home remodels to make living spaces wheelchair accessible are also frequently provided by the organization.
"They've helped me with not one, but two bathroom remodels," Noesen said.
But the group also knows how to make his sweet tooth happy.
"I got zucchini bread in the mail last week," he said, smiling. "My 17-year-old son literally jumped up and down!"
Volunteer-led ALSSO counts on financial support from the community. Their upcoming Monte Carlo night is their largest fundraiser of the year.
"The group offers a great base of knowledge," Noesen said. "More importantly, I know these people will always be here for me. So much of our previous lives go away. You don't work anymore, friends fade away because it's hard to watch this disease progress, but these people will always be here."
Pat Priddy's eyes filled with tears, as he listened.
Then he cleared his throat.
"But this isn't a pity party," he said.
Indeed, laughter often rings out.
"We joke a lot," Noesen said. "Usually about dying. You have to laugh."
Cathey Priddy said she comes away from every meeting inspired by those she came to serve.
"They deal with this disease with such grace and humor," she said. "This is like holy ground to me."
Local journalism is essential.
Give directly to The Spokesman-Review's Northwest Passages community forums series -- which helps to offset the costs of several reporter and editor positions at the newspaper -- by using the easy options below. Gifts processed in this system are not tax deductible, but are predominately used to help meet the local financial requirements needed to receive national matching-grant funds.
Subscribe to the Spokane7 email newsletter
Get the day's top entertainment headlines delivered to your inbox every morning.
---