A&E > Music
After 15 years, Eckart Preu sets down his Spokane Symphony baton
April 28, 2019 Updated Mon., April 29, 2019 at 10:20 a.m.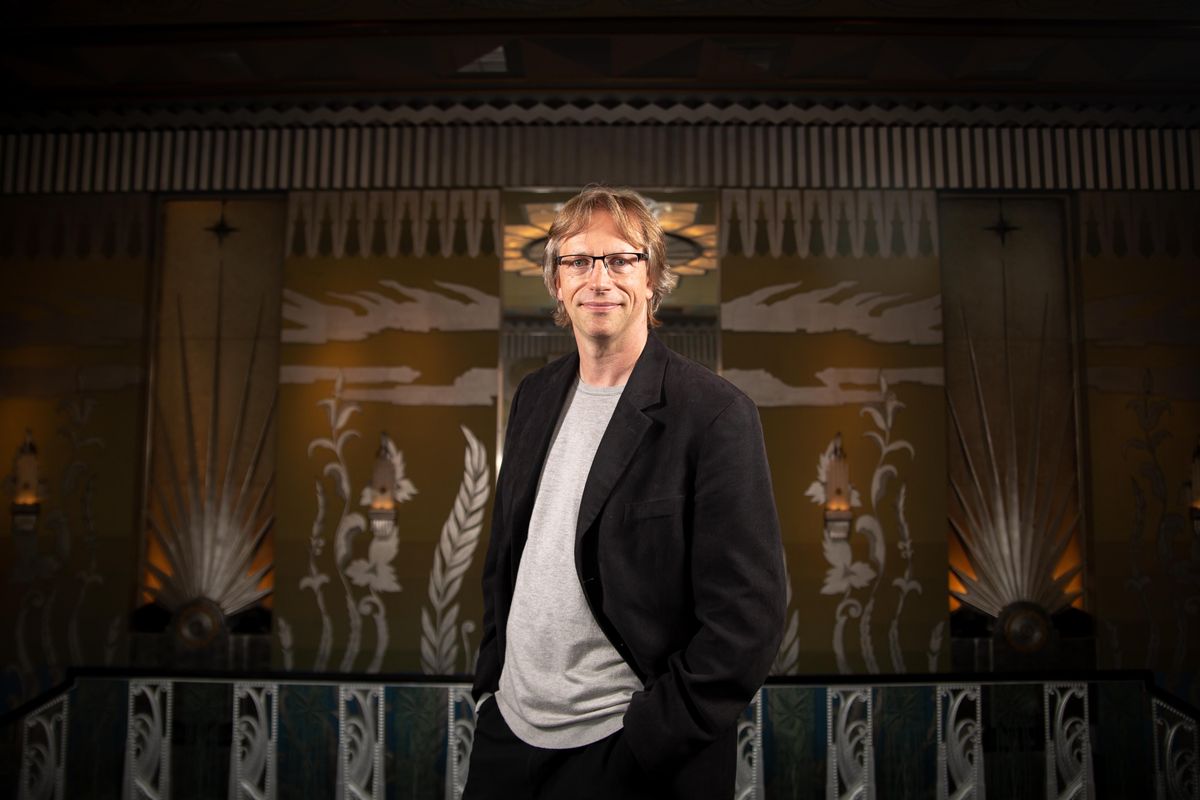 German-born Eckart Preu is music director and conductor of the Spokane Symphony, photographed in the Fox Theater on April 22. Preu, who has been conductor since 2004, will retire next month from his roles with the Spokane Symphony, but will continue onward as conductor with the Portland Symphony Orchestra and as music director for the Cincinnati Chamber Orchestra and the Long Beach Symphony Orchestra. (Libby Kamrowski / The Spokesman-Review)
In his 15 years as music director of the Spokane Symphony, Eckart Preu has come into his own, establishing himself on and off stage as a talented conductor and capable leader.
But back in 2004, when Preu was a music director finalist, he wasn't sure if he was ready for the challenge of such a role.
To begin with, Preu, 34 at the time, hadn't even applied for the position of music director himself. His then-manager put his name in the hat and only clued Preu in when he was named one of the finalists to replace Fabio Mechetti.
He was also somewhat inexperienced behind the podium. At the time, Preu worked as the associate conductor of the Richmond Symphony in Virginia and had also acted as the music director of the Norwalk Youth Symphony in Connecticut and the principal conductor of the New Amsterdam Symphony in New York.
He was also working with a new-to-him orchestra and had no say in the repertoire, which meant he was auditioning with three pieces he had never before conducted – Samuel Barber's Second Essay for Orchestra, Edouard Lalo's Symphonie Espangole and Sergei Rachmaninoff's Third Symphony.
"I felt like 'I don't stand the slightest chance, given the circumstances, with my being a fairly inexperienced conductor, with a program I had never conducted before, with an orchestra I didn't know," Preu said. "Which then of course opened me up, I think, to be really relaxed about it and I said 'I don't have to prove anything to anybody.' "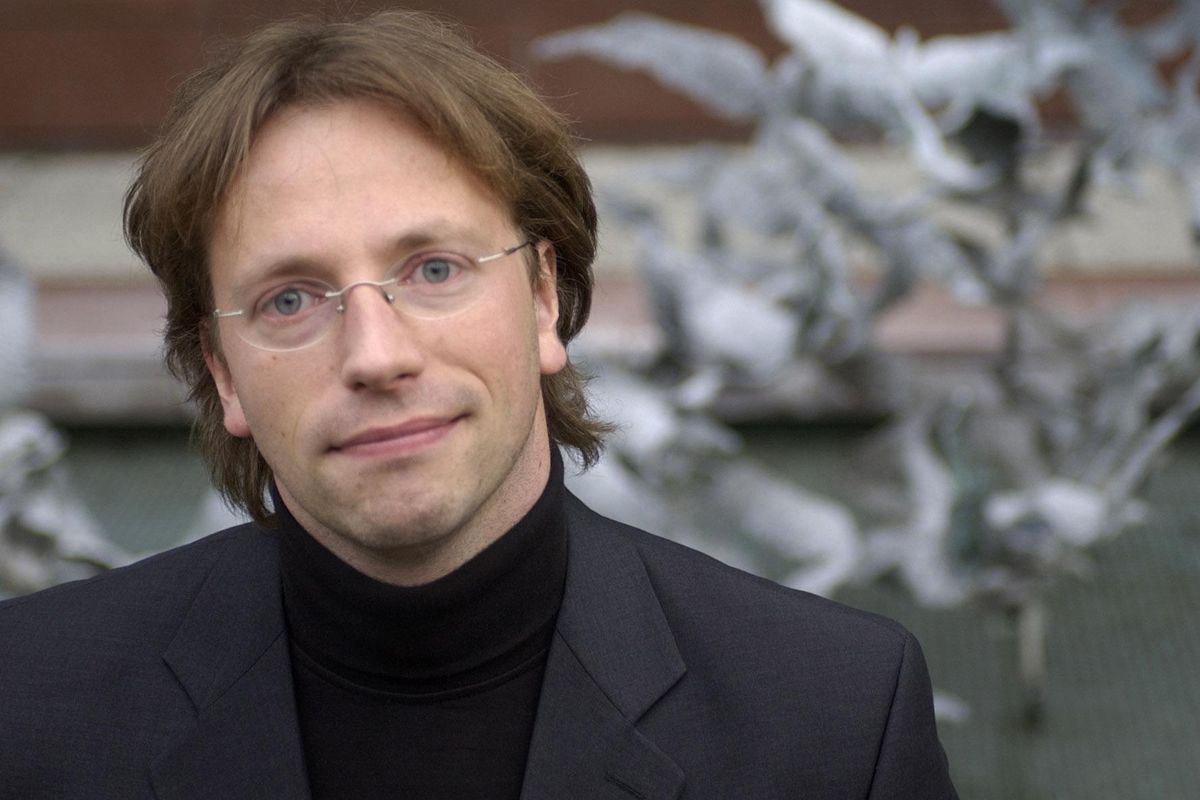 Back in 2004, Eckart Preu was the final of five candidates to replace Fabio Mechetti as the Spokane Symphony's music director. (Colin Mulvany / The Spokesman-Review)
Looking back, Annie Matlow, the symphony's marketing and public relations director at the time, remembered the search committee didn't think Preu stood much of a chance either.
The committee had been charmed by the first conductor and compared each subsequent finalist to him.
He was the last finalist to audition, and as Matlow said, by the time Preu arrived, the committee was pretty set on hiring the first finalist.
"We said 'Poor Eckart, he's going to jump through all these hoops and there's not a snowball's chance that he's going to make it,' " she said. "He came in on Monday and by 24 hours, it had totally changed."
After arriving in Spokane and finding a welcoming community, an orchestra that was well-managed and musicians who were open, friendly and passionate, Preu's feeling about his chances changed too.
"I found this community to be quite attractive to me as a beginning music director," he said. "I'd never held a position like this before so it was very new to me. I was fairly young. I felt like 'If I could get this job, I would be OK'."
Preu approached his audition with the goal of being as open as possible so there would be no surprises for himself or the symphony down the line.
"I walked in here and told the audition committee at the time, 'What you see is what you get. I will not pretend. I'm not someone who pretends to be someone else, the big maestro or something. This is who I am,' " he said. "I tried to be honest not only as an artist but also as a human being."
Matlow appreciated that approach, especially when it came to Preu's answer to a question she had asked all five candidates: "Are you the maestro?"
" 'Maestro' is a term that we give to that special conductor," she said. "So I said to each one of them 'Are you the maestro?' and I got very different responses … When I asked Eckart, Eckart said 'You will decide if I'm the maestro.'
"That little anecdote puts in a nutshell how Eckart came to us and how he established himself … He had that unabashed excitement about where he was and where he was going, and we all caught that excitement."
A review of his audition concert published in The Spokesman-Review mentioned Preu's "keen sense of orchestral color" and praised his "ability to command a great range of shadings from a whisper softness to the loudest orchestral roar in order to build climaxes."
Shortly thereafter, Preu was chosen as the new music director of the Spokane Symphony.
"All of the music director finalists established themselves as highly capable, but Eckart Preu was a standout from the orchestra's point of view," said William Simer, the symphony's then-board president, in a 2004 Spokesman-Review article. "He made a connection with the players that was extraordinary. The orchestra sounded luxurious, and the listeners went crazy. We liked him as a person and he liked Spokane."
After 15 years, that last sentence remains true, but Preu's decided it's time for both himself and the symphony to try something new.
Preu announced in September 2017 that the 2018-19 season would be his last with the Spokane Symphony so he could take on the position of music director of the Portland (Maine) Symphony Orchestra and continue his role as the music director of the Long Beach Symphony Orchestra and Cincinnati Chamber Orchestra.
He will lead the symphony for the final time during "Classics 10: Eckart's Farewell," Saturday and Sunday at the Martin Woldson Theater at the Fox.
"Eckart's Farewell" features performances of Joseph Boulogne's Overture to "L'amant anonyme," Nebojša Jovan Živković's "Concerto of the Mad Queen" and Richard Strauss' "Alpine Symphony."
"There's a lot of entertainment and also education and pure soul in that concert," Preu said.
When selecting the program of his final concert, Preu tried to approach it as if it were the last concert in any other season and simply wanted to leave the audience with something big.
He chose to open the concert with the piece by Boulogne, considered in his day to be an equal of Wolfgang Amadeus Mozart, because it's a piece not many know.
For his final season, Preu has brought back guest artists he's enjoyed working with, which is how Živković's "Concerto of the Mad Queen" came to be on the program.
Last time percussionist/composer Živković was in Spokane, he and the symphony performed his Marimba Concerto No. 2.
"Concerto of the Mad Queen" finds Živković performing with what is essentially a cage of instruments around him.
"He has both the very percussive, rough around the edges, but there's always a lyrical quality to it and then he has these wonderful middle sections that are always very beautiful," Preu said.
The program closes with Strauss' "Alpine Symphony," a tone poem that depicts a dawn-to-dusk hike in the Alps.
Looking back on his tenure with the symphony, Preu thinks just about every season has featured a performance of at least one of Strauss' tone poems, which he sees as having a hand in developing the orchestra.
"It's very virtuosic music," he said. "If you can play that well, you can transfer that sound or that emotion or feel, whatever it is, to other parts of other music as well."
Preu also chose "Alpine Symphony" because he sees it as a piece that showcases every single member of the orchestra.
Helping the musicians shine has always been important to Preu, who sees himself as a facilitator of moments that put the spotlight on the symphony.
In the beginning of his time with the symphony, Preu admits he pushed the musicians a little too hard, giving them little time to learn what he was listening for and how he moved.
But Preu learned from the orchestra, especially seasoned members like then-concertmaster Kelly Farris, and slowly but surely Preu and the orchestra found their rhythm.
One of Preu's goals as music director was to introduce new repertoire to the orchestra, pieces that defined him, the orchestra and the organization artistically, while also pleasing the audience on an emotional and intellectual level.
"Your core audience in a regional audience needs to learn how to trust you, say 'There's a reason why this is here,' and I think we've built that trust," Preu said. "And I always found Spokane audiences to be very open."
Lorrie Scott, past president of the symphony's board of trustees, thinks the introduction of contemporary work to the orchestra's repertoire will be a big part of Preu's legacy.
"We all take it for granted now when we go to concerts that having a new piece of contemporary music that has previously not been played or only played a couple of times," she said. "Fifteen years ago, that was not that common and in fact it was fairly controversial. He really introduced our city to modern classical music and did it in a way that got people excited about it."
The way Preu approached his work with the symphony has also left a mark on the orchestra and the organization, said executive director Jeff vom Saal.
"His approach is one of genuine excellence, both of those words separately and then also together," he said. "He is genuine. He is never artificial. When he does something, it's because he means it, he's thought about it extensively through lots of different angles and he believes in it. He also demonstrates excellence in everything he does. He's extremely prepared."
Matlow, vom Saal, Scott and concertmaster Mateusz Wolski agree that Preu played a big part in elevating the skill level of the orchestra.
Vom Saal hears comments from other musicians that center around Preu's hand in an "overall escalation of organizational stature and orchestra excellence and discipline" and intention of making the symphony's presence known.
Wolski praised Preu's care and strategy in bringing new musicians into the orchestra, trying to upgrade one element or another.
"Over time, what happens is you end up with a strengthened group of people that have a very high level of skill, and that allows the orchestra to sound better, almost regardless from who is standing in front of him," he said.
Preu is also credited with playing a big part in bringing the symphony to the Fox, which also helped to improve the orchestra's sound.
"We find so often people come from out of town and they say 'Oh, well, it's Spokane. They'll have some mediocre orchestra. It's a backwater town with a backwater orchestra' and then they come to hear them and they're knocked out by the quality of that orchestra," Matlow said. "Eckart and the Fox have brought them to that level."
Wolski puts it simply: "Like any jewel, it shines nicer if it's in a nice setting."
Preu said he will miss the anything-is-possible spirit of the Spokane Symphony, which gave him the opportunity to try programming like Symphony with a Splash, Music Innovates and Soireé on the Edge.
"I've never encountered anyone who would put any rocks in your way if you made a good case for a weird idea," he said. " 'Sure let's try it out. If it doesn't work, it doesn't work, but at least we tried.' The wild West spirit in many ways is still here and I always appreciated that."
Looking back on the last 15 years, Preu hones in on a few personal and professional highlights.
Of course, there was meeting and marrying his wife, Neeley, and the birth of daughters Sophia and Victoria.
Then there were the times he shared his work in Spokane with his family.
His father came to the first Symphony on the Edge concert at the Knitting Factory, then called the Big Easy, and his mother came to the first concert after the Fox renovation.
Preu's brother Hans-Peter has conducted the symphony, and the symphony has performed his work on multiple occasions.
Professionally, Preu recalls his first concert with the symphony, the first concert in the Fox, performances of Gustav Mahler's Symphony No. 2, "Resurrection," and Igor Stravinsky's "The Rite of Spring," plus "weird stuff" like a Pops concert that featured a yodeling cowboy.
Musically, Preu is also proud of bringing Wolski to the symphony to replace Farris, who stepped down as concertmaster in 2006 after 36 years.
"(He's) had an incredible impact on everything, the sound, the discipline, the example that he sets, and also the continuation," he said, noting that Wolski will help bridge the gap between himself and his successor.
Wolski recalls their connection was fairly instantaneous. They had a similar sensibility in regards to things like tempo changes and transitions and personalities that balanced each other out, Preu the more serious one and Wolski, funny and often off-the-cuff.
Wolski also remembers being struck by Preu's ability to convey what each composer wanted to express using nothing but the markings on the score.
"He would treat those things with the utmost care and he would remind us all very much that playing music is not only about producing nice sounds," he said. "That doesn't hurt, but really it was the trying to express somebody's vision from the past in the most true to their nature way. When you approach the music in that manner, all of a sudden it changes from us playing the notes. It actually becomes a profound experience."
Wolski said hearing news of Preu's departure felt like a divorce, but he appreciates that he's found a true friend in the conductor.
When thinking of the timing of his departure, Preu compares it to having children, saying it's never the right time but you have to make the decision at some point.
He took the music director position intending to say for a decade. Five years past that plan, Preu decided that if he was going to try something new, now, as he nears his 50th birthday, would be the right time to do it.
"To be honest, I can't remember much about my life before Spokane," he said. "It's not only a new chapter, it's a whole new book. It's like Volume One, thrown out, and this is Volume Two and it's a very self-contained book."
He also sees his departure as a good chance for the symphony to re-examine its vision and sound and find a leader who is able to retool those elements for future audiences.
"You're never done, but I feel really good with all the accomplishments and the shape I'll leave the orchestra with," he said. "There's a lot of good people out there whom I would easily trust in picking up the ball and throwing it a little further or a different direction."
Though his tenure as music director has come to an end, Preu intends to live in Spokane while working in Portland, Long Beach and Cincinnati.
He isn't going to show up at the first concert of the season, but he can see himself hiding out among the crowd during a Labor Day concert in the park.
"It is important to me to give the organization and new music director space," he said. "You cannot have the ex lurking around when you're trying to create (a new relationship)."
Preu hasn't given much thought to his legacy, saying it's for the community to decide after he's gone.
But he is proud of the work he's done to make the symphony more approachable and draw in new audiences.
Symphony sponsor Joan Degerstrom, a lifelong symphony patron who now attends concerts with her daughter, granddaughter and great-grandchildren, has noticed the impact of that work over the years.
"He has such a connection with the symphony and the community that he's raised the interest of the symphony in the community," she said. "It has become so much more important to me to be able to support it. I think it's grown so much with Eckart."
Musically, Preu hopes he is leaving the symphony in better shape than it was given to him, though he's already interested in seeing where the symphony goes from here.
"I hope that musically we've planted all these seeds that now just need to be watered and then it can explode to the next level," he said.
Local journalism is essential.
Give directly to The Spokesman-Review's Northwest Passages community forums series -- which helps to offset the costs of several reporter and editor positions at the newspaper -- by using the easy options below. Gifts processed in this system are not tax deductible, but are predominately used to help meet the local financial requirements needed to receive national matching-grant funds.
Subscribe to the Spokane7 email newsletter
Get the day's top entertainment headlines delivered to your inbox every morning.
---