News > Spokane
Getting There: Lime to hit the streets again. No sidewalks, please
April 28, 2019 Updated Mon., April 29, 2019 at 9:57 a.m.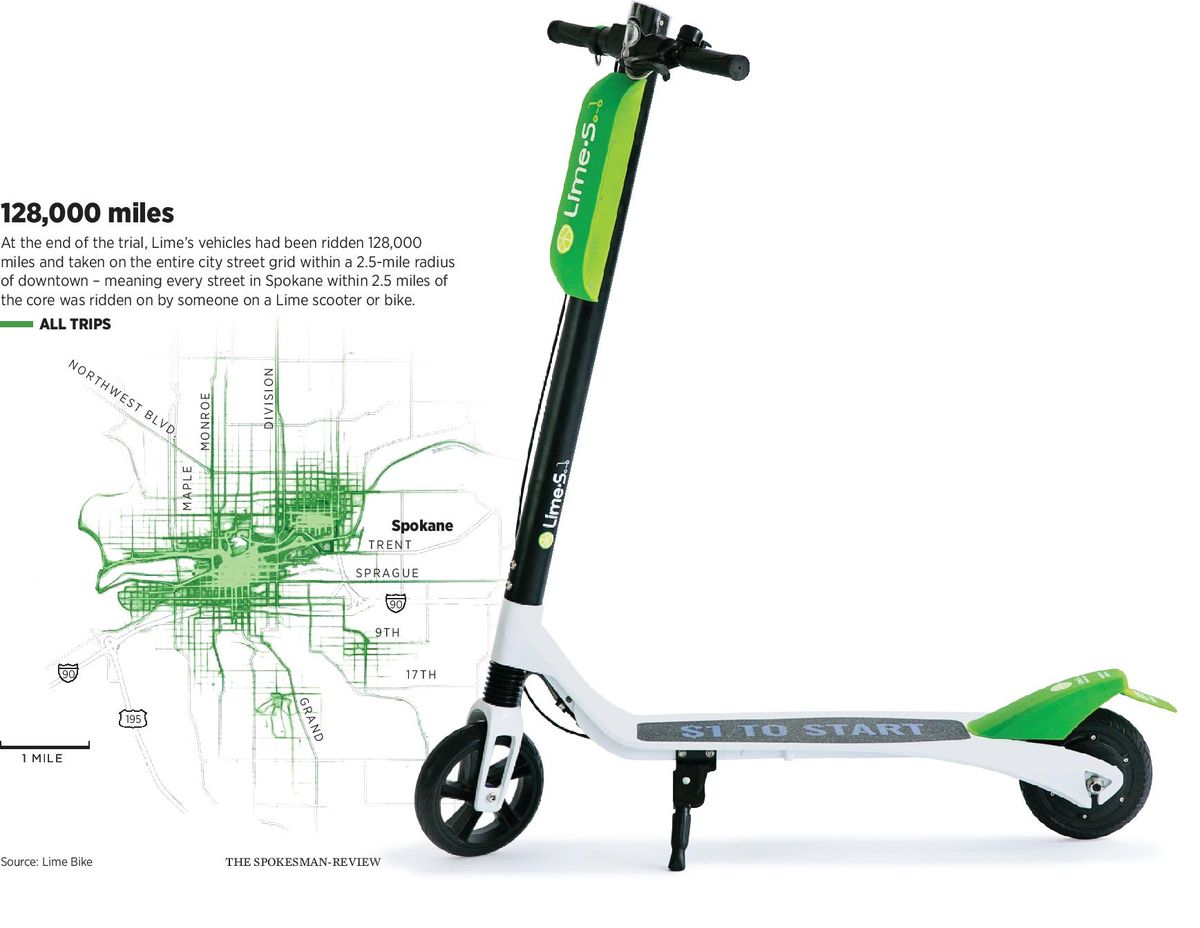 For those who still have dollars on their Lime apps, the two-week countdown begins.
Lime, the purveyor of those popular, if occasionally bothersome, electric green scooters, will return to Spokane on May 13.
The return comes after a busy winter and early spring as city policymakers hammered out details regulating the vehicles' use. The Spokane City Council will vote on a contract with Lime tonight, setting the stage for the California-based company to bring its scooters and electric-assist bikes back to town in time for Bike-to-Work Week, the second week in May that the city has tried to rebrand as Shared Mobility Week.
With the city settling on Lime – which ran a 74-day pilot project last fall – downtown Spokane will look like it did then, with the ubiquitous scooters and bikes seemingly everywhere. When they return, the e-assist bikes and scooters will continue to cost $1 to unlock and 15 cents per each minute of use. Except there will be a lot more of them. Last year, there were an average of 550 Lime vehicles in Spokane a day. With their return, there could be 1,500 of them – or more.
"We left it open so they can go larger," said Brandon Blankenagel, a city engineer who helped oversee Spokane's shared mobility program. "You can rest assured that Lime's going to be paying attention to what the market is telling them."
What's more, the city has passed rules outlawing their use on downtown sidewalks, hoping to avoid congestion in the walkways by pushing scooters into the roadway. Also, the city's helmet laws have been loosened, allowing users to ride without head protection. The scooters will have mechanisms that slow them to 7 mph in Riverfront Park, essentially halving their speed.
Still more changes won't be as obvious, but were part of the negotiations between the city and the company. Both agreed to the contract ahead of the council vote.
Lime did not return requests for comment.
As part of the contract, Lime will pay a fee to the city: equivalent to 75 cents for every vehicle in operation a day. Some of the fee will come to the city in "cash," and bring in an estimated $50,000 to $80,000 a year. This money will be dedicated to improving infrastructure for so-called shared mobility, like bike lanes and trail rehabilitation. Some of it will cover the administrative cost of the program at the city.
And some of the fee will come directly from Lime to community programs. First, Lime will run a public education program about how to properly use the scooters and system, promoting the use of helmets and warning users not to ride on the sidewalk.
It also willl run an "equity program" called Lime Access, which allows qualified, low-income people to get discounted fares.
One issue during the pilot, and in other cities with similar programs, concerned where people left – or in some minds, abandoned – the scooters. To confront that, the city and Lime still are working on how best to organize parking. One idea is to implement "geo-fenced" parking stalls, zones where users can park their vehicles to earn incentives, either through credits to their accounts or discounts.
"They're also looking to partner with businesses to set up parking," Blankenagel said. "That could set aside parking on private property next to the right-of-way. That has the dual purpose of organizing parking and advertising for the business."
Lime was chosen as the city's sole provider of the smartphone-enabled vehicles after a monthlong process. In late March, the city requested proposals for a shared mobility program. Four vendors submitted proposals on April 8 – Lime, Chicago-based VeoRide, South Carolina's Gotcha and California's Spin. Lime was chosen by a five-person committee composed of representatives from the mayor's office, the City Council, the city planning and engineering departments, and Spokane Transit Authority.
After the committee chose Lime, contract negotiations began, leading to today's vote, which will send the contract to Mayor David Condon to sign.
Despite some grumblings about the scooters, mainly having to do with people riding them on the sidewalk, the pilot showed just how popular the machines were.
During that trial, 135,872 trips were taken on the company's vehicles. The vast majority – 108,360 – were taken on e-scooters, amounting to nearly 80% of all rides. Bikes with e-assist accounted for 18,831 trips, or about 14%. Lastly, standard bikes were ridden 8,681 times, or 6%, surely part of the reason why Lime won't be bringing the standard model back to Spokane.
An analysis of the pilot project done by Toole Design for the city had some surprising results.
At the end of the trial, the vehicles had been ridden 128,000 miles and riders had taken them on the entire city street grid within a 2.5-mile radius of downtown – meaning every street in Spokane within 2.5 miles of the core was ridden on a Lime scooter or bike.
Though most trips started or ended within the city core and at locations where Lime placed the vehicles, the most popular routes included North Monroe Street and Division Street. These results confound the city's contention that cyclists and other non-auto users would use quieter side streets paralleling these busy roads since those roads don't have bike lanes or other similar infrastructure. Turns out, not so.
Perhaps not so surprising is that Manito Park and the South Perry District were also very popular with Lime users. The busiest time of day for the vehicles was noon on weekdays, and 10 a.m. on weekends. Friday and Saturday were the most popular days to ride.
Still unanswered, however, is how the mass return of novice scooter riders in the vehicle lanes of downtown streets will affect congestion, motorist behavior, the safety of riders and attitudes the city has about protected bicycle lanes, which could offer much better protection for Lime's users.
These questions may be forced upon the city sooner than later, as someone told the council last month during its discussion to weaken the city's strict helmet laws.
"Drivers do not care about cyclists or pedestrians in this city. You can't cross the street in the downtown core without somebody's car inching at you while you're tying to cross the street. So now we're going to say the only place where these can be ridden is in the street," said John Lemus. "I think you'll need to relook at this once a couple people get hit in the street by cars whose drivers aren't paying attention or drivers who are road-raging because they don't think we should be there."
In the Valley
Overlay work to put a new layer of asphalt on Argonne Road between Mission and Valleyway avenues is underway. The work is part of two projects totaling nearly $1 million, which are also replacing and repairing sidewalks and corner ramps. It is anticipated to be complete this summer.
Work continues on the installation of an aerial cable on 32nd Avenue from Bowdish to Pines roads. The center turn lane is closed to accommodate eastbound traffic. It is expected to be complete Tuesday.
Utility installation on Adams Road that started last week will keep the road closed to through traffic through Tuesday.
In the county
Travelers on Bigelow Gulch Road from Argonne to Evergreen roads will face restrictions as work that started last week will continue through September. Flaggers may be on site in both directions for all lanes. Speed limits have been reduced to 35 mph. Construction is on the south side of the road.
On Tuesday, work to install a new roundabout will begin on Glenrose Road at Carnahan Road, where the spur to 21st Avenue heads east. Travel will be restricted in all lanes. The project's first phase will start northeast of the existing intersection, and 21st will be local access only. Work will continue through September.
The installation of a transit stop crosswalk begins today on 57th Avenue at Regal Road. Work will include the installation of marked crosswalks with refuge islands, and transit stop landing improvements. Work is expected through August.
In the city
Sunset Boulevard remains under construction and reduced to one lane in each direction from F to Royal streets as the city continues work to renovate the historic road. The $2.5 million project will repave Sunset between Royal and Lindeke Street, and will result in three vehicle lanes, a bicycle lane and a separated shared-use path. Two travel lanes will go uphill and one downhill. The road remains open.
Grind and overlay maintenance has curtailed traffic on Freya Street from 29th to 37th avenues. The intersection of 29th and Freya is closed Monday and Tuesday from 7 a.m. to 4 p.m.
Stormwater pipe installation continues to close roads east of downtown. Third Avenue eastbound traffic is restricted to one lane only through the Arthur Street intersection. Second Avenue is down to one lane from Perry Street through Arthur. Arthur from Third to Second is closed. The $1.7 million project is putting in storm pipe on Second from the Hamilton Street overpass to Perry Street, and Third from Hatch to Arthur.
Maintenance work on East Sprague Avenue between Scott and Helena has limited two-way traffic to the north side of the street.
The intersection of East Sprague and Sherman Street is completely closed to traffic as the city works to build a transit hub link to the University District Gateway Bridge. Work includes construction of new traffic signals, pedestrian lighting and landscaping.
Maintenance crack-sealing has minor traffic impacts on Bridgeport Avenue from Division to Crestline; Custer Street south of 37th; Thurston Avenue from Crestline to Perry; and Perry Street from Thurston to 43rd.
Local journalism is essential.
Give directly to The Spokesman-Review's Northwest Passages community forums series -- which helps to offset the costs of several reporter and editor positions at the newspaper -- by using the easy options below. Gifts processed in this system are not tax deductible, but are predominately used to help meet the local financial requirements needed to receive national matching-grant funds.
Subscribe now to get breaking news alerts in your email inbox
Get breaking news delivered to your inbox as it happens.
---