Sports > Area sports
Youth notebook: Spokane Valley's Presley Faherty wins three golds at U.S. Figure Skating National Showcase
UPDATED: Fri., Aug. 9, 2019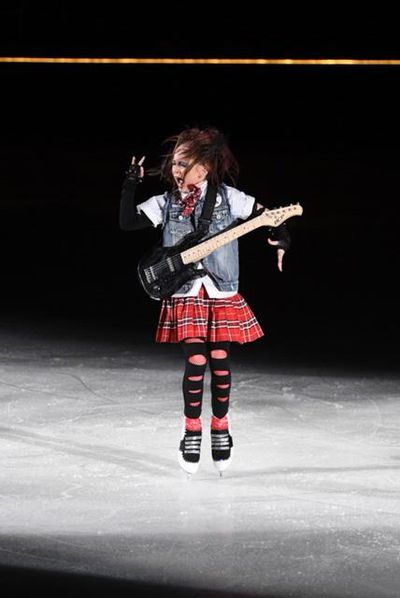 Presley Faherty was rockin'!
The 10-year-old from Spokane Valley, with attire and music inspired by the musical "School of Rock," wowed the judges and the crowd in Wenatchee last weekend and skated away with three gold medals and the Junior Championship at the U.S. Figure Skating National Showcase.
In an event that combines theatrical artistry with the skill and technique of figure skating, Presley's skating style and personality were in their element.
It started with her outfit, a tartan skirt, white blouse and tartan neck wrap looking every bit like the uniform of a conservative private school. But with enhancements; gone the schoolgirl look, enter the rocker.
She covered the blouse with a jean jacket with the sleeves cut off, rolled up the blouse sleeves, wore long black gloves and black leggings both with slits, slung a guitar over her shoulder and spray-highlighted her hair that was French-braided into pig tails.
And then hit the ice to the song "Teacher's Pet" from the "School of Rock" musical.
A member of the Spokane Figure Skating Club, Presley skated in the Light Entertainment section of the competition that also included a Dramatic Entertainment section. She took first in a field of 17 in her Pre-Juvenile Light flight to advance to the finals, where she captured a second gold in a field of eight to advance to the Junior Parade of Champions.
Against the best of the best, the top four from both Light Entertainment and Dramatic Entertainment, Presley skated to a third gold, a national championship and received the special Haley Rose Gans "Skate with all your Heart" Trophy that goes to the winner of the Junior Parade of Champions. It's given in memory of a former skater who died at age 14 in a 2009 skiing accident.
"Presley works so hard on and off the ice," said Moe Herr, one of her coaches along with Kendall Le Claire. "Her dedication and raw talent were represented and recognized at the national level."
SFSC had one other gold medalist and earned five other medals with top-four finishes.
Holly Clark, 13, of Loon Lake, Washington, won her Preliminary Dramatic Entertainment flight for a gold and advanced to the finals, where she placed eighth.
Amy Bartoo, 61, of Coeur d'Alene had second- and third-place finishes in her flights in Adult Bronze, a second in Light Entertainment and a third in Dramatic Entertainment.
Emily Dodd, 14, Coeur d'Alene HS, and Zori Rouleau, 14, Southridge High in Kennewick, placed third in Pre-Juvenile Duet. Rouleau also medaled with a fourth in flight in Preliminary Interpretive, was seventh in flight in Preliminary DE and 11th in flight in Preliminary LE. Dodd was also ninth in flight in Pre-Juvenile LE and 12th in flight in Preliminary LE.
Jay Wilson, 18, of Spokane, was fourth in flight in Pre-Juvenile DE to medal and was sixth in the finals. Wilson was also sixth in flight in Pre-Juvenile LE.
Macie Urgin-Smith of Liberty Lake was 11th in flight in Preliminary DE.
The Lilac City Figure Skating Club had three medalists. Mia Torres, 18, Gonzaga Prep, and Mikayla James, 18, Mt. Spokane, combined to earn a silver medal in Senior Duet in LE, and Grace Labrie, 11, Midway Elementary, placed fourth in Preliminary LE.
Torres was also fifth in Teen Dramatic and sixth in Teen LE, James was fifth in Senior LE and 14th in Senior DE and Labrie was eighth in Pre-Juvenile Duet and ninth in Preliminary DE.
Other Lilac City placers: Wendy Bauer, Spokane, 69, fifth Adult Bronze DE, fifth Adult Bronze LE; Verity McBlair, 13, Mountainside, ninth Preliminary LE; Belle Anselmo, 17, Spokane Valley Tech, 10th Preliminary DE; Gracen McBlair, 15, Mt. Spokane HS, 11th Preliminary DE; Katie Gamber, 15, home schooled, 16th Preliminary DE; Ciara Hagan, 16, Gonzaga Prep, 13th Preliminary DE; and Emily Viehouser, 17, home schooled, 15th Senior LE.
Basketball
PTA Performance of Spokane won the 15U boys division at the NCAA certified Big Time Finale last week in Las Vegas to cap a 63-8 season, defeating LV Timberwolves 48-45 in the championship game. It was 3-0 in pool play and beat Hawaii Hoops Academy 48-34 in the semifinals.
The players: Conrad Bippes (University), London Foland (Liberty), Matt Heer (Lewis and Clark), Landon Lewis (LC), Charles Michelbook (Ferris), Zack Reighard (Mead), Isaiah Shaw (U-Hi), Ashton Sieveke (LC). The coaches: Brian Foland, Ryan Shaw, Sean Sieveke.
Track & field
Julia Hayes, a recent Valley Christian graduate who was second in the high jump at the State 1B championships, placed fourth in women's 17-18 at the 2019 USTAF National Junior Olympic Championships in Sacramento, California, July 24.
Hayes, who competed unattached, cleared 5 feet, 7 inches, an inch higher than her runner-up state jump.
Baseball
Four of the six Eastern Washington players selected following feeder games in Spokane on May 30 were members of Team Adams that won the State High School All-Star Series in Yakima June 8-9.
Julian Chabot of Cheney pitched the final inning in relief, striking out two, as Team Adams secured a 5-1 victory over Team Rainier in the championship game.
Stu Fresland of Mt. Spokane came on in the fifth inning in relief of Dalton Kentner (Almira/Coulee-Hartline) and closed out Team Adams' 10-9, eight-inning win over Team Baker in the semifinals. Kentner pitched four innings, giving up just one earned run with three strikeouts and two walks. Devin Fry (Asotin) scored two runs for Team Baker.
Team St. Helens defeated Team Baker 9-5 in the third-place game.
Sam Gollehon (Medical Lake) was on Team Adams and Konnor Kinkade (Pullman) was on Team Baker, but their names weren't contained in the statistical highlights.
Shooting
The Spokane Junior Rifle Club's Gold team placed seventh out of 55 teams at the 2019 National 3 Position Air Rifle Junior Olympic Championships last month in Camp Perry, Ohio.
Cassidy Wilson, 18, who is headed to Alaska Fairbanks, led SJRC, shooting 585 to place 33rd out of 278 individuals. Zach Pearsall, 17, Mt. Spokane, shot 584 for 42nd; Ben Tafoya, 16, Gonzaga Prep, 583, 47th; and Taylor Christian, 17, Spokane Valley Tech, 575, 129th, for the team score of 2,327. Alternate Garrett Pearsall, 14, homeschooled, shot 547, but his score wasn't used.
Local journalism is essential.
Give directly to The Spokesman-Review's Northwest Passages community forums series -- which helps to offset the costs of several reporter and editor positions at the newspaper -- by using the easy options below. Gifts processed in this system are not tax deductible, but are predominately used to help meet the local financial requirements needed to receive national matching-grant funds.
Subscribe to the sports newsletter
Get the day's top sports headlines and breaking news delivered to your inbox by subscribing here.
---