Standing up for paddling safety: Life jackets, other precautions are encouraged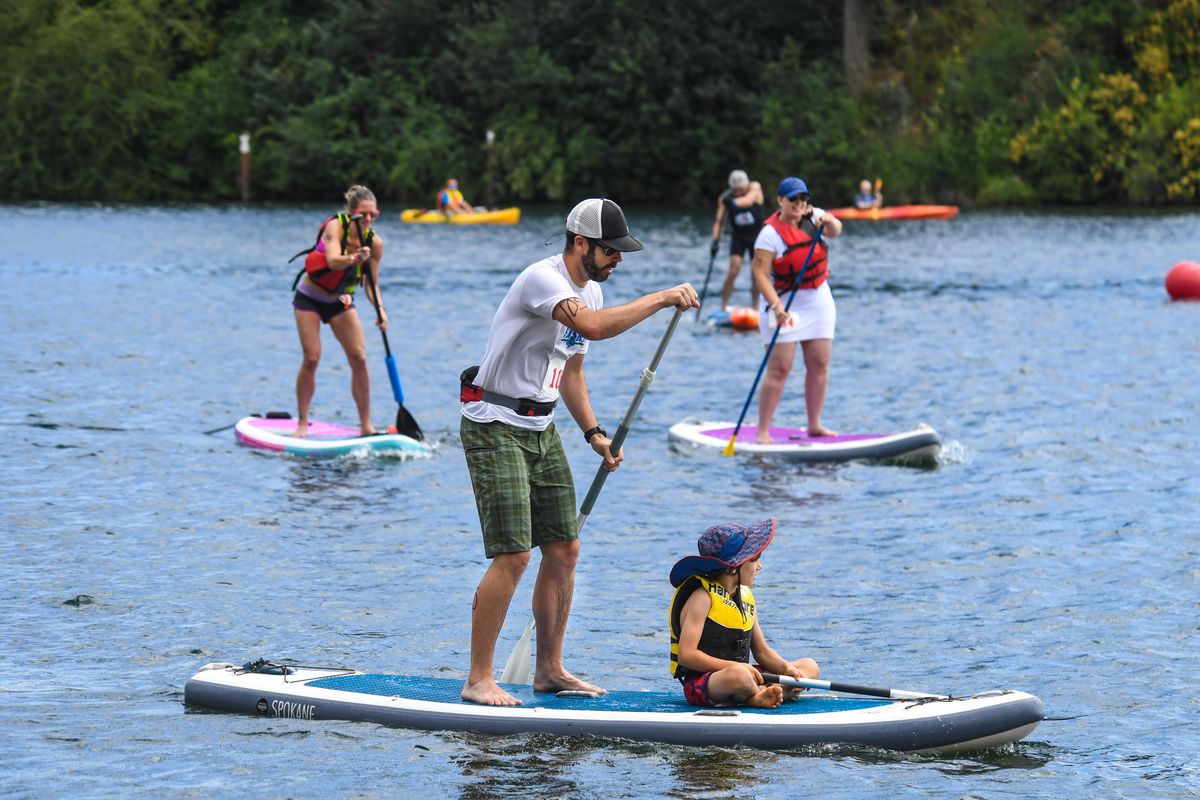 Driving around the city, Spokane Fire Chief Brian Schaeffer has noticed more activity gliding across the Spokane River this summer.
It's not the ducks.
More people are enjoying stand-up paddleboards, also called SUPs, for fitness and recreation. Spokane also has multiple easy access points along the river and waterways for kayaks, canoes and paddleboards, Schaeffer said.
But not all those paddlesport enthusiasts are wearing life jackets and following other safety guidelines. While paddlesports – and those paddleboards – are fun and safe if used correctly, there are risks on the water, he said.
"We have a lot more activity on the river, and a good part of those now are paddleboards," said Schaeffer, who's seen an uptick in the past two years. "You can see them at any stretch of the river from between the dam near Felts Field and downtown and throughout the city limits.
"We've witnessed, unfortunately, some bad habits already starting to emerge and some near misses, specifically some people not wearing their PFDs (personal flotation device) or not even taking them on the board."
On Aug. 12, the Washington State Parks Boating Program issued a statement urging all paddleboarders to wear a life jacket, carry a whistle and use a leash attached to the board at all times. These and other safety precautions followed four paddleboard-related deaths in Western Washington in the past 40 days.
In each case, the person who drowned wasn't wearing a life jacket, the program said. On Labor Day weekend, marine law enforcement statewide will conduct safety emphasis patrols targeting paddleboard users to educate them about laws and safety practices.
Paddleboards have grown in popularity, according to the World Paddle Association, and they've become more affordable. The U.S. Coast Guard has classified stand-up paddleboards as vessels subject to boating laws when used outside a surfing, swimming or bathing area.
Federal and Washington state laws require everyone 13 years and older to carry a U.S. Coast Guard-approved life jacket. Children 12 and under must wear their life jacket at all times while on board. In Idaho, the law requires children 14 and younger to wear a life jacket while on boats 19 feet and shorter, including paddleboards.
However, people sometimes get confused about laws for paddleboards depending on where they are used, said Christina Fremont, communications consultant for Washington's boating program.
"So with stand-up paddleboards, to be specific about the law, if they're in a designated swim area, then they're not considered a vessel," she said. "It becomes a vessel when it goes beyond the narrow limits of a swimming, surfing and bathing area.
"But the official stance of the Washington State Parks Boating Program, as far as life jackets and leashes for paddleboards, is to wear those even in a designated swimming area."
She pointed to a recent drowning of a man on Lake Washington close to shore with people nearby. "He fell off his stand-up paddleboard and drowned," she said.
People might underestimate how cold Washington's rivers and lakes are and then they accidentally go into the water. Someone going overboard or falling off a paddleboard often experience "cold water shock," Fremont said. If this happens, a life jacket keeps your head above water, she added.
"Your body goes into a response mode because of the cold water. It draws blood to the core. You start to lose meaningful movement, which means you lose the ability to swim in 10 minutes. That's true even of athletes."
Lacy Gannon, SUP Spokane co-owner, sees the problem of people buying a paddleboard and then going out on the water without instructions. She encourages all SUP users to take at least one lesson. A paddleboard also needs to be a correct size for the user.
"You've got the wind; you have other boaters and all the things that go along with nature," Gannon said. "A lot of times the paddleboard and paddle aren't that great of quality, and they might not be the right size for the person – or they go out with little oars instead of actual paddles.
"I think having the proper paddleboard, having a lesson, wearing a life jacket and leash and watching the weather are the main things you want to be aware of."
Gannon recommends wearing a leash at the ankle to attach yourself to the board.
"It's essentially like a surfing board leash that you have attached to your board and then attached around your ankle," she said. That keeps your board nearby if you fall off.
"I've heard from people that the wind blows the board so far away from them and they have to swim to the board," she said.
Other reasons that people lose a paddleboard are from unexpected hazards such as wind or a wake from a motor boat, Fremont said.
"You'd be surprised how quickly the paddleboard can get away from you," she said. "That's another flotation device for you. If you have your life jacket on and a leash on, you're increasing your chances for survival tremendously."
She said another fatality this summer involved an off-duty volunteer firefighter and a friend on paddleboards at Lake Cle Elum. The firefighter gave his life jacket to that friend who didn't have one. News reports said a squall came up, and both were thrown off their boards.
"That volunteer firefighter fell off his stand-up paddleboard and drowned," Fremont said. "His friend survived."
Schaeffer said typically paddleboards are safe platforms and offer another way to enjoy the outdoors if done correctly. "It's a great way to see the river standing up, and if you're that type of person who has really good balance."
"I love that aspect of it," he added. "I'm just really hopeful that people are intentional with safety devices every single time."
Some people don't attach the board's leash "because the water may be still or they may not perceive a risk of losing their board, but it does happen," Schaeffer said.
"There have been a number of different calls we've had from people calling 911 and reporting they see a board that is vacant or just floating. We, of course, assume the worst and send a response and it turns out it's just somebody who wasn't using their lanyard attached to their board."
Other paddleboard safety tips include:
Essentials to carry. Safety proponents suggest carrying a cellphone and a flashlight in a waterproof bag. The light can be used to signal others if weather or dusk creates low visibility. A whistle, another way to call for help, attaches to the life jacket.
Check the weather. An avid paddleboarder can work with the wind and get a better workout, Gannon said. But if you're new or inexperienced, skip going out if a storm is expected to bring rain or gusts of wind.
"If you're a beginner, wait for a calm, nice day."
Be visible. Partner up and look out for other boaters, perhaps staying closer to the shore and crossing wider bodies of water next to another paddleboarder to be more visible, Gannon said.
"We always do the buddy system and go out in groups so you keep track of each other," she said. "One time we had a lady in our group who had a prior neck injury that flared up. Luckily, we had someone who could take her back and help her."
Belt personal flotation devices. If you feel confident wearing them, these PFDs are worn around the waist and would involve pulling the handle of a cartridge so it works as an inflatable. "If you're not a strong swimmer or paddler, you should have the regular PFD," Fremont said.
---