News > Business
Bridge Press Cellars opening new live event venue
Dec. 5, 2019 Updated Thu., Dec. 5, 2019 at 8:21 p.m. Bridge Press Cellars is transforming a former tasting room into a live-event venue that will also serve beer and craft cocktails.
Owner Drew Padrta said the newly renovated Bar at Bridge Press, which opens Friday, will be similar to Durkin's Liquor Bar and Hogwash Whiskey Den, but with live music and comedy shows.
"We want to cater to anyone," Padrta said, adding the winery is first in the state to obtain a liquor license. "It makes us different and unique – a destination where you can come down and listen to live music Thursday, Friday and Saturday."
The Bar at Bridge Press, at 39 W. Pacific Ave., was closed for two weeks to complete renovations that included painting, lighting, a stage area, installation of acoustic treatment in the room and resurfacing an existing bar.
The decision to open an event venue – which allows the winery to host events on a much larger scale – was driven by customer demand and his love of live music, Padrta said.
"I love live music," he said. "I'm one of the heaviest supporters of blues music in town."
Padrta said the bar, adjacent to the winery's existing tasting room, will offer top-tier well drinks and craft cocktails, like the Sauvignon Sour, infused with Bridge Press wine. The winery will also offer specials, such as half-price bottles of wine and $6 cocktails.
"We want people to enjoy nice things at not-so-high prices," he said.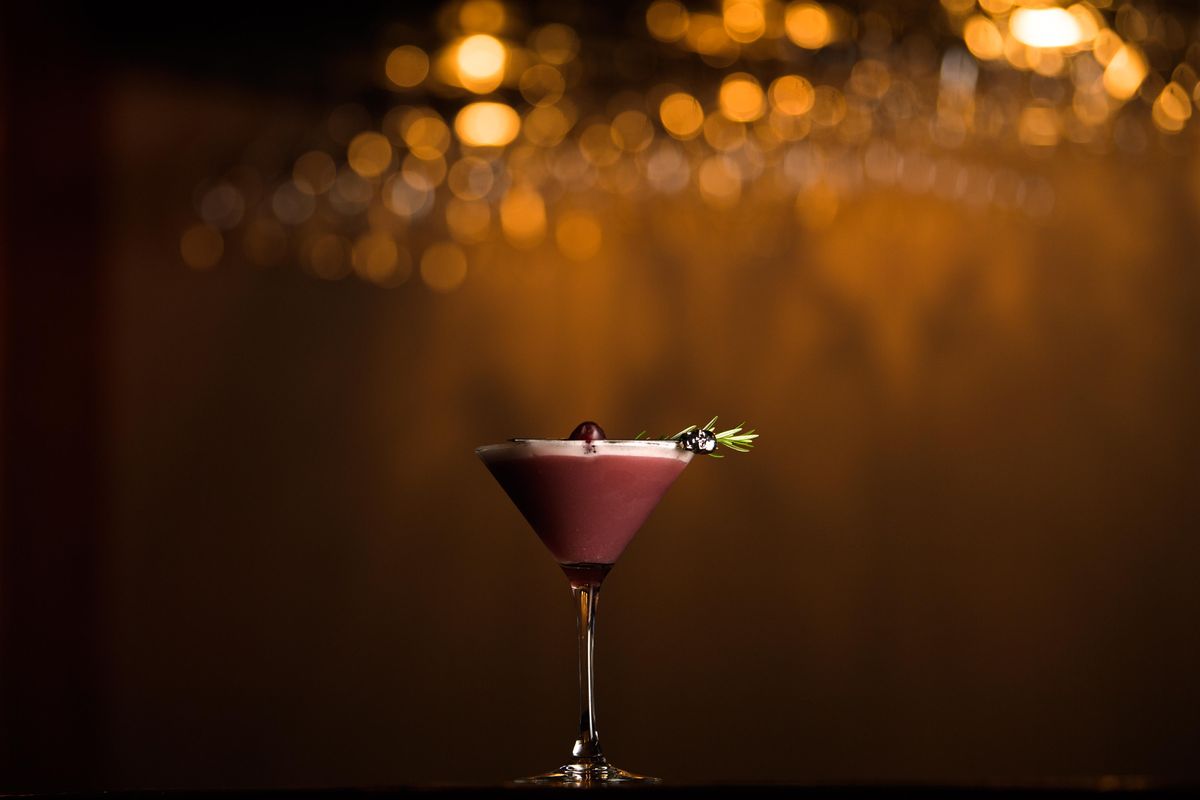 Bridge Press Cellars' Sauvignon Sour cocktail is seen on Wednesday, Dec. 4, 2019, at 39 W. Pacific Ave in Spokane, Wash. (Tyler Tjomsland / The Spokesman-Review)
Bridge Press Cellars, which became a licensed winery in 2009, specializes in small volume cabernet sauvignon and merlot. It was founded by Drew's parents, Brian and Melody Padrta, who handle winemaking and finances for the winery.
The Padrtas completed extensive renovations to the 25,000-square-foot historic building earlier this year, including the addition of an outdoor patio, and improvements to the "Hidden Ballroom" and adjacent "Forbidden Bar" on the second floor. The ballroom, unused for three years, is available for rent for events.
Former business partner and co-owner of the building, Emvy Cellars, was also involved in renovations to the building, which is on Spokane's Register of Historic Places.
The building, constructed in 1910, once housed the Foresters of America, a fraternal organization. After the Foresters of America sold the building to the Sadir Khan Grotto in 1950, it was used as a music venue, according to the Spokane Register of Historic Places nomination.
The building also was home to various businesses, such as Imperial Data, an occupant until 2001. The building sat vacant for many years until the Padrtas purchased it in 2011 to open a tasting room, according to the nomination.
Drew Padrta, who books music and events for Bridge Press Cellars, expects the new venue will draw more people to the already bustling winery, which often attracts more than 100 customers a night.
The event venue, with seating for 80 people, is booked every weekend through October 2020 with bands of various genres, he added.
Bridge Press Cellars is hosting Ryan Niemiller, a comedian and finalist on "America's Got Talent," Dec. 20 and 21 from 8 to 9 p.m.
Padrta encourages people to make reservations for a table, especially on Friday nights when the venue hosts larger bands.
"A lot of times it's standing room only," he said.
Local journalism is essential.
Give directly to The Spokesman-Review's Northwest Passages community forums series -- which helps to offset the costs of several reporter and editor positions at the newspaper -- by using the easy options below. Gifts processed in this system are not tax deductible, but are predominately used to help meet the local financial requirements needed to receive national matching-grant funds.
Subscribe now to get breaking news alerts in your email inbox
Get breaking news delivered to your inbox as it happens.
---