A&E > Books
Analysis: The reality of Crutcher's life lessons are why his sports-themed young-adult lit is the gold-medal standard
Sat., Jan. 12, 2019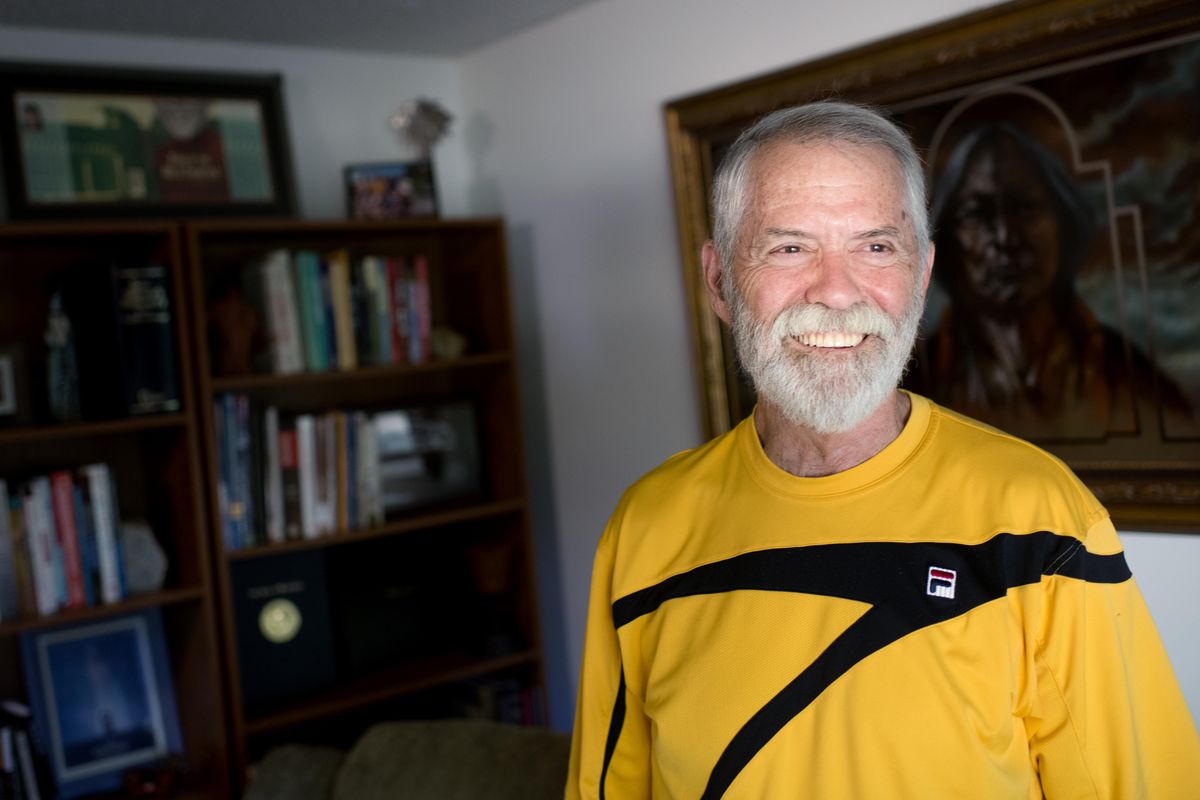 Local author Chris Crutcher poses at him home in Spokane, in the room where he wrote most of his books, on July 19, 2018. (Tyler Tjomsland / The Spokesman-Review)
Chris Crutcher is one of the most important voices in the world of young adult literature, but I didn't know that in the early '90s when I first checked out "Stotan!" from my middle school library and discovered a book about competitive swimming, a sport I had recently taken up.
I devoured Crutcher's story about the four-man high school swim team that chose to endure the physical and mental tests of Stotan Week under the wise guidance and encouragement of their swim coach Max Il Song. I carried that story with me to my own high school swimming experience, and for those four years, our girls swim team shed the school's mascot and claimed the name Stotan.
We used adjectives like "stotanic" to describe our performance at practice and meets.
Like Crutcher and his stories' protagonists, I never bought into the hazing rituals prevalent in sports, so while the boys swim team upperclassmen initiated underclassmen by peeing on them in the locker room showers, the girls swim team chose the more enlightened route of engaging in yogic Sun Salutes prior to warm-ups at our swim meets.
Along with "Stotan!," I read as many Crutcher novels as I could find at the library, including "Staying Fat for Sarah Byrnes," "Chinese Handcuffs," and "Ironman," which gave me my first taste of triathlon and inspired me to sign up for my first sprint triathlon as a sophomore in high school. Aside from a gap in graduate school when I moved across the country and didn't own a bike, I've continued to train for and compete in triathlons, moving from sprint to Olympic distance in 2013 and completing my first 70.3 in 2018 shortly after turning 40.
Initially, I was drawn to Crutcher's work because of its accurate and inspiring depiction of sports, in particular sports that I competed in – sports that don't get much airtime on TV. In fact, finding an author who accurately depicts competitive swimming and training is both unusual and rewarding. After watching TV/film characters "swim competitively" and reading stories about supposed swimmers, it was refreshing to meet characters who sounded like actual swimmers.
As readers learn in his "ill-advised autobiography" "King of the Mild Frontier," Crutcher writes from experience, having swum collegiately (and participated in his own Stotan Week) after playing a variety of sports in high school.
I could not care less about watching sports – even sports I participate in. But reading about them? Well, that's a different story. Crutcher opened my eyes to the possibility that sports stories could be interesting.
In addition to their athletic pursuits, his protagonists usually face moral dilemmas that require them to stand up for or help someone in need. Sometimes his protagonists come from a position of privilege – athletic prowess and good looks –like Louie Banks in "Running Loose" and Paul Baum in "Period 8."
Sometimes his protagonists are more of an underdog, like Ben Wolf in "Deadline." And sometimes they fall somewhere in the middle like TJ in "Whale Talk." But they are always smart (usually smart-asses too) and willing to stand up to bigotry and misguided authority – much like Crutcher himself, whose disdain for racism, misogyny and abuses of power comes through loud and clear in his writing.
That's also clear in his talks with teachers and students.
At the 2018 National Council of Teachers of English Convention in Houston during a session on sports and literacy in the English language arts classroom, Crutcher expressed concern about the connection between sports and compulsory religion and patriotism. This concern is echoed in his chapter in "Developing Contemporary Literacies through Sports," in which Crutcher celebrates the gifts afforded to him on his high school football team (courage, camaraderie, "a letter jacket and a swagger") but also laments the unearned privileges, entitlement and "heightened sense of Christian spirituality and ill-informed patriotism" that accompanied his athletic pursuits.
Crutcher's books explore these negative aspects of jock culture honestly and critically.
He writes with crispness, integrity and wit that makes readers cheer or well up in tears, or both – simultaneously. Over the course of my teaching career, I've chosen excerpts from many of his books to read aloud to my middle school and college students, and they never fail to inspire dialogue, laughter, applause and requests to check out the book for a full read.
My students have loved "Whale Talk," "Deadline," "Angry Management," "King of the Mild Frontier" and "Period 8." Readers are drawn to Crutcher's work not just because of his authentic depictions of sports but also because of the tough conversations it evokes.
He captures the ugliness and pain of abuse, racism, bigotry, injury, illness and death while simultaneously depicting the strength and beauty of camaraderie, compassion and standing up to people who prey on others. As a reader far removed from most of the harsh realities depicted in his novels, I am grateful to Crutcher for writing these truths and helping me develop empathy and perspective.
That's something I discover about Crutcher's work with every new read and re-read – it inspires.
While working on this column and reviewing my collection of his books, I experienced a sense of determination that now only emerges occasionally in my athletic pursuits. After coming off the high of re-reading the final pages of "Stotan!" in which Walker wins the 500 free at the state meet and then he and two teammates swim a three-man 400 free relay in honor of their dying teammate, I strode into my masters swim practice last Monday ready to WORK.
That illustrates one of the great traits of well-done young-adult literature: that its quality resonates with an adult audience. Crutcher's work absolutely achieves this level of sophistication.
As Crutcher concludes in his invited chapter of "Developing Contemporary Literacies through Sports," "There is an intensity that goes into athletics, be it team or individual sports, that rivals the intensity that goes into writing a book, as well as reading a book if it speaks to the reader's interest. The more we explore that intensity in all its forms, the better chance we have of bringing power to the education of our bodies and to the education of our minds."
Here's to readers continuing to discover that intensity in Crutcher's work, just as I did in my middle school library more than 25 years ago. It's an intensity that — especially in today's incredibly polarized world — makes him one of the most significant writers of young-adult literature.
Katherine Cramer is an associate professor at Wichita State University in Kansas, where she is the chair for middle school and secondary English education.
Local journalism is essential.
Give directly to The Spokesman-Review's Northwest Passages community forums series -- which helps to offset the costs of several reporter and editor positions at the newspaper -- by using the easy options below. Gifts processed in this system are not tax deductible, but are predominately used to help meet the local financial requirements needed to receive national matching-grant funds.
Subscribe to the Spokane7 email newsletter
Get the day's top entertainment headlines delivered to your inbox every morning.
---