News > Crime/Public Safety
Police shoot man suspected of firing gun at Coeur d'Alene's downtown fireworks celebration
July 4, 2019 Updated Fri., July 5, 2019 at 10:57 p.m.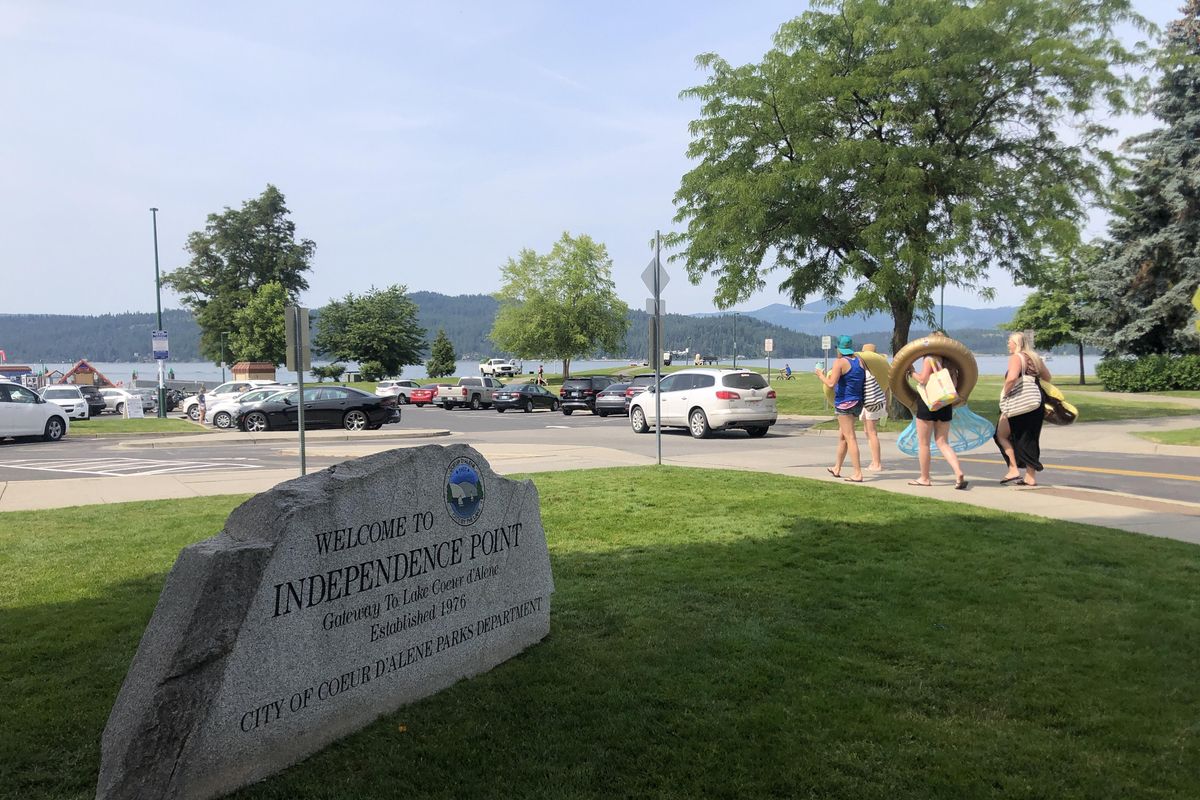 Chaos erupted at Independence Point in Coeur d'Alene during the annual Fourth of July fireworks show, when police say at about 10:10 p.m. shots rang out. Officrs fired at suspected shooter Tyler Rambo, sending him to the hospital in critical condition. (Jared Brown / The Spokesman-Review)
Coeur d'Alene police officers chased, shot and injured a man they believed had fired a gun within a crowd watching the city's annual fireworks display late Thursday.
Police said the man, identified as Tyler Rambo, also shot at officers just prior to them firing back.
Officers heard the original shot that set off the chase near Independence Point at about 10:10 p.m., sending spectators running as police and sheriff's deputies flooded into the scene. Officers chased Rambo into City Park, where he reportedly turned toward the officers and fired a handgun.
Officers returned fire, striking Rambo multiple times. He was taken to Kootenai Health for treatment, police said. He was in critical condition Friday.
Coeur d'Alene police Chief Lee White said in a news conference Friday afternoon that officers initially tried shocking Rambo with a stun gun as he made his way through the basketball court in the park's southeast corner. But the barbs apparently failed to connect.
At some point during the chase, Rambo slowed to a walk, which is when officers told him to stop 15 more times, White said.
"Our officers exercised a great deal of restraint," he said.
Rambo then allegedly turned toward police with the gun leveled and fired a single round. Officers returned fire, striking Rambo at least 10 times, White said, referencing police body camera footage.
Rambo was the only person police have confirmed was shot at the event. But White said police are searching for the person who may have been shot by Rambo in the leg prior to the police chase. That person has not been located and presumably left the scene on their own.
White said police have recovered two spent shell casings from a .357-caliber revolver, which was the kind of gun Rambo dropped when he was shot.
A second suspect also was arrested, though police are unsure if the two incidents are related.
White said seven officers involved in the chase and shooting were placed on administrative leave. White didn't immediately know how many fired their weapons.
Witnesses described a confusing and chaotic scene that devolved into outright panic, with thousands of people fleeing the area just as the annual fireworks show reached its grand finale and shots rang out. Police estimated that 40,000 people attended the show.
Post Falls resident Ashlee Light was seated with about 30 members of her family between the Coeur d'Alene Resort and dock when she heard scuffling and yelling behind her.
"All of the sudden we saw somebody pull a gun, and you just saw the flash of it being fired and you heard it," she said. "It sounded like fireworks to some people, but it was a gun."
Light said it appeared a man in the group was shot at least twice.
The shooter, according to Light, ran from the group after firing the gun.
As police entered the park, she said two people ran by her, followed by a large group of officers. She then heard multiple gunshots coming from the basketball court, where police apparently shot the suspect.
She said a second person was apprehended by police on the dock near the resort.
Heather Roper, her husband, Mike Roper, and friend Tony Gianola were at Independence Point. They said that about five minutes after the fireworks show ended, they looked down at the beach and saw a cloud of dust as someone shouted, "He's got a gun!"
Then a few minutes later, they heard what sounded like an automatic weapon by the basketball courts, where Rambo was shot by police.
"I literally felt surrounded by gunfire," said Gianola.
White said all the police officers who fired did so with semi-automatic handguns.
Around that same time, Gianola and the Ropers said they saw a man running down the beach toward the nearby pier, where he tripped and fell on the concrete. They said several people in the crowd helped him to his feet, not knowing he was being pursued by multiple officers.
"He was sprinting so fast he couldn't keep up with himself," said Heather Roper.
Moments later, they saw police surround him on the dock, where he was placed under arrest.
White said Friday afternoon the man was arrested after approaching officers in a confrontational manner. After fleeing, witnesses reported the man had a gun. White said at Friday's news conference that he was not sure if police recovered the gun.
White said his arrest appeared unrelated to the incident involving Rambo.
KHQ News Director Kelly Hatmaker was also at the fireworks show when the shooting occurred.
He said it appeared the incident began soon after the grand finale. But there were fireworks from private citizens still being shot off, so it was difficult to assess the situation.
"It was hard to distinguish between the fireworks that we were hearing and all of sudden seeing the police cars rushing in," Hatmaker told KHQ.
Widespread traffic jams caused by people fleeing the area further added to the frenzy, said Idaho State Police Capt. John Kempf, adding that investigative efforts were delayed until about 2 a.m. as detectives struggled to navigate the busy streets.
"It was a traffic nightmare," Kempf said.
In addition to the whirl of confusion at the park, an online rumor mill started by commenters on Facebook incorrectly stated that multiple people were shot before the man was gunned down by police.
Rambo attended Coeur d'Alene Public Schools from 2011 until he dropped out when he was a high school junior in 2018, said school district spokesman Scott Maben.
Rambo's Facebook page said he attended Lake City High School. He was arrested in 2016 on suspicion of fighting in public, a misdemeanor.
Local journalism is essential.
Give directly to The Spokesman-Review's Northwest Passages community forums series -- which helps to offset the costs of several reporter and editor positions at the newspaper -- by using the easy options below. Gifts processed in this system are not tax deductible, but are predominately used to help meet the local financial requirements needed to receive national matching-grant funds.
Subscribe now to get breaking news alerts in your email inbox
Get breaking news delivered to your inbox as it happens.
---