A&E > Stage
Jennifer Tindall says so long, farewell to Spokane with 'The Sound of Music'
July 11, 2019 Updated Fri., July 12, 2019 at 10:19 a.m.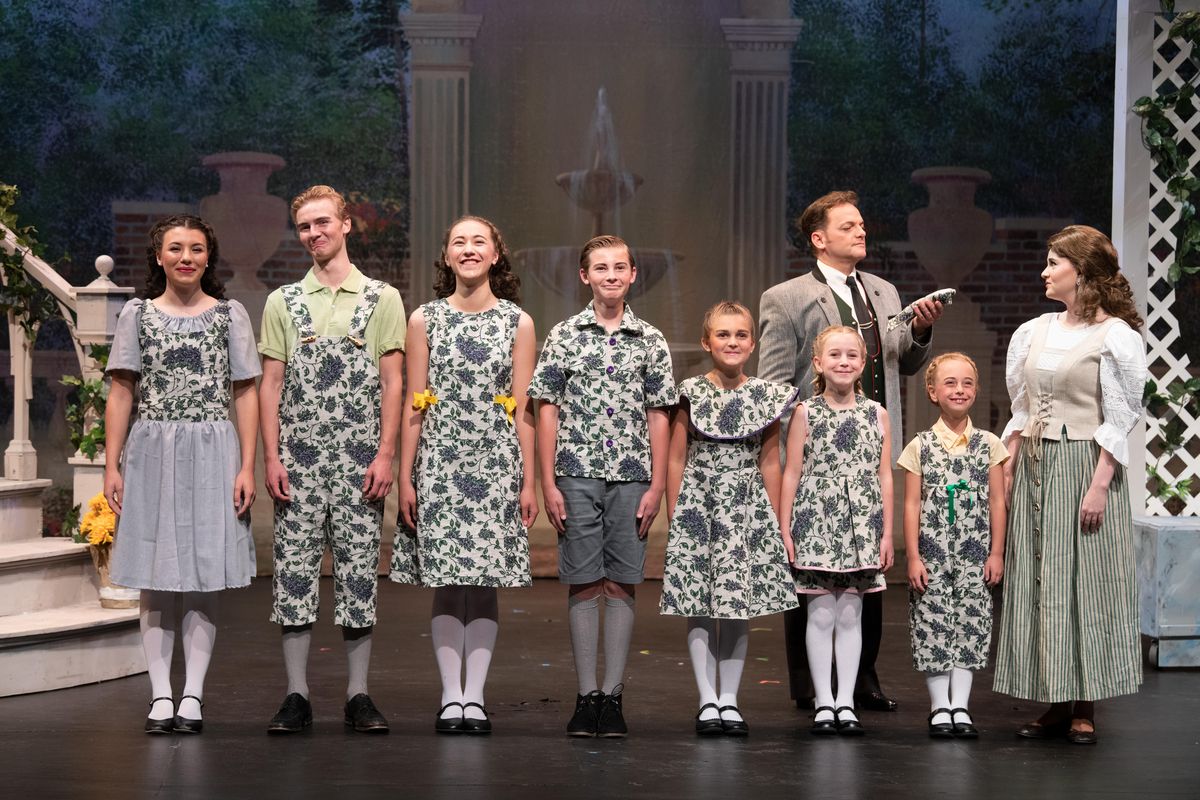 The VonTrapp children, from left, Liesl, Friedrich, Louisa, Kurt, Brigitta, Marta and Gretl assemble with their father Georg Von Trapp and their governess Maria in a scene from Spokane Valley Summer Theatre's "The Sound of Music," which opens Friday at University High School. Captain Von Trapp, behind the children, is played by Michael Muzatko and Maria is played by Jennifer Tindall, right. The children are played by, left to right, Maddie Burgess, Kyle Adams, Noelle Fries, Caden Adams, Alex Read, Mackenzie Kelly and Pearl Wollenhaupt. (Jesse Tinsley / The Spokesman-Review)
Actress and singer Jennifer Tindall knows a thing or two about tight deadlines. First, she'll star as Maria Rainer in Spokane Valley Summer Theatre's production of "The Sound of Music," which opens Friday and runs through July 28.
Then she'll appear as a chorus islander in the summer theater's production of "Mamma Mia," which opens Aug. 9. "Mamma Mia!" closes Aug. 18, and on Aug. 19, Tindall will wave goodbye to Spokane as she relocates to New York.
She moves into her apartment Aug. 21 and starts school at New York Conservatory for Dramatic Arts shortly thereafter.
"I looked into it, and it had everything I wanted," Tindall said of the school. "I went to the school and auditioned in March, and it was this perfect fit. It was so welcoming and so encouraging. I'm very excited. It felt like a place I could grow my craft."
That means there's just two chances left to see Tindall on a Spokane-area stage, starting with "The Sound of Music." Based on Maria von Trapp's memoir "The Story of the Trapp Family Singers," "The Sound of Music" features music by Richard Rodgers, lyrics by Oscar Hammerstein and a Howard Lindsay- and Russel Crouse-penned book.
The Tony Award-winning musical was adapted into an Academy Award-winning film of the same name starring Julie Andrews and Christopher Plummer. The musical and the film feature classic songs including "Sixteen Going on Seventeen," "My Favorite Things," "So Long, Farewell," "Climb Ev'ry Mountain," "Do-Re-Mi" and, of course, "The Sound of Music."
The Spokane Valley Summer Theatre production is directed by Yvonne A.K. Johnson, music directed by David Brewster and choral directed by Darnelle Preston, who also plays Sister Berthe.
Though she didn't know it then, Tindall has been preparing for this role practically her entire life. "The Sound of Music" is Tindall's father's favorite musical, so she watches it every year around Christmastime. And as a young girl, Tindall would sing "The Lonely Goatherd" on the way to preschool.
"I've grown up with this musical, and I've grown up with these characters … ," she said. "It's definitely a dream."
Tindall calls Maria one of the most challenging roles she's played because everyone, including Tindall, thinks of Andrews when they think of "The Sound of Music." She worked to find a balance between the portrayal everyone knows and loves and putting her own touch on the character, keeping the sweetness and humility Andrews brought to the character but adding a little spunk.
"I think she's incredibly blunt," Tindall said of Maria. "She's very honest, but she says it in the kindest way, so even though she's being completely honest with you and you could take it as an insult, she never means it in that way. She's just trying to help you, and that's the only way she knows how to say it. I think it's great to have that for the children, especially somebody like Liesl."
Bonding with the castmates playing the von Trapp family was no trouble at all for Tindall, who had worked with many of the actors before. Tindall appeared as Cinderella in Spokane Valley Summer Theatre's production of "Into the Woods" last year, a musical which also featured Michael Muzatko (Captain Georg von Trapp), Maddie Burgess (Liesl), Kyle Adams (Friedrich) and Noelle Fries (Louisa).
Burgess also has played Tindall's onstage daughter twice, and Tindall and Fries were both in Spokane Civic Theatre's production of "Les Misérables."
Having taught summer camps for actors of all ages, Tindall had no problem connecting with the youngest members of the von Trapp family: Cadin Adams (Kurt), Alex Read (Brigitta), Mack Kelly (Marta) and Pearl Wollenhaupt (Gretl).
"The little ones are adorable, and they're so sweet," she said. "They're very rambunctious children, but they're so much fun to work with. They have a lot of energy."
That family element is one reason Tindall believes people return to "The Sound of Music," onstage or on screen, time and time again. The music, of course, also has something to do with it, with Tindall noting that young children are often taught "Do-Re-Mi" as a way to learn how to sing and differentiate between notes.
She's seen that children love watching other children perform, and "The Sound of Music" is the perfect chance for that. Adults, meanwhile, are often taken in with the historical and faith-based elements of the story.
"This show is going to be really special for the community … ," Tindall said. "Yvonne's vision for the show is beautiful, and I think it will stick with people for a long time."
Local journalism is essential.
Give directly to The Spokesman-Review's Northwest Passages community forums series -- which helps to offset the costs of several reporter and editor positions at the newspaper -- by using the easy options below. Gifts processed in this system are not tax deductible, but are predominately used to help meet the local financial requirements needed to receive national matching-grant funds.
Subscribe to the Spokane7 email newsletter
Get the day's top entertainment headlines delivered to your inbox every morning.
---