'Spring Awakening' brings Elizabeth Martin back to Spokane Civic Theatre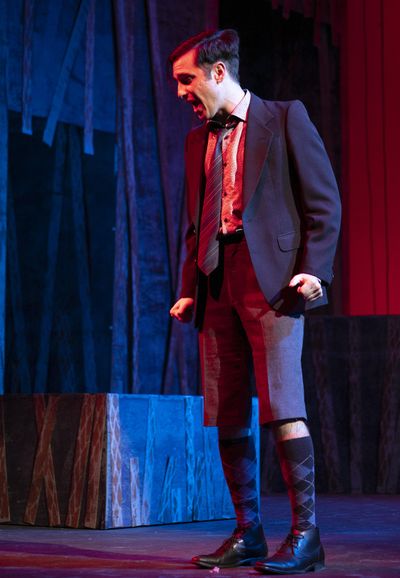 Actress and singer Elizabeth Martin has been onstage since she was 4, inspired by seeing her older sisters take the stage. But after more than a decade of performing, Martin decided that it was time for a break.
"I didn't know if I was doing it because I wanted to do it or because it was what I knew how to do," she said of her decision to take a year off from theater. During that time away, she realized that it was the former, and, since returning to the stage, Martin has hit the ground running.
Martin's starring role as Wendla in Spokane Civic Theatre's production of "Spring Awakening," which opens Friday and runs through July 28, marks her 10th production in the last year, following stints in "The Curious Incident of the Dog in the Night-Time," "Follies," "Hello, Dolly!," a staged reading of "The Crucible," all at Civic, and "Sister Act" at Lake City Playhouse.
"It reconfirmed my love of performing and made me want to improve, so I have been doing everything I can to improve in the areas where I feel like I'm not the strongest," she said. "It's definitely been a year of learning and growing."
"Spring Awakening," set in Germany in 1891, follows several students, including Wendla (Martin), Melchior (Aaron Jerry Skipper), Martha (Kalla Mort), Moritz (Jonah Taylor) and Ilse (Aubree Peterson), as they navigate the treacherous road from adolescence to adulthood, a road paved with big lessons, big decisions and even bigger consequences.
"Spring Awakening" is based on the play of the same name by Frank Wedekind. The musical features a book and lyrics by Steven Sater and music by Duncan Sheik. The original Broadway production was nominated for 11 Tony Awards and won eight, including best musical, best book of a musical and best original score.
Civic's production is co-directed by Sarah Dahmen and Jake Schaefer and music directed by Henry McNulty. Before auditioning for "Spring Awakening," Martin knew the musical inside and out, estimating that she had read the script 10 times and had been listening to the music since she was young, "probably too young," she added with a laugh.
That familiarity, which Martin said much of the cast had with the musical, helped her in the long run because she didn't have to spend as much time memorizing her lines. "It really is nice to not have to worry about 'You need to get these lines down' and really be able to go into the meat of it," she said.
To better help them understand the story and songs, the cast was given an annotated version of Wedekind's play and Sater's "A Purple Summer: Notes on the Lyrics of 'Spring Awakening'."
Martin said that her castmates and she took a lot of information from the original script, though it differs slightly from the musical version.
"It does serve to remind that this was written in the late 1800s, and this is still topical today," she said. "It's applicable and something that we all can relate to and understand, which is why I think it's such a big thing. It has a cult following."
Though she would have been happy with any part, Martin had her sights set on playing the naive Wendla because she sees the character as representing the innocence and honesty of the show.
"She is adolescence, really," Martin said. "That is what she represents. They all go through this, which is why I think her track and her story is so affecting to me personally because she pays the ultimate price, and I think that is something we forget can happen."
At 19, Martin is a few years older than Wendla, though not so much older that she can't see that teens are still grappling with many of the topics discussed in the play.
"This show is still going to ruffle feathers because these topics are still something we struggle with and something we don't grasp fully …," she said. "It is very affecting to me because I think we all have that moment of 'I have to be an adult now. I'm not a little kid anymore.'
"Wendla, to me, was so honest, and I love that. I love to be able to play a character that is honest, and she is what she is. She's naive and she's curious and represents everything good about kids."
Almost a decade after she first set foot on the Civic stage, as a child in "The Best Christmas Pageant Ever," Martin is happy to still be performing at the theater. Though she's performed in a variety of theaters, Martin considers Civic her homebase and is grateful "Spring Awakening" gives her an opportunity to return home.
"I've had some of my best moments and some of my worst moments there," she said. "There is something special about doing a show like this with this kind of meaning in the place where I grew up doing theater. Of course, I've done theater other places, but this is the place where I learned and grew, and these characters also learn and grow."
---