News > Spokane
Spokane competitor Sandy Zimmerman completes American Ninja Warrior obstacle course
Mon., June 24, 2019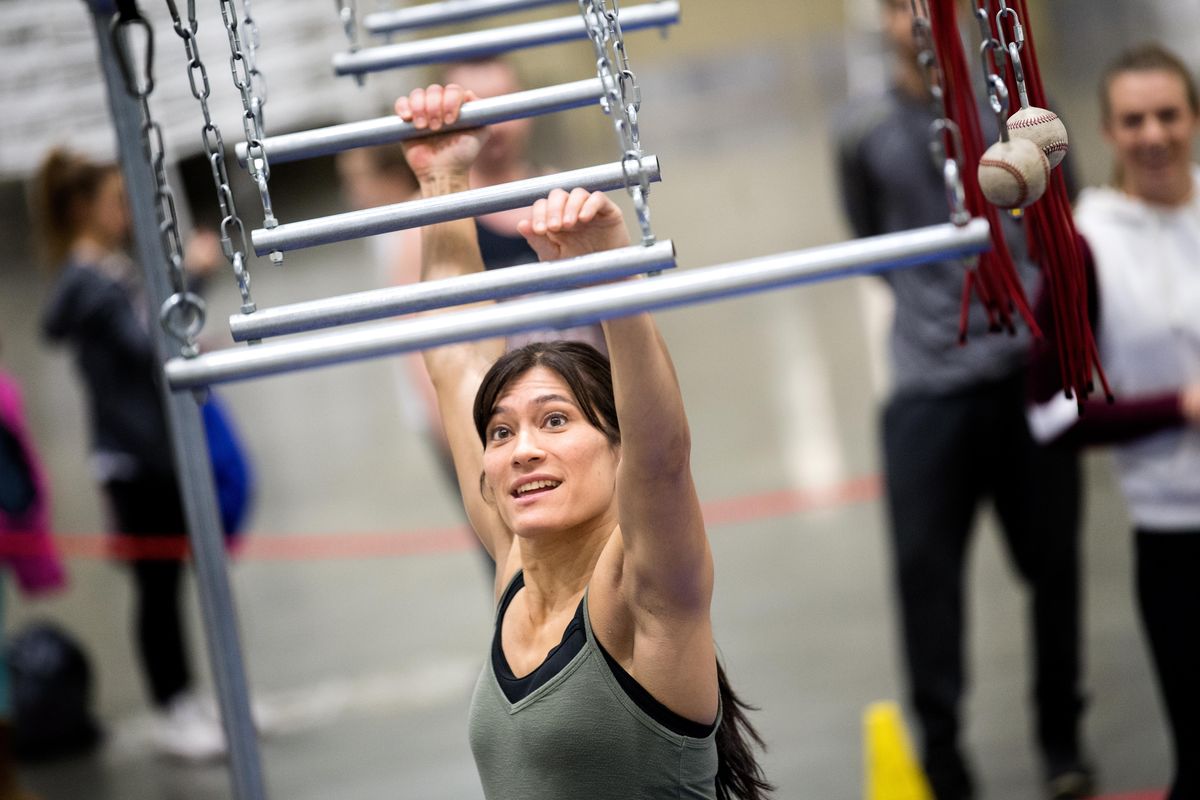 Sandy Zimmerman, an American Ninja Warrior contestant, moves through an obstacle course during a meet and greet during the Spokane Health and Fitness Expo in 2018. She appeared Monday night on the television show. (Tyler Tjomsland / The Spokesman-Review)
Spokane's Sandy Zimmerman is the first mother to ever complete an American Ninja Warrior obstacle course.
Viewers watched Zimmerman's run Monday night when the Seattle/Tacoma episode aired. In reality, that moment came a month earlier on Mother's Day weekend in the Tacoma Dome, a place that holds memories for Zimmerman.
"For me, the first place as a child that I really learned that I could dream big dreams was there in the Tacoma Dome," Zimmerman said.
She won the National Judo Championship in the Tacoma Dome 30 years ago. After she won, her sensei told her she could go to the Olympics.
"I remember just being really embarrassed because I thought 'No, kids like you don't dream those kind of dreams,' " she said.
Zimmerman grew up in poverty, on welfare and in the foster care system.
"We just tried to get through the day without getting hit or yelled at," said Zimmerman.
It was a moment in her life that taught her it doesn't matter what she was going through, she could still accomplish her dreams, Zimmerman said.
Now in her 40s, Zimmerman had another meaningful moment at the dome.
"It was such a full circle moment, that here I am on Mother's Day weekend and I am back in the Tacoma Dome dreaming another big dream," Zimmerman said.
American Ninja Warrior is the popular reality TV show where contestants struggle to complete a physically demanding obstacle course. The episode that aired Monday night, marked a series of firsts for the franchise. The show has never filmed inside before, like it did at the Tacoma Dome, and it was the first time the show was shot in the Pacific Northwest.
Zimmerman's dreams came true as her husband and children cheered her on.
As she waited to rush up the stairs to start the course, she pushed towards her "big goal" of navigating the voices in her head.
"It's like I have these two voices. I have this one voice which is that scared, timid, shy little girl, and then I have this other voice, this strong confident woman that I've become," Zimmerman said.
"I just remember kind of smirking right before they asked me to go up the stairs, and thinking 'I sure hope, and I really think, that the strong confident woman that I've become is going to win tonight.' "
She quickly made it through a series of small foot-sized platforms, called the "Shrinking Steps," spaced over water.
Zimmerman has competed before in Los Angeles on seasons 8 and 9. She did not compete in season 10 because of injuries to her knee and both thumbs.
In past years, she had never made it past the second obstacle.
This time she did. It was called the Lunatic Ledges.
Next was the Barrel Roll, a new series of swinging barrels with bars attached that competitors must jump from one to another.
Then came the Broken Bridge, a balance obstacle, which Zimmerman pushed through.
Another new obstacle, the Lightening Bolts, proved difficult for many competitors that night, Zimmerman said.
It was a combination of a salmon ladder and a swinging wall that required "dynamic moves," she said.
After passing the tricky section, there was just the final obstacle left.
As always it was the "Warped Wall," a curved wall that contestants run, jump, and pull themselves up and onto. Zimmerman made it to the top on her second try and hit the buzzer, becoming the first mom to ever complete the course.
"I remember hitting the buzzer and thinking 'We did it!' " Zimmerman said.
The moment was "crazy surreal," she said.
"This was not just me," Zimmerman said. "It's a team effort."
She credits her family, friends and the Spokane and American Ninja Warrior communities for helping her succeed.
"I had no idea the growth that I would have and just how much fun my whole family would have on this crazy journey," Zimmerman said.
Her husband Charlie along with their kids, Blake 8, Lindsey 10 and Brett, 13 all practice American Ninja Warrior moves on their 40-obstacle course in the family's backyard.
Brett and Lindsey both competed on season 1 of American Ninja Warrior Junior, and Lindsey is competing again this year.
In her everyday life, Zimmerman teaches physical education at Michael Anderson Elementary at Fairchild Air Force Base. Zimmerman played basketball at Gonzaga University in the late 90s with her maiden name, Sandy Gere.
Zimmerman hopes that by sharing her background of growing up in poverty and foster care that she can inspire others to push past their struggles.
"I think I just never had the confidence and strength to be an open book before and that's what American Ninja Warrior has done for me," Zimmerman said.
"Everybody should dream big dreams, and I mean 'BIG' dreams," Zimmerman said.
Her American Ninja Warrior journey will continue in the upcoming Seattle/ Tacoma city finals episode that airs Aug. 12.
Local journalism is essential.
Give directly to The Spokesman-Review's Northwest Passages community forums series -- which helps to offset the costs of several reporter and editor positions at the newspaper -- by using the easy options below. Gifts processed in this system are not tax deductible, but are predominately used to help meet the local financial requirements needed to receive national matching-grant funds.
Subscribe now to get breaking news alerts in your email inbox
Get breaking news delivered to your inbox as it happens.
---